About this event
North Suburban Sports Car Club (NSSCC) presents Midwestern Council's (MC) 2020 Summer Classic at Blackhawk Farms Raceway! Come join us for our season opener! Morning HPDE practice and afternoon High-Speed Autocross timed runs on July 3rd. The morning HPDE sessions serve as practice for all High-Speed Autocross (HSAX) participants. An entry into the High-Speed Autocross competition gets you the approximate 60 minutes of HPDE practice track time and timed runs in the afternoon.
You can sign up for only the 3 HPDE sessions in the morning or the whole day that includes our timed lap HSAX Competition Series with trophy presentation.
Wheel-to-wheel Drivers' School and Sprint Races to follow on Saturday and Sunday. Please see our 2020 NSSCC COUNCIL SUMMER CLASSIC -- JULY 3-5 -- Race Packet  for complete details and for mail-in entry forms.
To limit person-to-person interaction, please print and sign the ADULT and/or MINOR waiver forms before you come to the track. They will be collected at the main gate. Also please read the COVID-19 Guidelines from Blackhawk Farms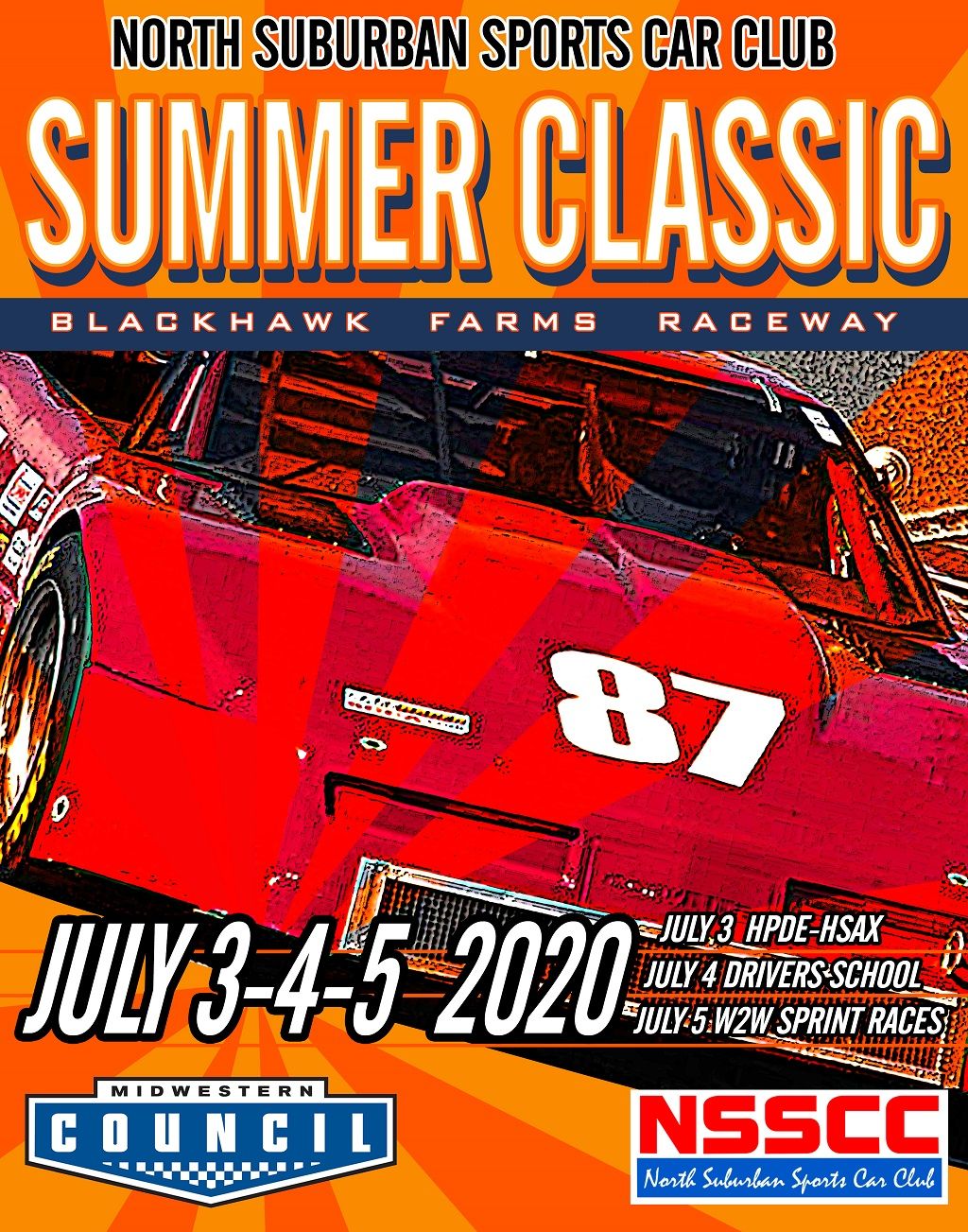 Event requirements



This event is sanctioned by the Midwestern Council of Sports Car Clubs and is governed by the MC GCR, available HERE
Midwestern Council requires Snell 2010 or newer helmets. At the present time, Blackhawk Farms is allowing each driver/racer/rider 3 crew members. No spectators will be permitted. Facial masks must be worn inside all buildings including the pavilion. Please see Blackhawk Farms full COVID-19 Guidelines.
2020 NSSCC COUNCIL SUMMER CLASSIC -- JULY 3-5 -- Race Packet
Due to ongoing COVID-19 challenges, we are attempting to minimize person-to-person contact and strongly encouraging Pre-Registration. We will accept entries day of at the track, but these entries will incur a $50 late fee.
When you pre-register online, you will go to a screen where a valid charge card must be entered. This is required by MSR, not by the club, and is kept in a fully encrypted form. YOUR CARD WILL BE CHARGED. Mail-in entries are also accepted: download the entry packet for full information and a mail-in form.
Blackhawk Farms Raceway
South Beloit, IL
Download track map
Watch a video tour/lap
North Suburban Sports Car Club - Autocross