About this event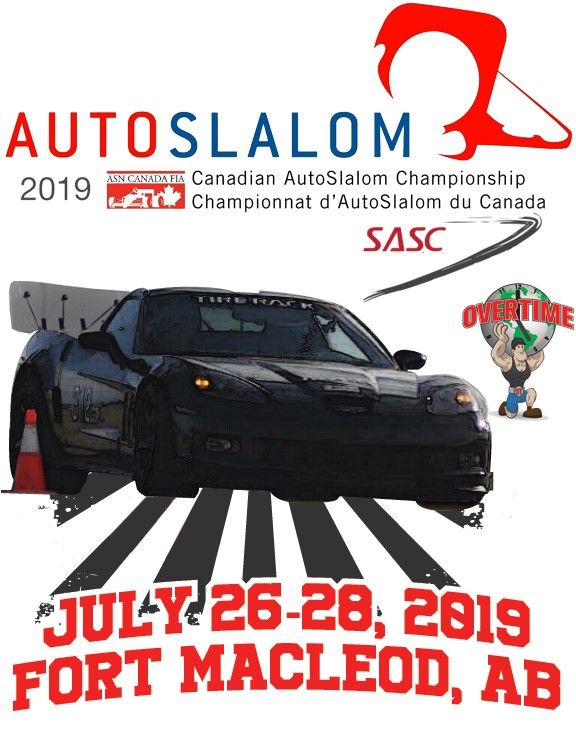 2019 CANADIAN AUTOSLALOM CHAMPIONSHIP EVENT
presented by Overtime Rentals
GENERAL INFORMATION
1. ENTRY REQUIREMENTS: Entry is open to anyone having a valid driver's license and belonging to a Canadian motorsport club recognized by ASN Canada FIA or SCCA. Entrants should meet any licensing required by their region. SASC Memberships are available online through Motorsportreg.com at:
https://www.motorsportreg.com/events/southern-alberta-solosport-club-sasc-membership-845899
2. Any changes to the Supplemental Regulations and the run/work order will be posted on the official notice board at Onsite Check-in. It is the responsibility of each competitor to check for any changes and be governed by them.
3. There will be a mandatory drivers' meeting at 9:30 am on both days prior to first runs. The expected first car out will be 10:00 am for all days.
4. There will be no overnight parking or camping on the airport grounds or the adjacent public lands at any time. No cars, trailers, or support vehicles will be allowed to be left at the venue overnight. The course and general paddock areas will be vacated by all personnel at night. Nearby campsites are identified on the event website.
5. Trash containers and portable toilets will be provided. Do not obstruct the portable toilets. Please use all facilities responsibly.
6. All garbage and waste must be removed from the site by the competitor. The expense for disposal of any identifiable waste will be billed to the owner.
7. No vehicle maintenance involving fluid changes will be permitted on site.
8. There is a $100 deductible on damage to any runway lights adjacent to the runway. Competitors are responsible to pay this deductible if they damage a light at any time during the event. Caution should also be used when driving or backing off the runway with tow vehicles or competition vehicles.
9. Gasoline is not available at the event site. Stations are within two kilometers of the event site.
10. No alcohol or drugs are allowed at the venue. Zero tolerance.
11. All posted speed limits and traffic regulations shall be respected on surrounding roads. Those seen stunting, speeding or driving recklessly will be disqualified.
REGISTRATION
Fees:
•   $140 – Early - Cut Off Date July 12, 2019, 8:00pm MDT (Extended)
•   $160 - Regular - Cut Off Dates July 12 - July 18, 2019, 8:00pm MDT
•   $200 – Late (Non-refundable) - Cut Off Dates July 18 - July 22, 2019 8:00pm MDT
CASH WILL NOT BE ACCEPTED. No event registrations will be accepted on site.
Entry must be received by 8:00 pm MDT, July 12, 2019 to obtain the early registration rate. Entry must be received by 8:00 pm MDT July 18, 2019 to obtain the Regular registration rate. Late registration closes at 8:00 pm MDT, July 22, 2019. No event registrations will be accepted on-site.
Cancellations:
The deadline to cancel an entry and receive a refund, less the cancellation fee, is 8:00 pm MDT, July 22,
2019. Only entries received prior to 8:00 pm MDT July 18, 2019 are eligible for refunds. Late registration fees are non-refundable. Cancellation requests must be emailed to secretary.sasc@gmail.com
Cancellation Fees:
$20 - June 1 - July 18 2019
$80 - July 19 - July 22 2019
EVENT SCHEDULE
Please click the PDF link below to view the event schedule. 
2019 CAC Event Schedule_Rev00.pdf

NOTES:
1. Anyone that has not checked in with on-site Registration (in the pilot's building) prior to the times posted on the event schedule (9:30am Saturday, 8:30am for late onsite check in Sunday) will not be allowed to run that day, no exceptions. 
CAR NUMBERS
1. Car numbers must comply with the ASN Canada FIA National AutoSlalom Regulations. See section 4.4 for width and height requirements.
2. One set of numbers should be affixed to each side of the vehicle (front door panels are preferred) and must be legible from the timing and scoring vehicle.
3. Failure to properly identify the car number can result in the run not being timed.
4. Car numbers will be issued on a first-come, first served basis. Car numbers for second drivers must be separated by 100. Where there are two drivers in one car in one class, the first driver must have a number 1 – 99; the second driver's number will be 100 plus the first driver's number (i.e., 30 and 130, 99 and 199).
5. Car owners must inform Registration of the intent to run multiple classes with a single vehicle (email secretary.sasc@gmail.com). Every effort will be made to accommodate this with the run/work order, but it is not guaranteed. The first person to register for the group of numbers (two or three digit) has the rights to the number.

Sound Policy
We have a strict sound policy; The measurement will be taken at a point where the vehicle can reasonably be expected to be under load at full throttle. The measuring point will be 50 feet from the edge of the course using an ANSI Type 2 sound meter set to "A" weighting, "Slow" response. The microphone will be placed 3-4 feet above ground level, positioned perpendicular to vehicle direction of travel. Measurement will be taken at a minimum of 1 sound station but usually 2, rules apply for both stations. 

If a vehicle registers a reading between 91.0-92.9dB the driver(s) will be given a courtesy warning that they are near the limit. 

If a vehicle registers a reading at 93.0dB or greater the driver must make a mechanical change to the vehicle (ex. install a turn-down1, install a silencer, close an exhaust valve(s)2 etc.), the mechanical change must be shown to and accepted by the Event Chair or other SASC Executive member prior to the next run. A "mechanical delay" is permissible to make this change. If during the next run the driver(s) registers a second reading at 93.0dB or greater that vehicle will not be allowed to continue running (for both drivers in case of a two driver car). 

Vehicles that register below the 92.9dB maximum in the measured section(s) of the course but are found to be excessively loud (eg. exhaust backfire, tire squeal etc.) in other sections of the course may also not be allowed to continue running if so deemed by the Event Chair or other SASC Executive member. 

Please note that this also applies to showroom stock vehicles, we are aware that there are a very small handful of unmodified cars (ex. Porsche 911 GT3 and Ford Mustang GT350R) that can exceed the 92.9dB maximum, these vehicles must still adhere to the sound policy.  

1. Turndowns can only be installed pointing directly upwards, downwards, or rearwards, pointing the turndown 90° away from the sound meter is not allowed. 
2. Exhaust valves that are adjustable electronically via the push of a button inside the vehicle are acceptable. 

HELMET POLICY:
Valid helmets for for this event (ASN Autoslalom competition) are as follows:

•   FIA 8860-2004
•   FIA 8860-2010
•   Snell 2015 SA, or 2015 M
•   Snell 2010 SA, 2010 SAH, or 2010 M
•   Snell 2005 SA, or 2005 M (expiry 31.12.2018)
•   SFI Foundation 31.1/2015
•   SFI Foundation 31.1/2010
•   SFI Foundation 31.1/2005 (expiry 31.12.2018)
•   SFI Foundation 31.1A or 31.2A (expiry 31.12, 2015)
•   ECE R22.05 (expiry: ten years after date of manufacture as noted on unaltered, helmet label)

TECHNICAL INSPECTION AND IMPOUND
All vehicles will be checked by the Tech Steward or designate before they are allowed to compete as part of the registration process. Please refer to the Event Schedule for available technical inspection time slots. 

•   Vehicle is in the correct class 
•   No loose objects inside the passenger compartment 
•   Static brake test
•   Battery is secure (no bungee cables/cords allowed)
•   No leaks
•   No excessive wheel play
•   A valid helmet (a sticker will be affixed to the helmet after inspection, sticker is valid for the duration of the 2019 season)  

The vehicle owner/driver is still ultimately responsible for the condition of the vehicle and must ensure that it is safe to operate.
A copy of the self-tech inspection form can be found here:
http://www.asncanada.com/wp-content/uploads/2016/03/ASN_SoloSport_Tech_Self_Insp_Form.pdf
Further information regarding the event can be found in the supplemental regulations found here:
2019 CAC Supplemental Regulations Rev01.pdf
NON-COMPETITION INFORMATION
WELCOME MEET, BANQUET, and BBQ LUNCH
All competitors, crew, guests, and spectators are welcome to attend the Welcome Meet. Tables will be reserved however all charges are the responsibility those attending.

Event:                   Welcome Meet
Format:                 Non-hosted, guests responsible
Date and Time:     6:00 pm – Friday July 26, 2019
Location:               Macleod's Restaurant & Lounge (271 23rd Street,

Fort Macleod, AB  T0L 0Z0)
Competitors may attend the Saturday Banquet free-of-charge. Additional banquet tickets for non-competitors are available for purchase at online registration.

Event:                    Saturday Banquet
Format:                  Included with entry, non competitor tickets available through registration.

Cash bar (Beer, wine, coolers)

Date and Time:    6:00 pm – 10:00 pm - Saturday July 27, 2019
Location:              Catholic Church (Event) Hall (2517 3rd Avenue,

Fort Macleod, AB  T0L 0Z0)
On both competition days (July 27-28), a local vendor will be onsite from approximately 11:00 am – 2:00 pm selling BBQ lunch items including burgers, hot dogs, baked beans, coffee & pop (Lunch Combo of beef burger, baked beans & choice of water, coffee, or pop for $8.00 incl tax). Cash only.
Event requirements
Please bring a completed and signed vehicle self-inspection form with you to the event (http://www.asncanada.com/2013-SoloSport/ASN_SoloSport_Tech_Self_Insp_Form.pdf)
Fort Macleod Airport
Fort Macleod, Alberta
Southern Alberta Solosport Club