TSCC's Hosting of the 2019 NCAC Class Championship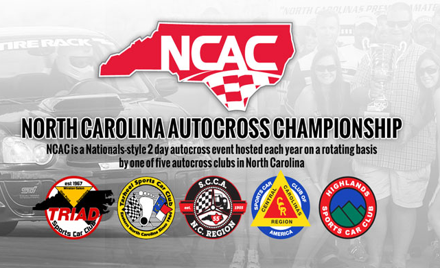 Triad Sports Car Club
Saturday, Oct 5 — Sunday, Oct 6, 2019
Registration closed October 3, 2019 11:59 PM on October 3, 2019 11:59 PM EDT Registration ends October 3, 2019 11:59 PM on October 3, 2019 11:59 PM EDT Registration opens September 7, 2019 12:00 AM on September 7, 2019 12:00 AM EDT Registration runs from September 7, 2019 12:00 AM to October 3, 2019 11:59 PM
Come join the Triad Sports Car Club as we host the NCAC Class Championships 2 Day Event at ZMAX Dragway in Concord, NC, Saturday and Sunday, October 5 & 6!
This event will decide Invidual Class Championships, as the Club Cub will be decided by the Traveling series which will wrap up prior to this event.
A NCAC T-Shirt will be provided, with guarunteed sizing to those who Pre-Register PRIOR to September 27th. 
No Novice Classes
No Pro Class
No PAX Based Classes
$45/Day or $90 For the weekend. Only those who participate for the full Weekend will get Class Championship Trophies!!!!!!!!
Host Hotel & Early Tech information:
Hilton Garden Inn - Concord
7831 Gateway Ln NW, Concord, NC 28027
Call 704-979-2900 by September 25th and say the room is for the North Carolina Autocross Championships to obtain the $119 NCAC Rate
Early Registration will take place in the Lobby Between 5:30 and 7:30 PM
Early Tech will take place between 5:30 PM and 7:30 PM at the Back of the Host Hotel Parking Lot
Tech is not required if you have an Annual Tech with another club, we'll verify your sticker the morning of the event
We will tech your car on the trailer
Schedule:
Gates open at: 7:00 AM
Registration & Tech Opens:  8:00 AM
Tech Closes Promptly at 9:15AM
Driver's Meeting: 9:45 AM
First car off: 10:15 AM (BOTH DAYS!!)
100dB Sound Limit ENFORCED!!!!!
Your car should be tech inspected  BEFORE the drivers meeting. Annual Tech Inspections from other NC Clubs are accepted! To pass tech, you must:
Clean out any loose items in the car (including the trunk): things like cell phones cables, garage door openers, loose change and such.
Have car # and Class clearly marked on the side of the vehicles (NOT on the windows)
The battery has to be properly secured.
If your floor mats are not physically attached to carpet, they will have to be removed. We don't want the floor mat to bunch up under the brake or gas.
Hubcaps and center caps on wheels should be removed. If your hubcaps mount to the wheel and are held in place by the lug nuts, then they can stay on, otherwise they should be removed.
Have a SNELL approved helmet, 2005 or newer (M-rated or SA-rated). Don't worry, if you don't have one we have loaners available.
It is your responsibility to:
Check basic fluids such as oil, coolant, and brake.
Make sure you torque the lug nuts to manufacturer's recommended tightness.
Make sure you have no active leaks on the motor, transmission or diff. Oil on the track is a bad thing.
Check tire pressure. If you don't know what to set it to, a good starting point is typically 35 psi.
You WILL experience greater than normal tire wear. Your tires MUST be serviceable, meaning they have appropriate tread, no chords showing, etc.
100dB Sound Limit ENFORCED!!!!!
Entry Fees:
$45/Day or $90 For the weekend.
On Site Registration will be an additional $5.  Register on-line today and save money.
Ride Along Passenger Registration:  If you have a friend, significant other or any other person who's at least 16 years old AND has a drivers license, please register them as well using the Ride Along Registration option.
You can prepay online through the secure MotorsportReg website. Payment is deferred and accounts will not be charged until registration closes, so if you register and find out that you can't make it please cancel your registration prior to registration closing (11:59pm Friday, October 4th, 2019) and you will not get charged.