THSCC Points AutoX #3 Cary Towne Center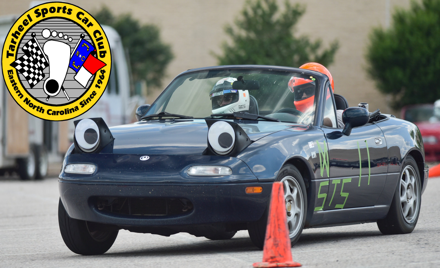 Tarheel Sports Car Club
Sunday, April 12, 2020
Cary Towne Center
,
Cary

,

NC
Information 
Tarheel Sports Car Club's third event of the season brings us back to an extremely local site which is small but always fun. Our site in Cary makes use of part of Cary Towne Center's parking lot which has elevation changes which always makes for some interesting course designs as you transition from on camber and off camber and usually involves a loop somewhere. Courses will typically be around the 30 second length.
This event will fill up very quickly, so please sign up early. If something comes up and you can't make it, please cancel your registration so wait listed folks can join us. If you do so before the event, your card will not be charged.

This event is on Easter Sunday and we've been told the mall will be closed, so please plan accordingly for food or be prepared to run out somewhere close by to grab food if time allows.
To get ready for this event, please go to our web site, THSCC.COM. Select the "autocross" tab to find everything that you need to know for an autocross event such as what to do, which class you should sign up for, and directions to the site. You will find classes and numbers that you can print by selecting "forms". Novices only need to print the "NOV" class, not the actual car's class. Remember to bring tape to post your class and number on the side of your car. A mandatory instructional novice walk will start promptly at 8:45AM. Please have your car ready and be there on time. 
Check out some videos of the previous events to get an idea what this event will be all about:
https://www.youtube.com/watch?v=CBtZuFFuqXI
https://www.youtube.com/watch?v=Y-lAK6tbyys
If you have never autocrossed before, please check out the video below.
https://www.youtube.com/watch?v=v_QdqbbIhco
Registration
Event Entry: $40
Late registration after midnight April 8th: $50
We encourage you to prepay online through the secure MotorsportReg website. Payment is deferred and accounts will not be charged until registration closes, so if you register and find out that you can't make it, please cancel your registration prior to registration closing and you will not get charged. If you prefer to register at the event, you will be charged the increased day-of registration fee.
If you would like to redeem an event voucher (i.e. Season Passes or Event Passes) please register normally online and then email the registrar registrar@thscc.com and your registration will be modified accordingly.
Event Schedule
 
| | |
| --- | --- |
| Gates Open | 7:30 AM |
| Tech Inspection | 8:00 - 9:00 AM |
| Registration Check-In | 8:00 - 8:45 AM |
| Novice Walk | 8:45 AM |
| Drivers' Meeting | 9:30 AM |
| First Car Off | 10:00 AM |

If you have any questions please contact us at autocross@thscc.com .