Spring Sprints and Driver's School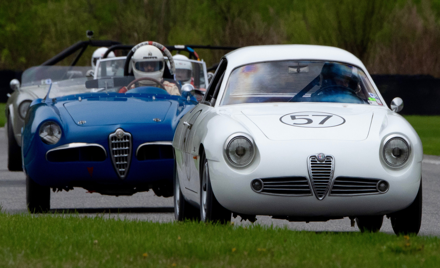 VSCCA
Friday, May 1 — Saturday, May 2, 2020
Lime Rock Park
,
Lakeville

,

CT
Spring Sprints & Driver's School
Friday and Saturday, May 1-2, Lime Rock Park
Save $50 by entering by April 1!  
Use your credit card and the charge will not go through until the weekend of the event and you will not be charged credit card fees!
Kick off your track season by celebrating Alfa Romeo's 110th anniversary with the VSCCA's Spring Sprints and Driver's School: 
You don't need an Alfa to enter, just any VSCCA eligible car and School entrants can run just about anything in the school track sessions.  

 

All Alfa entrants will get an 8" x 10" print of the Alfa car and driver group photo taken at the event as part of their entry fee. 

If we get 15 Alfas there will be an Alfa-only Feature race.  

If you don't have an Alfa, don't worry, you'll get all the usual track time at this two-day event.  

For the two-day school you'll get a great introduction to vintage racing with professional instructors in both classroom and on track sessions.  

Both days will be shared with the Lime Rock Driver's Club.

This is a muffled event.
For more information on the Spring Sprints please contact Event Chair Ben Tarlow at info@midcenturymotoring.comor call 914-402-5799
For more information on the Driver's School please contact Charles Bordin at cbordin123@aol.comor call 914-968-5700
Event Entry:
Regular two-day entry and School: $475

Regular one-day entry: $250
If you have not registered for an event with motorsportreg.com please click on these links:
Video Tutorial for VSCCA Members new to MSR
Video Tutorial for VSCCA Members with MSR accounts, registering for VSCCA events
for step by step instructions and FAQs.
For payment by check, please make your check out to VSCCA, Inc. The remittance address will be found by clicking on the "Event Chair Contact Info" on this event at vscca.org