Sat, Apr 22, 2023
The Spring Shakedown Autocross @ Lime Rock Park
Lime Rock Park
About this event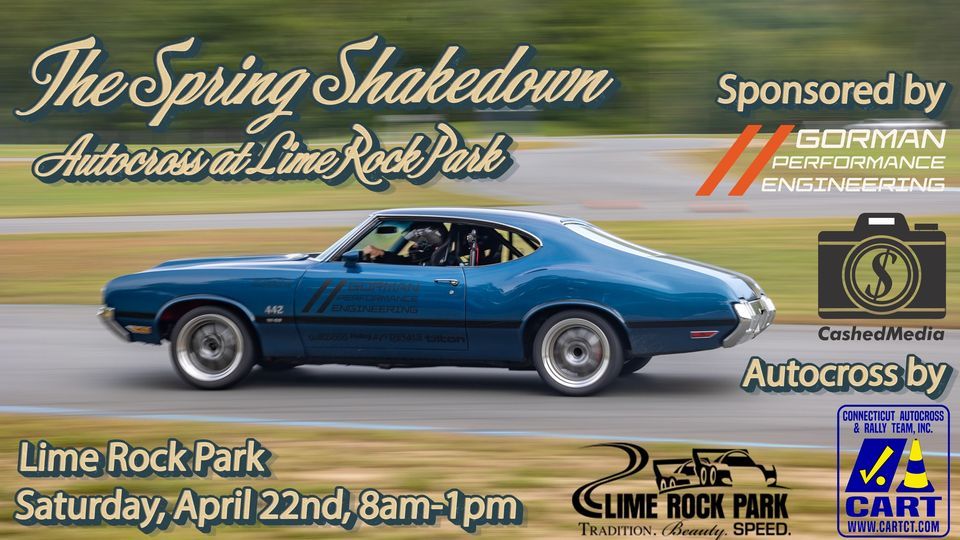 The Spring Shakedown Autocross @ Lime Rock Park
Registration and payment: https://www.gormanperformanceengineering.com/event-details/
Location: Lime Rock Park Autocross Course
Please be sure to bring your own helmet as they will be required for the event.
WE CAN LOAN A FEW HELMETS BUT IF YOU DONT HAVE A HELMET YOU WONT BE ALLOWED TO RACE
Overview:
Want to put your driving abilities to the test? Looking to knock off the rust and prepare for another season of racing? Well our autocross test and tune is just what you're looking for. Utilizing the incredible FCP Euro Proving grounds, our timed point to point autocross test and tune is perfect for both novices and experts alike. All years, makes, models, and levels of modification are welcome!
This is half day event so the schedule will be very busy in the morning to get through Registration and Tech.
Schedule:
Gate opens: 7:30 AM
Tech Opens: 7:30 AM
Registration / Check In: 8:00-8:30
Tech Closes: 8:30 AM
Drivers Meeting: 8:45 AM
First Car sets off: 9:00 AM
Last Car sets off: 1:00 PM
Classing
Cars will be classed in two different classes. We will have the Classic American Muscle and the Non-Classic American Muscle class. SUVs will be allowed to race as well! If the race car is not ready bring the family mobile. All entries will be allowed at the discretion of the organizers
Numbers will need to be displayed prompted
Registration
Cost: $150
Follow this link to complete registration and payment: https://www.gormanperformanceengineering.com/event-details/
Frequently Asked Questions
C.A.R.T. maintains a good neighbor policy: any competitor or crew found driving in the pits or on the street in an unsafe manner will be ejected, and forfeit any fees paid. Vehicles that are judged to be too loud will receive one warning to correct the problem before they will not be allowed to run. Drivers exhibiting unsafe driving skills on or off the property will be banned from events.
Registration closes promptly at 8:30 a.m. Any entry after that time will not be accepted.
Any car (street legal or race) may compete. SUV's can compete.
Car number must be clearly marked on the car. Car numbers should be 8 inches high.
Minimum age to compete is 16 years old for non club member participants and 16 years old for paid club members (any club members 16 and 17 years old must be accompanied by a paid member parent and have a waiver signed by said parent prior to competing). All drivers must have a valid driver's license. (We do check!)
Helmets are required YOU MUST BRING YOUR OWN. Every helmet must have a Snell M or SA rating and proof of being manufactured within the last 10 years. Helmets must be in good condition (no cracks)
Apparel – We suggest long sleeve shirts and long pants be worn when driving in this event. The material should be 100% cotton. Close toed shoes are required for all participants, no sandals, please.
All cars must be in good mechanical condition. This includes brakes and mechanically secured battery (no elastic cord). All cars must be muffled to a level determined by the Event Chair or any Officer
Only drivers and "crew" allowed. Please remove all your trash when you depart.
Lime Rock Park
Lakeville, CT
Connecticut Autocross & Rally Team