OCTOBER OVERSTEER HPDE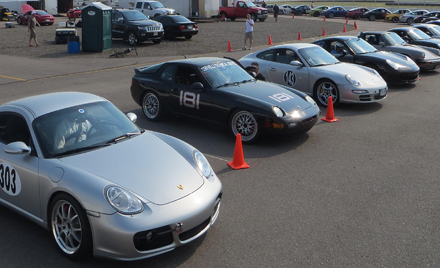 PCA - Rocky Mountain Region
Saturday, Oct 17 — Sunday, Oct 18, 2020
High Plains Raceway
,
Deer Trail

,

CO
Registration closed October 12, 2020 11:59 PM on October 12, 2020 11:59 PM MDT Registration ends October 12, 2020 11:59 PM on October 12, 2020 11:59 PM MDT Registration opens September 3, 2020 12:00 AM on September 3, 2020 12:00 AM MDT Registration runs from September 3, 2020 12:00 AM to October 12, 2020 11:59 PM
OCTOBER OVERSTEER HPDE
SOLOED DRIVERS ONLY
Saturday, October 17  & Sunday, October 18,  2020
Come join us for the final HPDE of the short 2020 season!  Due to the coronavirus pandemic this event will be for qualified solo drivers only.  Also, due to the pandemic our important changes we have implemented at our events this season will continue.
As an exciting change we will run the High Plains Raceway FULL course on Saturday and the West course on Sunday.  The west course eliminates turns 9ab, 10, 11 and 12, putting you straight from turn 8 into the corkscrew of what is turn 13 on the full course.  It will be a blast!!
Additionally on Saturday night we will hold a "Walk the track" event focusing on the West Course to prepare for Sunday's new course.
 Due to the coronavirus pandemic this  HPDE will be for qualified solo drivers only. Also, due to the pandemic we have a few other important changes.
COVID-19, the novel corona virus, has become the forefront of immediate health concerns.  The RMR Board has been following and discussing these issues frequently.  We understand that members have concerns. In all things we do, we consider first and foremost the health and safety of our members, volunteers, and sponsors.  As we begin to host events again, we ask that everyone follow the guidelines below to help keep themselves and fellow members safe.
Social distancing is key when gathering for the event.  Please maintain a distance of 6 feet from friends and staff whenever possible.

Face coverings are most essential in times when social distancing is difficult.  Face coverings are meant to protect those around you in case you are unknowingly infected.  We are requiring that masks be worn at all times unless eating, drinking, or driving. Please bring your own face mask and have it on when you arrive at the gate.

Avoid handshakes, fist bumps, and other forms of physical contact.  When appropriate, use hand sanitizer or wash your hands and avoid touching your face. For your health please bring some hand sanitizer and use it frequently.
Following these guidelines will help to lower the risk of exposure and spread of COVID-19, and will facilitate our ability to host more events in the future.
**These guidelines are subject to change as the demands of the pandemic are constantly evolving, so we ask for everyone's flexibility as we prepare and host this event.  Any changes will be announced by email communication before the event, or at driver's meetings at the event. **
Due to COVID-19 concerns there will NOT be a dinner on Saturday night.  There will be beer-30 on both Saturday and Sunday, with certain precautions.  Concessions at the track will be open for breakfast and lunch, but will not provide dinner service so if you are staying at the track make sure to pack food for evening meals.
 There will be a Zoom meeting with participants 7:00 p.m. Tuesday night, October 13, 2020 with an emphasis on safety, COVID-19 protocols, what to expect, etc. Please, put this in your calendar and plan to attend. There will be important information for the event at that time. You will receive an email invitation at a later date for this very important meeting.
We are excited to support our charity for this event – The Colorado Mission of Mercy (COMOM).  COMOM is a 501(c)3 non-profit organization whose mission is to provide quality dental services, at no cost, to individuals of all ages who cannot afford and access dental care; eliminating dental pain, promoting oral health, creating smiles, and providing oral health education.  Every year COMOM holds a two-day dental clinic in a large facility in different locations around the state of Colorado as an open door clinic to the community.   Dental services are provided to any person on a "no questions asked" basis. Patients are evaluated and treated based on their most urgent dental needs. Patients undergo dental treatments such as cleanings, fillings, root canals, and extractions.  The best part about COMOM is that this quality treatment is provided at no cost to patients, and it is staffed by an all-volunteer force of dentists, dental hygienists, dental laboratory technicians, dental assistants, and community volunteers who donate their time, materials, and expertise.   Since its inception in 2007, COMOM has served 15,000 patients and provided $13,000,000 in donated dental care.  More information at www.comom.org
Lunchtime charity rides will be held for $20 per vehicle - Any roadworthy vehicle can drive the track at touring/highway speeds.  All proceeds benefit our charity for the event, COMOM.  With COVID-19 restrictions all charity ride vehicles may have passengers, but everyone in each vehicle must have arrived at the track (traveled to/from) together.  No unrelated parties may ride together in the charity ride.
This Event will be using Deferred Billing, if you are paying with a credit card it will not be charged until Wednesday, October 14th, 2020.
Date:           Saturday, October 17  & Sunday, October 18 , 2020
                    Gates open at 5:00 PM Thursday night  and remain open until after the event ends on Sunday
                    Registration: 7:00 AM to 8:00 AM Saturday and Sunday Please register BEFORE  the 8:00 AM drivers' meeting. Onsite Check-in CLOSES at 8:00 AM!
                    Mandatory all drivers' meeting at 8:00 AM,(each day). 
Location:   High Plains Raceway, 17 miles east of Byers on US-36 (Deer Trail)
Event Registration fees:
                     Either day:       Each Driver: $210.
                     Both days:        Each Driver: $335
                                              Early Bird Special is a $15.00 discount that ends on September 17, 2020. You must register for the entire weekend for this discount.
Event Chairs:  Nick Shumaker nickshu@gmail.com Thomas Borch Thomas.Borch@ColoState.EDU
Chief Driving Instructors:  Vicki Earnshaw vicklm@aol.com  & Dave Stribling Stribling  strib81@yahool.com
They can answer any questions about registration confirmation, cars, run group assignments, instructor assignments, etc.     
Registrar:  EJ Bennett ejbennett@lafflaw.com