About this event
STUDENT CAPACITY HAS BEEN MET. CURRENT WAIT-LIST IS 8.
ONLINE REGISTRATION ONLY!
MSCC presents the Autocross School, "Game of Cones".

This school is geared towards new autocrossers. Students with more than 3 autocrosses should contact the registrar to determine eligibility. Registrants with autocross experience may be waitlisted at the Steward's discretion.
If you register and cannot attend, please cancel your online reservatoin before registrations closes to get a full refund and open up the spot for the next person on the waitlist (no fee to cancel).
Waitlist will be used as first come, first served, if spaces become available.
$35 Student Fee (limited to 30 entrants)
A $35 credit to a 2021 MSCC Autocross will be granted on MSR for each student that completes the school.
Spectators are free. Everyone needs to bring pre-printed waivers (2 pages) - https://www.madisonsportscarclub.com/autocross-registration-form/.
Membership can be paid with this online registration, or in advance here: msreg.com/MSCC. Other options available at madisonsportscarclub.com/join-mscc/.
YOUR CARD WILL BE CHARGED WHEN YOU REGISTER ONLINE FOR AN AVAILABLE SPOT.
Checkout other opportunities to autocross with the club at https://www.motorsportreg.com/orgs/madison-sports-car-club/parking-lot-autocross
Please email the Steward at autoxsteward@madisonsportscarclub.com with questions on this event. Please stay tuned for further developments: madisonsportscarclub.com/mscc-covid-19-updates
Event requirements
6/19/2020 Update: COVID-19 Supplemental Regulations (subject to change):
Follow all rules and directions

These are nonnegotiable, if you do not abide by the rules, you will not participate
We are following the track's requirements and guidance

Stay home if you are sick or have flu symptoms

Visibly sick people will not be allowed on the premises
Cancel online or notify the registrar as soon as you can to allow the next person on the wait-list to join
You must cancel or notify before the event to get a refund

Print your MSCC WAIVERS (2 pages) in advance and bring them to the track

Social distancing of 6-feet minimum is mandatory

Park at least one car width or one stall (if marked) from other cars

No passengers

Passengers will not be allowed during autocross runs for social distancing
Spectators are allowed and must abide by all these rules, especially social distancing

Face coverings are recommended but not required

Workers within 6-feet of any person must wear a face covering

Supply and bring your own helmet

Loaner helmets are not available, and you need a helmet to race

Recommended items to bring

Your own autocross numbers/masking tape
Hand sanitizer to keep near you
Water and lunch (alcoholic beverages are prohibited)
Sun protection
Gloves for corner working

Aggressive driving will not be tolerated while offsite or onsite when not on course

You will be prohibited from participation if seen or heard disobeying public laws or the following:

No burnouts, no tire squealing, no loud nor excessive engine revving
Esspecially applies to paddock and grid where the speed limit is 10 mph

Online registration and payment only

No onsite payment (no cash, no check)
Make sure your name, car info, and payment are correct
Ask questions via email before the event
Wait-list will be administered by first in, first out
Thank you in advance for arriving fully prepared and politely adhering to all guidance!
Review the Rulebook for all requirements; including age, vehicles, and safety: madisonsportscarclub.com/parking-lot-autocross-general-competition-rules/
Check the current MSCC permanent car number list here: madisonsportscarclub.com/autox-permanent-numbers/
We recommend that you bring a lunch, hydration, and sun protection. The school will have a brief lunch break to reset the track.
BE EARLY TO PREPARE YOURSELF AND ASK QUESTIONS!
7:00 - 8:30 AM: ONSITE CHECK-IN
Schedule will be modified for the school format.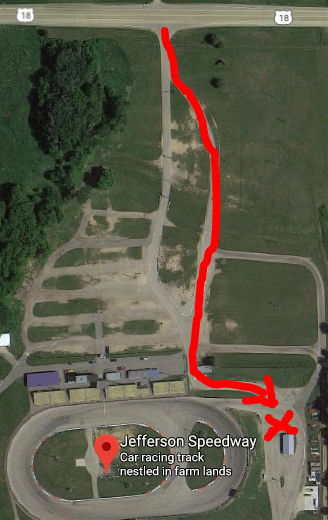 Jefferson Speedway
Cambridge, WI
Madison Sports Car Club - Parking Lot Autocross