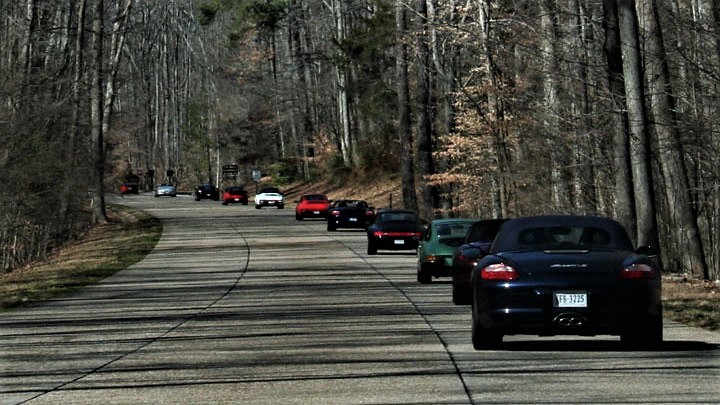 Sat, Jun 26, 2021
FSR's Ed "Tourmeister" Merry Tribute Driving Tour
The Alpine Chef
About this event
Join your FSR friends for a tribute to our own Ed "Tourmeister" Merry as he hands over the reins as FSR Tourmeister. This tour will take us from RIchmond to Fredericksburg on Saturday, 26 June. We'll start at the Regency Square Mall in Henrico and end up at The Alpine Chef Restaurant in Fredericksburg for lunch.
The route for this event, through the back roads of Hanover and Spotsylvania counties, is about 85 miles and will take about 2.5 hours, including breaks. We expect to arrive at the restaurant around 1PM.
Check-in starts at 9:45AM at the Holly Hill Rd. entrance on the eastern side of the mall (mall address is 1420 N. Parham Rd in Henrico). We'll arrive at the restaurant around 1PM.

Check-in will will include two waivers. One is the usual PCA event waiver. The second is the PCA Communicable Disease Exposure (CDE) waiver described below. There is a new CDE Waiver that is good until 28 Fenruary 2022. If you haven't submitted a new one since this March, then please bring a signed copy with you to this event. If you have submitted a new one, you don't need to re-submit. It's actually less effort for us (we have to track them) if you only submit once. Download the updated waiver HERE.
There is no cost for this event except for your lunch tab.

The restaurant capacity limit is 40, so don't delay... register now!
We hope to see you there!
Event requirements
FIRST SETTLERS REGION - PORSCHE CLUB OF AMERICA
EVENT COVID-19 SAFETY GUIDANCE
1. Masks are optional for those who are fully vaccinated unless specified by a particular venue or location.
2. Please do not come to the event if you are feeling ill, have any COVID-19 symptoms or have a temperature. You will be asked to let us take your body temperature as part of registration. Your temperature must be below 100.4 degrees. You will also be asked about COVID-19 symptoms and exposure.
3. Maintain social distancing between family units at all times when out of vehicles.
4. We recommend filling with gas before arriving at the event.
5. If any event participant does not comply with all of the above safety ground rules, they will be asked to immediately depart the event. If there is sufficient concern regarding participant safety, the event organizers may cancel the event at any time, including prior to the start.
The Alpine Chef
Fredericksburg, Virginia
More events from this organizer