Fort Wayne Solo School and Points Event #1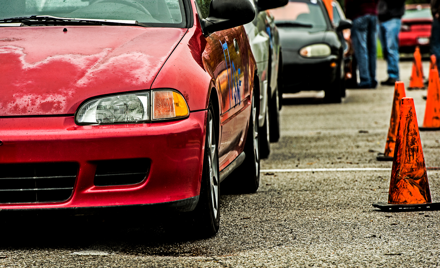 SCCA - Fort Wayne Region
Saturday, May 16 — Sunday, May 17, 2020
Indiana Purdue of Fort Wayne
,
Fort Wayne

,

IN
Fort Wayne Region Sports Car Club of America presents:
Fort Wayne Region Solo School and Points Event #1
Solo School:
Explanation:
The Fort Wayne Region Solo School is geared towards novice drivers who want to learn about autocross and drivers looking to gain more experience. Registration for the event begins at 8:00 a.m. After registration there will be time to meet fellow drivers and get to know some of the instructors. The classroom session starts at 9:00 with an introduction from the Solo Director and a brief session over what to expect when attending a Fort Wayne Region points event. The next classroom session will teach some basics of car control and how certain parts of the car interact with each other during racing.  After the classroom session, we will break for lunch before entering the driving sessions. During the afternoon session, the students will be paired up with an instructor who may be familiar with their car. The instructors will teach from the passenger's seat, but the student has the option to let the instructor drive their car to learn. After the driving session we will debrief and re-cap what to expect at points events. The lunch for the Solo School will be provided - details of the lunch will be announced at a later date.
Event Timeline:
Schedule:
8:00AM to 9:00AM:  Registration & Tech
9:00AM to 9:15AM: Solo Director Intro
9:30AM to 10:30AM: Intro to Autocross (Take the course)
10:45AM to 11:00AM: 2019 Novice of the year
11:00AM to 11:30AM: Understanding your car
11:45PM to 1:00PM: LUNCH* and question and answer
1:30PM to 4:30PM: Apply what you've learned
4:30PM to 5:00PM: Debrief and clean up
*Lunch provided by FWR - Meal TBD

No Karts.
Cost (Lunch Included for Saturday school only):
SCCA Member: $50
SCCA Non-Member: $60
Points Event #1:
Event Timeline:
7:45 - 8:45: Registration
8:00 - 9:00: Tech open
8:00 - 9:15: Course walk*
9:15 - 9:30:  Novice Walk
9:30 - 9:45: Drivers meeting
10:00: First car on course
*once the safety stewards clear and verify the course


No Karts.
SCCA Member: $35
SCCA Non-Member: $45
By pre-registering on Motorsportsreg.com you will receive a $5 discount. 
We are currently only accepting payment onsite. Cash or check payments are preferred, while credit card payments are accepted for a nominal fee.
Register for both the Solo School and Points Event #1 and receive a $15 discount on the combined weekend events.  Payment must be received in full on Saturday!
SCCA Member: $70
SCCA Non-Member: $90
Everyone on site must sign the SCCA insurance waiver and have a valid driver license to compete. If the driver is under 18, they must have a minor waiver signed by both parents – contact Donovan Miner for details. Events run rain or shine.
Contact Info:
Keith Hagen - Solo Director
Email: solo@fwscca.com | Phone: (765) 431-1173
WEBSITE: http://www.fwscca.com | FACEBOOK: www.facebook.com/fwscca | Facebook Group: www.facebook.com/groups/fwsccasocial/