Sat, Aug 14, 2021
CVR PCA AutoX 4 (Lime Rock Park B-Paddock)
Lime Rock Park
About this event
Join us for the CVR PCA AutoX!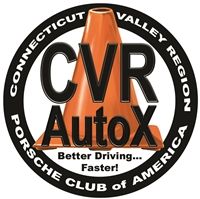 Welcome to the 2021 AutoX Season
NEW: Please reclassify your car for 2021. The new 2021 Quick Classification Guide ( https://cvrpca.com/wp-content/uploads/2021/04/2021-AutoX-Car-Classification-Guide.pdf) and CVR AutoX Class Table (https://cvrpca.com/wp-content/uploads/2021/04/CVR-AutoX-Class-Table-for-2021.pdf) for 2021 are used to determine your new class. (copy and paste the addresses into your web browser or go to the cvrpca.com web page and click on the AutoX web page where you will find these links and more helpful info.).
Autocross is a very exciting form of motorsport held at typical street and highway speeds. It emphasizes precise car control in a low-cost, friendly and safe competition. Learn and rapidly refine advanced driving skills and techniques in the non-threatening and safe environment of a course marked by traffic cones in a large parking lot. You are encouraged and coached by advanced driving instructors about the basics and the fine points of driving to the edge of your and your car's limits. Enjoy your car's handling like nowhere else and discover the fun and camaraderie of autocross. It is recommended to drive autocross before your first Drivers Education event since the skills are directly transferable.
CVR PCA AutoX is open to all Porsche Club of America members. Non-PCA member drivers must be an invited guest of a PCA member driving at the event. PCA members are allowed to invite up to two non-members per event.
Online Registration Fees:
Members $40
Non-Members $45
Due to Covid, no walk-up registrations will be allowed.
New Covid Procedures:
Safety of our members, friends and the community is our highest priority. We will respectfully be following all of the latest covid guidelines to make sure this event remains fun for all. Everyone is asked to respect these new safety measures. We all need to do our part:
COVID Procedures
We will continue to follow these Covid19 procedures from last year until further notice.

The safety of our members, friends, and the community is our highest priority. We will respectfully be following all of the latest COVID guidelines to make sure this event remains fun for all. Everyone is asked to respect these new safety measures. We all need to do our part:

Bring your own mask, hand sanitizer, gloves, pen, garbage bag, and use them. Don't forget the usual things like your own water, food, sun-screen, chair.
Thoughtfully use your sanitizer and gloves for your work shift (flag handles, timing/scoring areas, pylons, etc.). While virus transmittal risk from sun-baked items may be low, please be respectfully cautious.
The main tent will be roped off to maintain distance for the timing and scoring people. Bring your own shade if desired (properly weighted tent, umbrella, big hat?).
NEW: Pre-registration on Motorsport.reg.com is required! No walk-up registration will be allowed. Go to: https://www.motorsportreg.com/
Due to COVID, you may cancel at any time, including that morning, with a full refund or credit. Please do so as soon as you can so that we can re-plan the schedule without you.
Use "Air fist pumps" and "Air-Fives" instead of handshakes.
Limited loaner helmets will be exclusively reserved on a first-come basis by emailing Paul Kudra autocross@cvrpca.org. It is preferred that you order your own Snell 2015, or 2020 helmet on-line. Buy the latest Snell-rated helmet you can so it remains valid the longest. The Snell SA (Special Application) rating is preferred since it is for car motorsports.
Instruction may be done out-of-car, except if both instructor and student are comfortable with in-car, window open instruction.
CVR Championship AutoX Series
The CVR Championship AutoX series continues for 2021. We will count your best 3 finishes out of 6 events. If you are not feeling well or suspect any Covid exposure please cancel your registration at any time including the morning of the event for a full refund. Hoffman Porsche of East Hartford has supported CVR for many years with the Hoffman Cup Run Off event based on the championship points. Stay tuned for details about the 2021 Hoffman Cup event, which will only be run in full compliance in full compliance with all state and federal health guidelines in effect on October 9th.
Event requirements
This AUGUST 14, 2021 AutoX event is held at Lime Rock Park's large "B Paddock" ( next to Lime Rock track's "Downhill" turn). This event is completely sepparate from CVR's Driver's Education (DE) track event held that same day. Based on experience, it is NOT recommended to try to run both the DE and the AutoX events together. AutoX is a full day of Porsche Motorsport that requires your full focus. DE also requires your full focus and diluting that is not a good idea even for experienced drivers. If you have driven at least one CVR AutoX and never tried a CVR DE, then please give the DE a try. If you have never tried either, then please try the AutoX first as a foundational driving experience that will enhance your first DE event in the future.
CVR AutoX is run with an emphasis on event safety, refining driving skills, and fun.
AutoX and Novice Info:
CVR AutoX events emphasize learning Better Driving...Faster! Events are designed so that drivers with all levels of experience feel welcomed, enjoy the day, and go home a better, safer driver. Senior CVR AutoX instructors are available all day to provide in-car coaching and provide advanced driving tips. Loaner helmets available at all events for new drivers. To see more AutoX and novice information, click here.
Car Class:
Drivers are responsible for the proper classing of their vehicle. CVR AutoX run to PCA Parade Competition Regulations (PCR's) for Medium Sized Regions. Full classification rules are found in the new 2021 Quick Classification Guide and CVR AutoX Class Table for 2021 (used to determine your new class).
- Novice class: This class is for new drivers participating in a Porsche. Drivers start in Novice and stay there for 3 events or until they win the class, whichever is first.
- Other class: This class is for any non-Porsche car.
Registration:
Fill out the requested information to finish online registration. Pre-Registration will close at midnight, the Wednesday before the event in order to help us set-up the event. Your credit card will be charged the Thursday or Friday before the event. Once charged, there are no refunds. You may register the morning of the event at the higher rate.
Junior Participation Program (16 and 17 year old drivers with a full driver's license): Please email the Registrar before completing the online registration.
Event Schedule:
| | |
| --- | --- |
| 7:15-7:45 | Arrive at Event |
| 7:45-8:15 | Check-in and course walk |
| 8:30 | Drivers Meeting |
| 9:00 | First Car Off |
| 3:00-4:00 | Last Runs & Trophies |
Continue to check in at the CVR AutoX website (https://cvrpca.com/autox/ ) to see the course map published about a week before each event. Also to get directions, details about the 2021 season, event results, and any updates. We run rain or shine (unless it is an all day monsoon) to help enhance dry and wet driving skills.
Lime Rock Park
Lakeville, CT
PCA - Connecticut Valley (CVR) - AutoX