2020 OK SCCA Autocross Event 4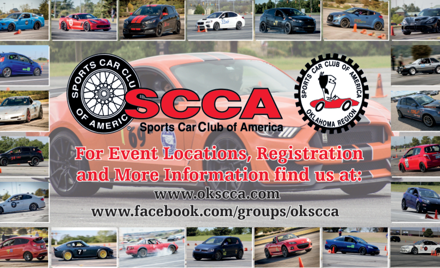 SCCA - Oklahoma Region
Sunday, May 17, 2020
Remington Park
,
Oklahoma City

,

OK
Personal alcohol (BYOB) is strictly prohibited at the Remington Park venue.

ATTENTION:  Junior Karts are not available at all Oklahoma Region SCCA events.  Please contact registrar to verify availability prior to registering.
2020 Season
We accept online payments via Visa & Mastercard only. Cash and Check will no longer be accepted. Please direct any registration inquiries to the registrar, Abbey Hovorka.
Registration on the day of the event will open at 7:30 AM and closes by 8:30 AM for the mandatory drivers meeting at 9:00 AM. Car numbering and class need to be on the vehicle before tech inspection, which also closes around 8:45 AM (Please Tech your vehicle after registering and PRIOR to walking course). There will be a novice course walk-through at 8:30 AM, so, if you're new, come a little early and get a guided tour.
Lunch: IT IS GOOD MEASURE TO BRING A LUNCH WITH YOU OR SNACKS. There have been events where stopping for lunch was going to interfere with the number of runs. Though we try not to let this happen, sometimes things throw the day off.  When possible, there will be approximately a 30 minute lunch break after the heats 1 & 2. There is a McDonald's, a Subway, and a Sonic across the road, but they often become very busy during lunch. We strongly reccomend bringing your own lunch. Bring plenty because it is a long and active day. 
Remember to bring lots of drinking water and stay hydrated. Bring sunscreen. This is a competitive event and you will stay active and on your feet all day. 
Drivers must present a valid driver's license and a valid SCCA membership card, no exceptions. If you're not a current SCCA member you will have the opportunity to purchase a weekend membership. 
Drivers must wear full shoes that cover the entire foot. No open toed shoes.
Special Instructions for this event:
Oklahome Region normally provides loaner helmets at our Autocross events, but due to the ongoing situation we will be changing that sytem slightly. All loaner helmets will be given to specific individuals on a first-come-first-served basis and will remain with that indivudial for the entire day. No sharing of helmets will be allowed. 
Spectator waivers will not be available at this event. If spectators want to attend, they must remain inside their vehicles in the open parking area. Only competitors with a wristband will be allowed in the Grid, Paddock, and Track areas. 
Oklahoma Region strongly recommends that all particicpants wear a face mask while outside of your vehicle, especially during drivers meeting and the trophy annoncements. 
Schedule:
7:30 AM- Registration Opens
8:30 AM- Novice course walkthrough
8:30 AM- Tech and Registration close
9:00 AM- Drivers' Meeting
9:15 AM- First car on course
Notice to Participants: In light of the current COVID-19 situation, every attempt will be made to minimize the risks of exposure to the virus. New processes and procedures are being developed and will be put into place for events going forward.
Ultimately, it is your responsibility to assess the risk to you, both on-track and off, and to make the decision on whether or not to participate. If you are feeling unwell or are experiencing symptoms such as fever, cough, or shortness of breath please stay home. If you have been in contact with someone who has been experiencing these symptoms in the last two weeks, please stay home.
While on site please take the health and safety of your fellow participants, volunteers and staff into consideration and practice social distancing, wear a mask, and wash your hands and/or use hand sanitizer frequently.