Putnam Park Road Course Windy City BMW HPDE 2019
Event Requirements
Registration closed September 18, 2019 11:59 PM on September 18, 2019 11:59 PM CDT Registration ends September 18, 2019 11:59 PM on September 18, 2019 11:59 PM CDT Registration opens December 13, 2018 12:00 AM on December 13, 2018 12:00 AM CST Registration runs from December 13, 2018 12:00 AM to September 18, 2019 11:59 PM
Required items to bring with you when signing in at registration
Filled out Medical form.
Helmet to be checked.
Completed Tech Inspection form. 
Must be 18 years of age at the time of the event. 
Click here: Windy City BMW Medical Form
Required items for 2 driver cars
Filled out Medical form for both drivers.
Only one completed Tech Inspection form will be required.
2nd helmet to be checked if the multiple helmets are going to used.
2nd Driver information must be emailed to HPDE@windycitybmw.com
Garage rental at the track
There will be 20 single car garages available for the Putnam Park HPDE event. The charge is $150.00 for the weekend (Friday-Sunday). We will rent them out on a first come first serve basis. If you want a garage, please send a check for $150.00 made out to Windy City BMW.
Mail the check to:
Dave Farnsworth
245 Southwick Lane
Schaumburg, IL 60173
Vehicle Technical Inspection
BMW CCA HPDE regulations no longer allow chapters to sponsor pre technical inspections for track events. The tech sheet is required to be signed by the inspector and the participant and handed in at registration. You can take your car to be inspected at your dealership or your favorite independent shop. As a courtesy we have arranged for two of the independent shops who in the past have sponsored our pretech inspections to provide that service. You must call for an appointment (no drop-ins!), the charge is $30 and as with all prior track event pre-techs the participant accepts all liability. The shops are 7th Gear Auto Repair at 501 Morse Ave in Schaumburg (224-659-3461) and Rauch Autocare at 855 Skokie Highway in Lake Bluff, (847-235-2204).
Complete the inspection no earlier than 4 weeks prior and not later than 2 weeks prior to the event to allow time for corrections to be performed on your vehicle if required. 
Click here: TECH INSPECTION SHEET 2019
Track Damages
You will be held personally responsible for damages to the track that may occur. For example, if you spill oil on the track, damage a tire wall or concrete barrier, Putnam Park Road Course will bill Windy City BMW CCA for these damages. We will in turn ask you to reimburse us this cost. This applies to any charges incurred for the use of tow trucks or ambulance above what we have agreed to in our contract with Putnam Park Road Course for the event.
Helmets
Helmets must be Snell 2010 or later.  SA- and M- ratings are both acceptable. 
Cabriolets (convertibles)
Convertibles are allowed with SCCA approved roll cage installed for soft and hardtop.
Please email HPDE@windycitybmw.com for approval. 
Race Prepped Cars
All cars must have 2 seats. If you arrive in a car without 2 seats you will not be able to participate and there will be no refund.
All student cars must have equal restraints for instructor and driver.
Working mufflers are required.
Recommended Items to bring with you to the track
It is "Recommended" to have an additional set of front and rear brake pads.
Read or review the "High Performance Drivers Manual
Click here:High Performance Drivers Manual 
Registration packets for the HPDE Event
Saturday Dinner at Putnam
We will meet at the AlmostHome restaurant on the courthouse square in Greencastle (17 W Franklin St,). After the day of driving, come at your leisure to socialize. We have a room reserved for dinner from 6:30 until the restaurant closes at 9:00. We have negotiated some very reduced prices on four delicious entrees. Pick one from the below menu. Starters/salads/desserts/drinks you may want are available at their full menu prices. The wait staff will give you an individual meal bill. You are responsible for tips and taxes. If coming to dinner, please give us your anticipated menu choice so the restaurant can more easily prepare for our group size and foods required. We hope to see you there.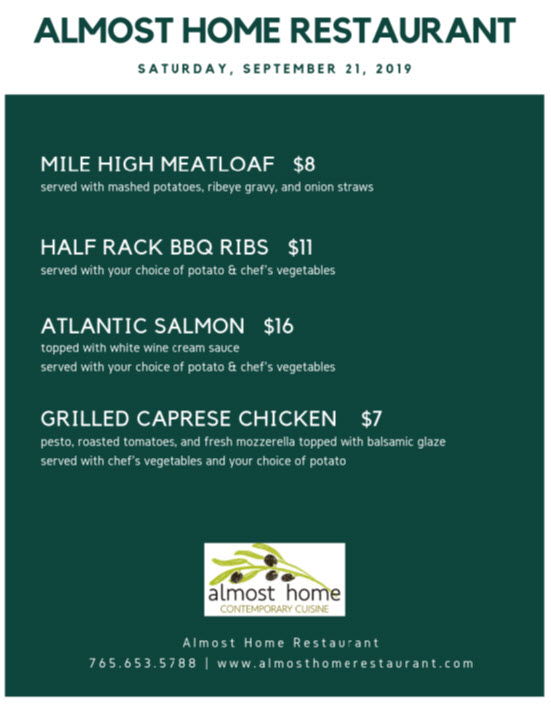 Please remember, the Windy City BMW Chapter members who organize and run this event do so as volunteers! 
Windy City BMW would like to thank the following sponsors:

Registration closed September 18, 2019 11:59 PM at September 18, 2019 11:59 PM CDT
Registration closed
Registration opens December 13, 2018 12:00 AM at December 13, 2018 12:00 AM CST
Registration closed