About this event
In continued partnership with the Oregon Motorcycle Road Racing Association, and the spirit of building our PNW racing community as a whole, we are proud to announce that our 2023 race season will hold an official testing day and 5 joint rounds.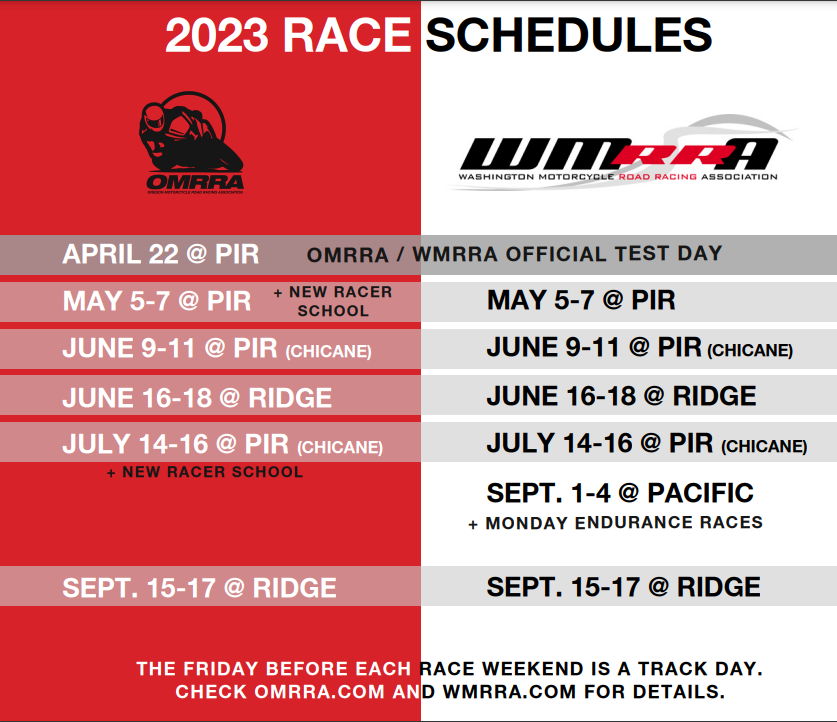 COMPETITION LICENSE & MEMBERSHIP
Full Season License (effective: January 1, 2023 - December 31, 2023)
All Competition License holders are Competition Members of the Club and entitled to voting rights and all privileges of membership.
Memberships are not transferable.
RECIPROCITY LICENSE
WMRRA offers reciprocity to license holders from other approved motorcycle road racing organizations.
Reciprocity license holders will NOT receive or accrue points, either in class or overall.
They may appear on results/standings prior to the season-end final standings but are not eligible for season-end championships or contingency awards.

Reciprocity license holders may upgrade to a Competition License prior to July 1, 2023.
Event requirements
License applications must be received by February 15, 2023 to retain your 2022 number.
I will not know if a race number is available until after this date. Just put it in as your request and I will keep in touch with you.
ALL Members are required to complete a medical information form prior to your license being issued. This form is not editable on a cell phone. You can also pop this into adobe and fill out and electronically sign. Please email your completed form to registration@wmrra.com if you do the pdf. If you complete the docusign, we receive a copy. This form is REQUIRED before a license will be issued.
We keep a medical form on MSR directly as well as a copy of your physical form for our records. I will not fully register you until I receive this copy.
Year-Free OMRRA Medical Form V2fillable.pdf
MINORS: I have additional forms to be filled out. Please email me directly and I can get those to you.
FAQ:
If we receive your application by February 15, 2023, you may automatically keep your 2022 WMRRA number (per your request). After this date, numbers will be release back into the number pool. No exceptions.

Numbers Waitlist: Numbers are subject to availability and assigned during the application process, in the order received, with consideration given to the prior year licensee. If you are a new member, or want to change your number, you may be added to a number waitlist if your requested number isn't available. All 2022 licensed racers will have their number held through February 15, 2023. After this date, numbers will be released back into the pool on a first come, first serve basis.

Processing time and approval: We will begin processing applications February 15th , 2023 and processing times can vary. Once your license has been approved, you will receive an email confirmation.