Sat, Jan 14, 2023
Winter Waters 2023
PNWR Tour
About this event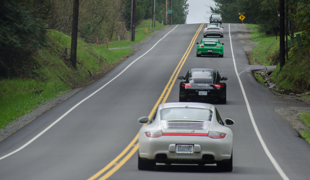 Join us for the "Winter Waters" tour – our third "winter" tour. Designed for Members who drive their Porsches year 'round! This tour features charming vistas, abundant small-road driving, and convivial Edison. We'll start in Monroe and wind north via the back of the back way to Granite Falls. Then we meander north and west out of the foothills and across the flats and fields adjacent to Puget Sound. Our route has an abundance of skinny roads, farmlands, and quiet rural neighborhoods – all wonderful NW winter scenery. We'll briefly dip onto Whidbey Island via Deception Pass with roads off the beaten WA-20 path then continue north with a leisurely, viewful loop of Samish Island. Tour ends with a mid-afternoon lunch in Edison. Edison features several local eateries, three pubs, several artisan galleries, and a most curious antiques shop. Special treat: the Breadfarm Bakery! A great winter tour with fun roads and great views as the first 2023 PNWR event! Prefer not to drive your Porsche? That's OK for these winter tours!
There are five options for lunch in Edison. There is no need to select a restaurant in advance, but you can review each at the links below. Note that they all offer takeout service if you prefer. Be thinking about which one you will choose because you may be asked prior to the tour date.
Event requirements
Tour Requirements:
Cancelations and refunds: Cancelations must be made before January 11th.
Car club membership: To participate you must be a member of the PCA and and hopefully PNWR as well. Porsche owners who are not members may register and receive a special invitation on a case-by-case basis.
Non-Porsches on the Tour: Non-Porsches ARE allowed on this tour due to the fact it's winter and you may not like to drive your Porsche in cold or inclement weather. As we get into the spring months, we will return to "Porsches Only".

For Adult participants and attendees: The waiver of liability release form must be signed at the tour start point prior to departing on the tour. Minors have a separate waiver form (Minors as Observers Only) that must be signed by a parent or guardian at the tour start point and be witnessed by the person collecting signatures. Waiver(s) may be viewed in advance on www.pca.org-->Forms and Documents-->Event Management-->Waivers. You must be signed in to the website to access the forms.

Age and driver's license restrictions: All drivers must be at least 18 years old and in possession of a valid US driver's license at the time of the Tour. A driving permit is not acceptable.
Registering for Passengers: Please make sure to include the names of any passengers riding with you in the space provided during registration. If you have two cars on the tour each car and driver should register with a separate Motorsportreg account.
Additional information: See our club website http://www.pnwr.org/ under "Let's Get together--Tours"
PCA - Pacific Northwest Region - Tours & Social Events