About this event
Come join your Redwood Region Club for our second year of a great day at Martorana Family Winery in the beautiful West Dry Creek Valley near Healdsburg!
A two-hour backroads drive, wine tasting, and a gourmet box lunch from Healdsburg's Big John's Deli are included for one low price!
**Note carefully: Registration to pre-order box lunches closes at 1 PM on June 5th!**
This event is limited to 30 Porsches to conform with parking logistics at Martorana
The route begins from Vintage Oaks Parking Lot at 9 am Sunday June 12th and is available for download at: https://ridewithgps.com/routes/38138628
Driver's Meeting at 8:50 am for final instructions. Please bring an FRS Walkie-Talkie Radio if you have one.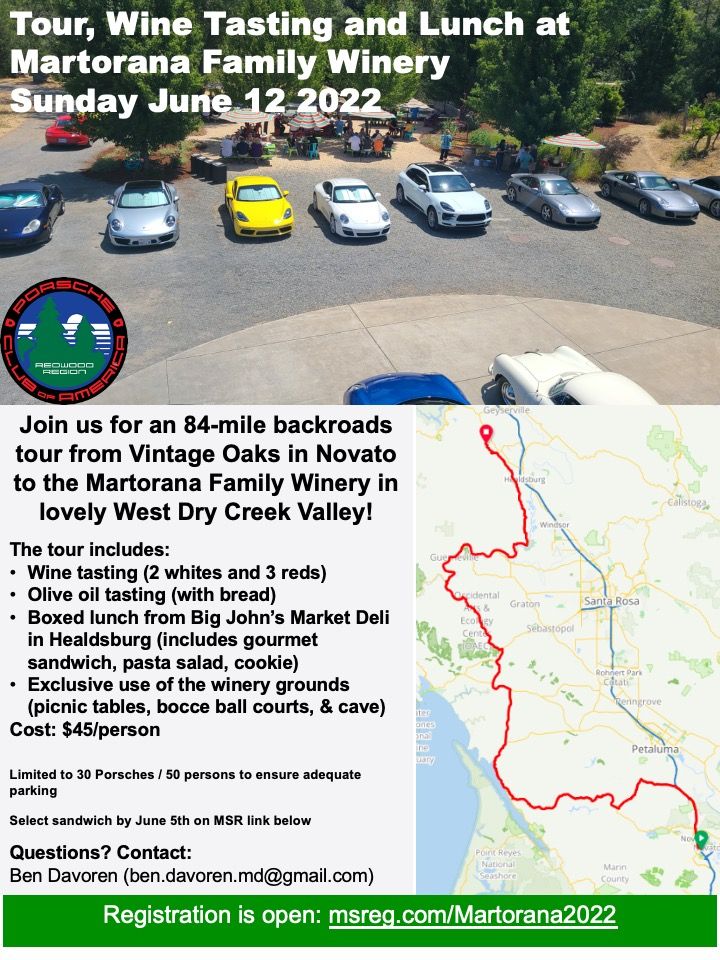 Event requirements
This backroads drive has a BioBreak approximately 70 minutes after departure from Vintage Oaks Novato at Monte Rio.
Please note that all attendees must pre-register and sign the liability waiver by using the SpeedWaiver link process.
The link to send your passenger(s) is: https://pcaredwood.speedwaiver.com/libjt
If you have not used SpeedWaiver before, the process is as follows:
Each person accesses the link above (if not already done through this MSR registration process) on any browser.
Each person enters their name and their smartphone number.
Each person will receive a text message to their smartphone with a link that will bring them to the SpeedWaiver site and, using their fingers to sign, will sign both the waivers that appear.
Each person will take a selfie with their smartphone confirming it is them. These photos are NOT broadcast over the internet but are only used internally on the MSR site.
This process can only be used for adult participants. If there are questions about minor children, please contact the organizer at ben.davoren.md@gmail.com.
Refund Policy: Refund by June 5, 2022.
Martorana Family Winery
Healdsburg, CA