About this event
NOVICES New to Autocross!!
Looking for a fun and safe way to try driving your car fast? Join us in Yoder for a day of
fun! Our experienced (and championship winning) coaches will cover the basics
of car control, provide one on one instruction, and you'll have lots of time to drive
around an autocross course. What's autocross, you might ask? Autocross is an exciting
sport where drivers test their skills by navigating a course marked with traffic cones.
It's a safe but fun way to improve your driving skills to be safer on the street and faster
at the track. The Wichita Region Sports Car Club of America is offering an event for
drivers to try out autocross on Saturday, May 21st at our autocross site at
1117 E. Red Rock Road northwest of Wichita in Yoder, KS. Entry to this
Novice only event is only $35 and that includes your SCCA Weekend Membership
and that gets you free lunch and free entry
to our full autocross event the following Sunday. Come out and join the fun!
Experienced Drivers
Please volunteer to help Coach or work the Novice Event, We will be timing and this is the perfect time to come and learn timing and scoring. Want to learn a postion - tech, starter, or grid this is a great time to learn. We need help to create a fun learning day for the novice drivers! Volunteers will be selected on an as - required basis depending on the number of novice registrations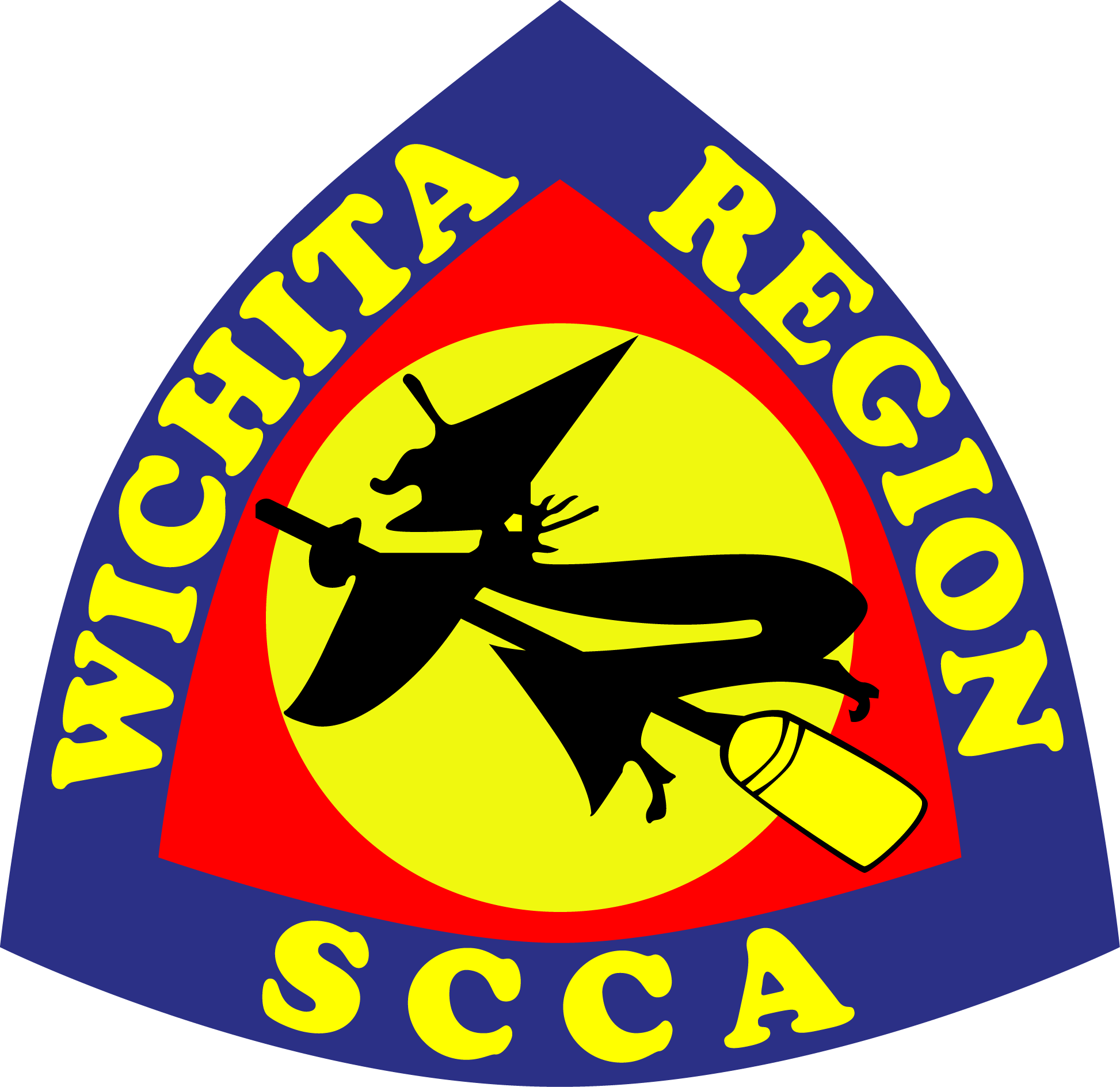 ALL REGISTRATION IS ON ONLINE, NO WALK UP ENTRIES - On Line Registration and payment required.
PAYMENT POLICY: ** Payment on line we will NOT run your credit card until after the event!
(Note when you set up your MSR profile your profile address and zip code MUST match your credit card address and zip code.)
WEEKEND FEE: $35.00 Includes Saturday runs and coaching, lunch, SCCA Weekend Membership and a FREE entry into the Sunday the 22nd Solo!
Half Price Savings for this event you pay the one day fee of 35.00 for the two days of fun and learning!
SCHEDULE:
8:00 to 9:00 AM REGISTRATION & TECH Course open for walking. Arrive by 8:15 AM
REGISTRATION: Sign SCCA Liability Paper Waiver at registration.
Do you have a child between 12-17 who is going to participate or ride along? Link to SCCA Minor Waivers digitally or to fill out the required SCCA minor waiver.
TECH: Empty car, have your Number and Class on both sides of car, drive to TECH area, and stay with car. TECH by Driver at the direction of TECH Chief. Be sure to clean out your car at home as much as possible, do your own car tech check, check fluids, battery connections, and tire pressures.
9:00 AM Novice Course Walk at Trailer
9:20 AM Driver's Meeting All must attend
9:30 AM First Car on Course
We will have lunch hot dogs, chips, cookies and water after all the fun. Special diets please email us.
Safety and Conduct
Spectators and competitors not working must view the course from outside the designated course area.
Speeding, burnouts, tire-warming, and other inappropriate activities at or near the site will not be tolerated.
In grid and paddock, please drive slow and be mindful of people, cars, equipment, and oncoming traffic sharing close quarters.
Loaner Helmets
A limited number of loaner helmets will be available. Bring your driver's license to the trailer to check out with the Novice Coach. After you finish your runs please return it to the loaner helmet area to the Novice Coach for the return of your driver's license.
LOCATION INFORMATION:
Road Yoder Autocross Site, 1117 East Red Rock Road, Hutchinson, KS is on private property. We are allowed access to the site only on event days.
Please enter the facility slowly and carefully to avoid disturbing the landowners.
Located in Yoder, KS, Approximately 35 miles northwest of Wichita: Directions from K96:
· Exit to the West at Halstead Street (HCC South Campus/KLETC Sign at the Exit)
· Take first right at Red Rock Rd
· Entrance to site is approximately 1 mile west, entry is a long dirt driveway on the left (toward the south)
· Dirt road leads to runway, follow runway south to paddock
A map and additional detail are located here: Link to Road Yoder Autocross Site map
WEATHER, GAS, AND PREPARATIONS: We run rain or shine only lightning stops the event! Be prepared - we are in a rural area fill the car with gas, and necessities. Closest services to the site is Love's Travel and Kwik Shop in South Hutchinson a twenty minute round trip. Clothing: Be sure to wear layers it is always much cooler as we are out in an open area. No shade either bring your sunscreen!
SCCA COVID GUIDELINES:
Have Symptoms - Please stay home
Need to Cancel - You may do so on Motorsports.reg, we won't charge your card if you don't attend.
Maintain 6 Foot Social Distance
FROM SCCA: Notice to Participants: In light of the current COVID-19 situation, every attempt will be made to minimize the risks of exposure to the virus. New processes and procedures are being developed and will be put into place for events going forward.
Ultimately, it is your responsibility to assess the risk to you, both on-track and off, and to make the decision on whether or not to participate. If you are feeling unwell or are experiencing symptoms such as fever, cough, or shortness of breath please stay home. If you have been in contact with someone who has been experiencing these symptoms in the last two weeks, please stay home.
While on site please take the health and safety of your fellow participants, volunteers and staff into consideration and practice social distancing, wear a mask, and wash your hands and/or use hand sanitizer frequently.
If you are diagnosed with COVID-19 within two (2) weeks of attending an SCCA event, we ask that you notify the event Organizer immediately.
Event requirements
Welcome to Wichita Region SCCA!
To participate in autocross you will need a valid driver's license with you at the event. All drivers under the age of 18 will be required to have BOTH parents or legal guardians sign a minor's competition waiver before participating. SCCA Minor Waiver information below.
HELPFUL LINKS:
SCCA LINKS TO HELP:
Digital Annual Adult Waiver Instructions: Link to complete an Annual Adult SCCA Waiver digital
Minor Waiver Instructions: Link to Minor SCCA Waivers
MINOR WAIVERS are critical and must be correctly completed and notarized PRIOR TO THE EVENT or BE COMPLETED DIGITALLY.
2022 SCCA Rule Book link: Link to 2022 SCCA Rulebook
Category Allowance "Cheat" Sheet: Link to Quick Category Allowances
Helmet Information: 2022 Helmet Link
Loaner Helmets
A limited number of loaner helmets will be available. Bring your driver's license to the trailer to check out with the Novice Coach. After you finish your runs please return it to the loaner helmet area to the Novice Coach for the return of your driver's license.
WICHITA REGION LINKS:
Wichita SCCA Website: Wichita SCCA Region Website
Wichita Facebook Group: Wichita Facebook Page
SCCA LINKS:
What is AutoCross: SCCA What is Autocross?
AutoCross FAQ: SCCA Autocross FAQ's
Road Yoder Autocross Site
Hutchinson, KS