About this event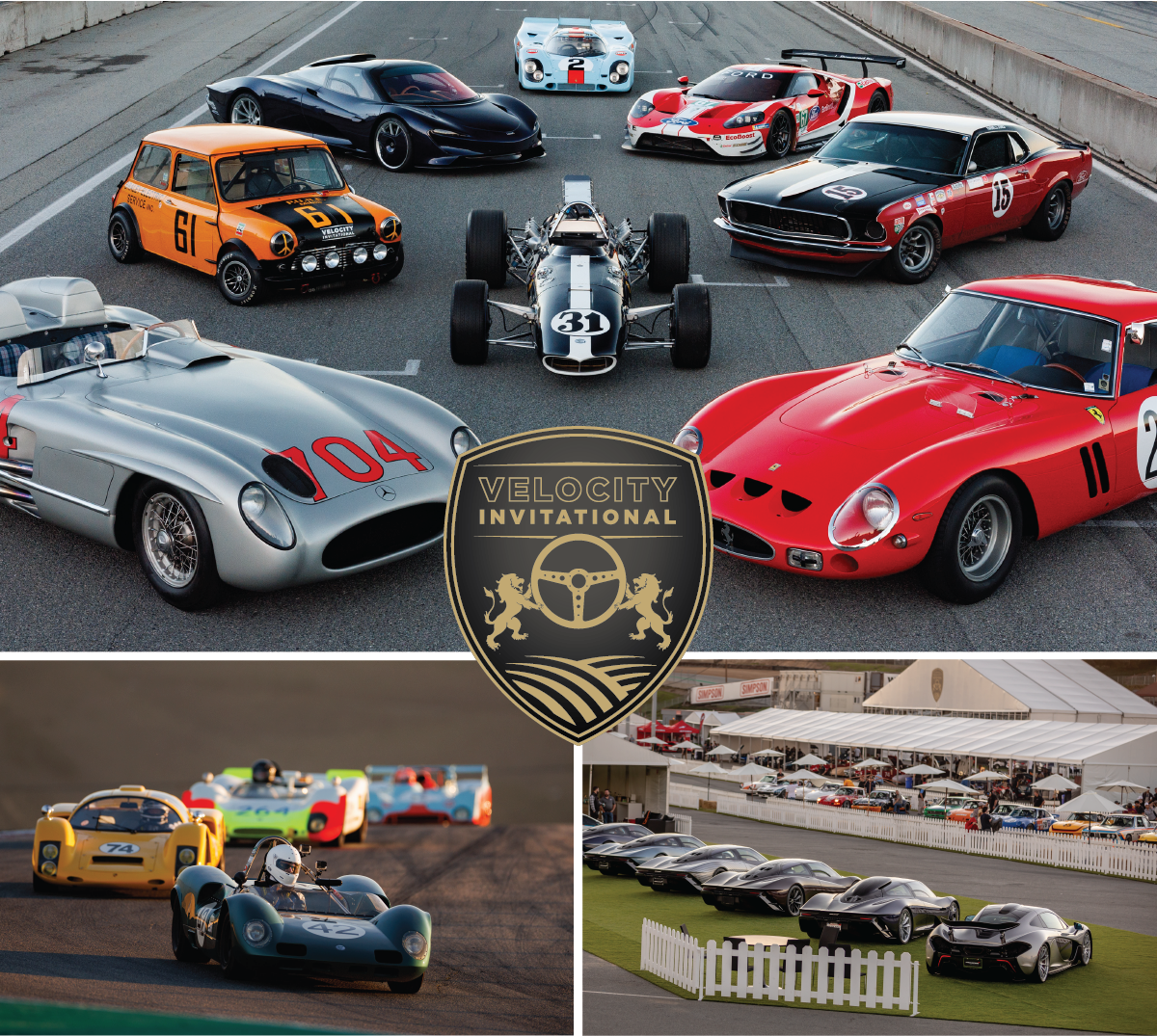 Velocity Invitational's goal is to preserve these cars and their history by exhibiting them as they were meant to be seen and heard—on track.
We'd like you to help us reunite the world's finest racing automobiles and inspire future generations of drivers, owners and collectors.
October 14-16, 2022
Laguna Seca, California
**Registration Closes May 15, 2022 so please get your Applications submitted beforehand**
Car Entry includes the following:
Access to the Drivers Lounge for the Driver and (1) VIP Guest

Breakfast & Lunch, Coffee and other Beverages Included All Day
Wine Tasting All Day (after Driver's on-track sessions are complete)
Access to: Race Event, Paddock & After-Hours Events

Two (2) Race Support Staff Entry: includes entry to event, paddock & "hot pit access"
Two (2) General Admission tickets: includes entry to event, paddock does not include "hot pit access"
Two (2) VIP Parking passes
Pricing:
1st Vehicle: $1,650.00 Includes (2) Race Support Staff
2nd Vehicle: $1,150.00 Includes (1) additional Race Support Staff
3rd Vehicle $850.00 Includes (1) additional Race Support Staff
** Additional Race Support Staff $350.00
2022 RACE GROUPS
The intent of Velocity Invitational is to bring groups of cars together which are correctly prepared to the period in which they raced. As a general rule, we strive to put like-kind Groups together, which are specified by time period and vehicle type, each a review of Motorsports history.
As we try to make this an accurate representation of history, you may not see a Group for your car below and in that case we'd be happy to hear from you as we review groups for coming years.
Group 1 1927-1949 GP & Voiturette Racing and 1927-1937 Sports & Touring Cars
Group 2 1948-1955 Sports & Sports Racing Cars & 1947-1956 Production Cars
Group 3 1956-1961 Sports Racing Cars
Group 4 1956-1962 Production GT Cars
Group 5 1972-1977 IMSA GT Cars
Group 6 1963-1969 Sports & GT Cars
Group 7 1966-1972 Historic Trans-Am Cars
Group 8 1966-1979 Historic SCCA TransAm Under-2-Liter, 2.5L Challenge, B-Sedan, C-Sedan
Group 9 1995-2012 IMSA/ALMS GT, LMGT, PROD, Cars
Group 10 Enduro: 1960's Mini vs Mustang
Demo Group: Ragtime Racers
**Race Groups are subject to change**
***Note - period prepared cars with racing history will be given priority. Please take your time and denote your cars History on that section of this Entry Request
For any inquires about the Velocity Invitational please email us at drivers@velocityinvitational.com
Thank you!
Ryan Turri
General Manager
ryan@velocityinvitational.com
Jeffrey B. O'Neill
Founder
jeff@velocityinvitational.com
Event requirements
Note - this is an Unlimited Sound Event,
Please have the following ready before starting your Entry Request to the 2022 Velocity Invitational:
Competition License - Number, Expiration Date, Photo
Medical Card - Expiration Date and Photo
Car Info - Pertinent Information and Photo
WeatherTech Raceway Laguna Seca
Salinas, CA
Download track map
Buy virtual track walk
More events from this organizer