About this event
Hello Fellow Drivers!
The weather forecast is not good for our drive up Bell Mountain. The cold and rain may cause the road to have ice, and my co-host Dietmar Schmid and I would prefer not to drive on a narrow, steep road with ice on it. We guessed you might feel the same way.
So, Dietmar has come up with a fun alternative. We will simply meet for lunch at the Wunderbar Bierhaus and Bistro in Sugar Hill. If weather permits we can spend a few minutes admiring the cars after lunch! The reviews are great, and Dietmar knows the owner. Let's meet at 11:00. I'm hungry already!
Wunderbar Bierhaus and Bistro
1166 Church St
Sugar Hill, GA 30518
(470) 589-1775
Please reply to this email to let me know if you will attend.
We are looking forward to a fun car and lunch hangout with you all.
Rusty Duncan
Dietmar Schmid
PS: I will send another email to confirm all details on Friday night.
Come drive with us as we make our way to Bell Mountain Park. Bring your binoculars to enjoy the amazing views. We are still planning and should be finalized by Wednesday March 2nd. I will send out an email to all who have signed up at that time with the final details.
Our idea is to rally at My Mercedes Place in Cumming at 9am on March 12th. Chef Danny is unavailable, so we will drive from here to Helen to enjoy an early German Lunch at the Bodensee Restaurant. They are creating a special light menu for us. We expect to arrive at the restaurant at 10:30am.
After lunch, we will make our way via winding roads past the entrance of Brasstown Bald and up to Bell Mountain Park. I have been told that the road up Bell Mountain, while paved, is narrow and can be very steep. So, we have planned two drives; one to the top of Bell Mountain, and one around the Hiawassee river. Both will end at Towns County Park which has picnic areas.
Bodensee Restaurant Helen
64 Munich Strasse
Helen, GA 30545
https://bodenseerestaurant.com/
Map for car parking at Bodensee: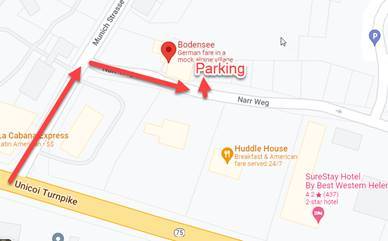 Directions My Mercedes & Bimmer Place – Bodensee Restaurant – Bell Mountain
https://goo.gl/maps/Lo7JjwjHM1i9g1TC9
Directions Bodensee Restaurant – Bell Mountain
https://goo.gl/maps/pkTAfP6wvoNarGrx7

Picnic Areas Hiawassee
Towns County Park - never been there but looks nice on Google
Direction Bodensee – drive round Hiawasse River to Towns County Park
https://goo.gl/maps/6FjsmNT4cWvnS4VE8
Direction Bell Mountain to Towns County Park
https://goo.gl/maps/2Qw9Z2tv2pGCFTE3A
This event is free and open to members and non-members. Mercedes-Benz cars are preferred, but all are welcome. Hopefully non-members will decide to join the club! Everyone will pay separately at the restaurant.
Thank you to Dietmar Schmid for helping to organize this event!
Photos from last year's drive to Brasstown Bald:
My Mercedes and Bimmer Place
Cumming, GA
More events from this organizer