THSCC - #maylotta Weddingcross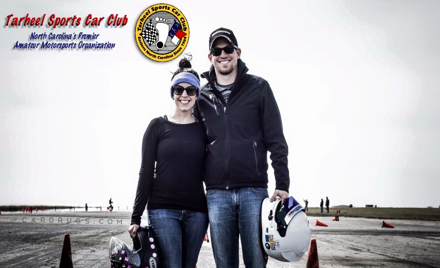 Tarheel Sports Car Club
Sunday, September 30, 2018
Danville Regional Airport
,
Danville

,

VA
Registration closed September 28, 2018 7:59 PM on September 28, 2018 7:59 PM EDT Registration ends September 28, 2018 7:59 PM on September 28, 2018 7:59 PM EDT Registration opens August 6, 2018 8:00 AM on August 6, 2018 8:00 AM EDT Registration runs from August 6, 2018 8:00 AM to September 28, 2018 7:59 PM
Information
THSCC presents the #maylotta Weddingcross on September 30, 2018 at Danville Regional Airport! Andrew and Maria wanted to share their love of autocross with their friends, so what better way to do so than with an actual event following the nuptuals?
This will be a slightly different format than most events. We will run what is essentially a "couples challenge". There will be two-person teams (usually a "bride" and a "groom"), and the scoring will be determined by combining the fastest PAX run from each team member. The fastest total PAX time wins. What is there to win? Absolutely nothing at all, just bragging rights and perhaps a justification that you gamed the system.
Of course, gaming the system is strongly encouraged. There is no limit to how a two-person team is configured as long as they are participants - two brides and/or two grooms is perfectly acceptable. We will also not police any ringer teams, otherwise we couldn't even let Sam and Shelly run together. Again, this is all for fun and too many rules spoil the fun, so we will keep it simple.
It is recommended that you figure out your own teams, and we will need to confirm this when you check in for registration. The entry list and/or FB event page can be used to scout out potential teammates, and you can update your registration on MSR at a later date with your partner's information. If you are unable to find one (or your partner does not check in), we will put all the single drivers in a hat after the close of registration, and draw names until everyone has a partner.
The schedule will be slightly more relaxed than usual, as many of us will likely be hungover from the night before and would probably be grateful for an extra hour of sleep. We will also keep the run count to a relative minimum in order to give people time to catch any return trips home, especially the out-of-town'ers. As a reminder, RDU airport is roughly 1.5 hours from Danville. We will try to work with everyone as much as possible to be done early to give you time to get back.
For those that haven't done this before and would like to participate, we run a fairly healthy novice program within THSCC and instructors will be available. We will give you a basic overview of how to drive the course, and also how to work the course. The standard work/run rules do apply to this event, and all participants will be expected to work. See more details here: https://www.thscc.com/autocross/what-is-autocross
Lastly, this is a private event for now until wedding guests have had a chance to register. If we don't hit the cap 3 weeks before the event (September 9), we will open it up to the public. Please do not share the link for the event or the FB event page to people who are not attending the wedding until that time.
Registration
Entry is $30, due upon registration.
We encourage you to prepay online through the secure MotorsportReg website. Payment is deferred and accounts will not be charged until registration closes, so if you register and find out that you can't make it please cancel your registration prior to registration closing and you will not get charged. If you prefer to register at the event, you will be charged the increased day-of registration fee.
Event Schedule
| | |
| --- | --- |
| Gates Open | 8:00 AM |
| Tech Inspection | 8:30 to 9:30 AM |
| Registration Check-In | 8:30 - 9:30 AM |
| Novice Walk and Talk | 9:30 AM |
| Drivers' Meeting | 10:00 AM |
| First Car Off | 10:30 AM |

If you have any questions please contact us at autocross@thscc.com .