Shift 'n Shinola Road Rally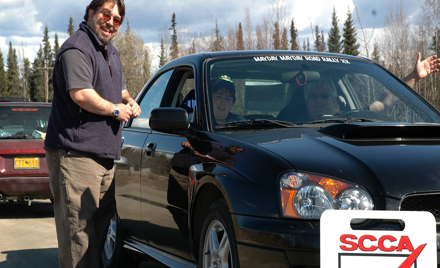 SCCA - Arctic Alaska Region
Saturday, August 6, 2016
Municipality of Anchorage
,
Anchorage

,

AK
Registration closed August 6, 2016 9:30 AM on August 6, 2016 9:30 AM AKDT Registration ends August 6, 2016 9:30 AM on August 6, 2016 9:30 AM AKDT Registration opens May 31, 2016 12:00 AM on May 31, 2016 12:00 AM AKDT Registration runs from May 31, 2016 12:00 AM to August 6, 2016 9:30 AM
Shift 'n Shinola Road Rally
The Arctic Alaska Region of the Sports Car Club of America will be sanctioning the second event of the 2016 Summer Road Rally Series on Saturday, August 6th. Head over to www.alaskascca.motorsportreg.com today or our Road Rally in Alaska Facebook page, and you'll find information on our upcoming events. A road rally has a team of a Driver and Navigator, travels public roads, and following the printed instruction they encounter checkpoints which count in scoring. It is not a race! Any team receiving a moving violation from law enforcement will be disqualified.
Gail Engblom will be the Rallymaster for the Shift 'n Shinola Road Rally. You'll be traveling very familiar roads in South Anchorage area and enjoying the scenic views along the way. The Road Rally Safety Steward for the event will be Cheryl Babbe. 
Given the generous volunteer hours needed to go into our events — from the pre-check workers time, Rallymaster re-check calcs/printing, and rally expenses—we need your registrations as soon as you know you'll be running! Please do not wait until the last minute. Show your support to Alaskan motorsport organizers — our Rallymasters appreciate knowing how many to plan on!
The Shift 'n Shinola Road Rally will be a return to a TSD (Time-Speed-Distance) Rally versus our winter GTA (Games-Touring-Adventure) Rallies. It will be a chance for Expert teams to bone-up on their calculating skills for that perfect arrival time at checkpoints. Novice teams will find ease at staying on course and be scored to the minute when arriving at checkpoints along the route. 
The starting location for Shift 'n Shinola Road Rally will at McDonalds (Jewel Lake/Dimond Boulevard in Anchorage), with Registration between 1:00-1:15P. With online registration for your team we can expedite the time needed that afternoon: we will send out the Generals (rules of the game), have all of your registration information (no forms to fill out), and with a signature on the Waiver — you'll be set to go out in search of checkpoints on the backroads!
Teams will sign waivers, have their vehicles teched and receive the Mileage Check. Please arrive on time, as we'll want to get you down the road with first car out at 1:45P. At this time, we can't share further details about the route, as the course is not laid out yet!
So that you may plan your day, we ask you to be at McDonalds not later than 1P for Registration matters and Vehicle Tech. This will also be our ending location where you can enjoy the Midnight Sun Street Rod Associations PreShow Car Show, which is the eve before the Park Strip's Show n Shine on Sunday, August 7th!
Don't have a dedicated rally partner? No worries—we are encouraging folks to arrive and form teams at the starting location! Register up so folks know you're looking for a rally partner, or call Cheryl at 243-2122.