SCDA- Pocono Raceway- 5/21 HPDE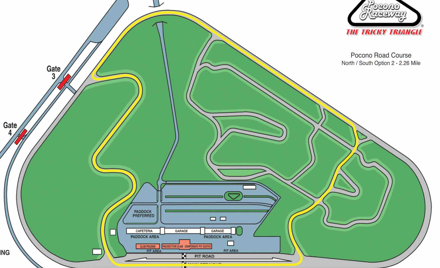 Sports Car Driving Association-SCDA
Thursday, May 21, 2020
Pocono Raceway
,
Long Pond

,

PA
SCDA Pocono Raceway Track Event: May 21st
Open to All Experience Level Drivers (Novice-Advanced)
Special Early Bird Pricing of $299 if you register by 3/21/19
Sign up with confidence- Covid 19 cancellation policy.
We will be on  Pocono Raceway on Thursday, May 21st
The Pocono Raceway High Performance Driving Experience
Pocono Raceway has long been recognized as one of the NASCAR's most competitive speedways. Road racing has been at Pocono almost as long. The Sports Car Driving Association will host it's first event at Pocono Raceway in 2020.  Pocono's unique 2.24-mile road racing circuit has accommodated the most exotic sports cars in the world, including IMSA GTP cars. The course features eight turns; two S's and straightaway up to 3,055 feet long. The track width varies from 45-100′. Its great racing and location, in the heart of the Pocono Mountain resort area has made Pocono Raceway a favorite destination of race fans and vacationers.
Pocono Raceway Track Days & Schedule
2020 Pocono Raceway date: Thursday, May 21st - Utilizing SCCA's 2.24 mile configuration (CLOCKWISE DIRECTION)
Download the Pocono Daily Schedule for May 21st (daily schedule subject to change) 
Participants can expect:
Four on track driving sessions for each run group
Classroom Sessions- digital
Personalized instruction for the Novice drivers
We will be utilizing the 2.24 mile Pocono Raceway Road Course (North/South option 2- CLOCKWISE DIRECTION) configuration on May 21st, 2020
In an effort to provide maximum levels of safety, quality, and fun at our events, the SCDA will provide trained and certified flaggers at the corner stations.  This ensures that our drivers can focus on one thing- improving their driving skills. This event is geared towards all skill level drivers, from Novice to Advanced.
We would like to remind you that Spec Miatas are available for rent at this event.  
Event Price:
SCDA Pocono Raceway event entry fees are $399 retail for a single day. 
($599 for novice group, includes instructor for lead follow w/ racdio communication)
Special Early Registration Discount ends on April 21st- Pay only $299 for a single day. ($549 for novice group, includes personalized instruction)

Please CONTINUE to Register: