About this event
Join the Arizona Mountain Region April 26-27 for some kicks on Route 66.
No '62 Red Corvettes, just Porsches!
We'll depart from Ash Fork (I-40 and US 89) at 9:15 am on April 26th. For our Verde Valley, Sedona and Flagstaff members we are hoping to have a meeting point for you for the drive to Ash Fork. There is a gas station and the Ranch House Café in Ash Fork on the north-west corner of I-40 and US 89 exit where we will meet here at 9:00 for a safety meeting and to sign waivers. Our tour will take us to Seligman on old Route 66 and on through Peach Springs and Hackberry before stopping for lunch in Kingman. After lunch at Dambar's Steakhouse on Andy Devine Avenue in Kingman the tour will visit Oatman. From there we will continue on through Topock on our way to Lake Havasu City.
A block of twelve rooms is being held for us at the Holiday Inn Express in Lake Havasu City. They are held under "Porsche Club". They will hold the rooms until March 27th, 2023 so everyone who wants a room will need to call and get it booked by then. The number to call is 928-733-6388. There is also a link and instructions on our webpage at https://azm.pca.org/event/route-66-drive/
The address to the hotel is 40 London Bridge Road, Lake Havasu City. The rate is $169 plus tax for a king room with bridge view.
Dinner will be at 6:00 pm at Angelina's Italian Kitchen. The address is 1530 El Camino Drive, Lake Havasu City. They will have a section of the restaurant reserved for us. We will order off the menu and each party can pay their own bill. Angelina's is an approximately 7-minute drive from the hotel.
On Thursday you are on your own to do as you please. If you would like we can meet for breakfast and depart Lake Havasu as a group to Ash Fork or via US 93 to the Bagdad route. From there everyone can continue home. This would not be an official club event.
Please register by March 27 so we can provide a headcount to the restaurants.
If you are unable to spend the night in Lake Havasu, or drive that far, feel free to join in for as much of the tour as you wish. If you are planning to join for lunch or dinner, please register on www.motorsportreg.com so we have a headcount for the restaurants.
Don't forget to make your hotel reservations.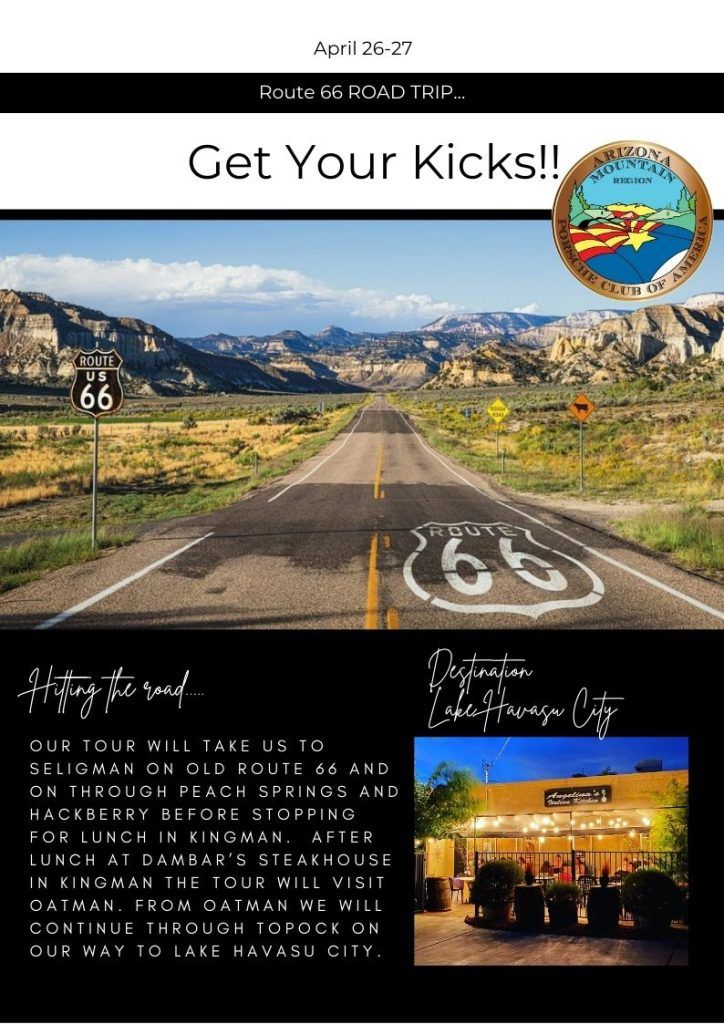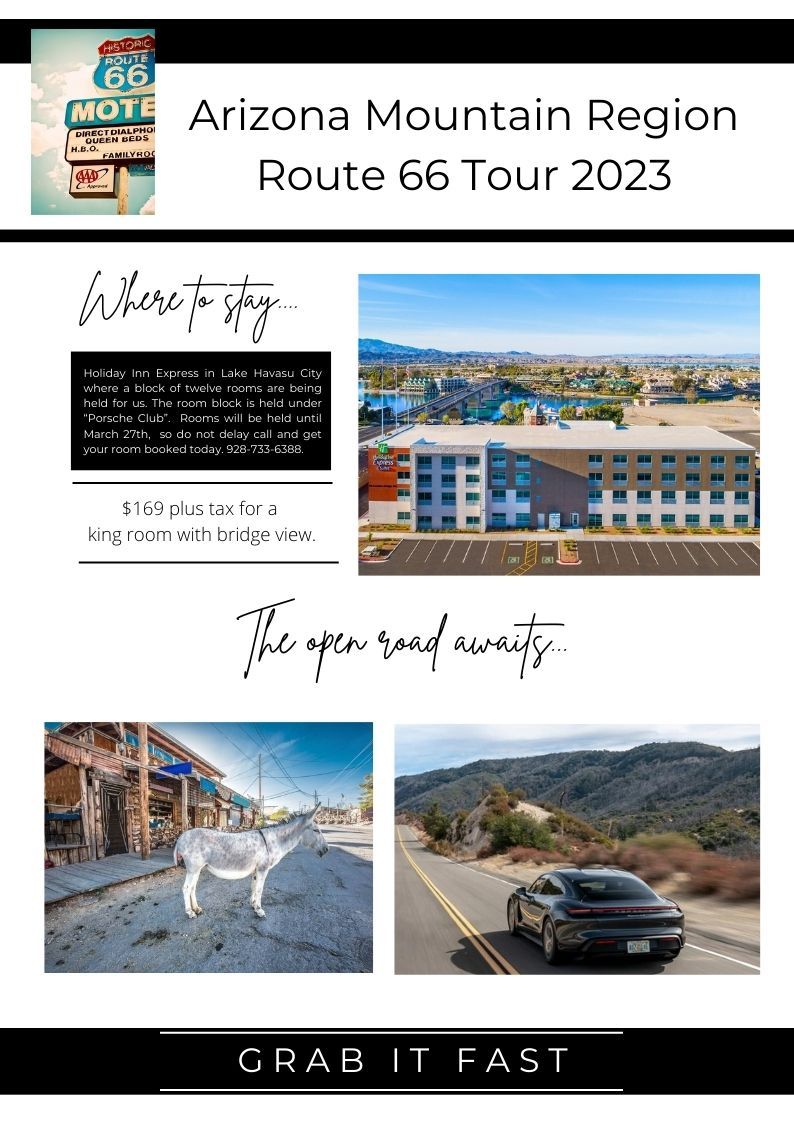 Event requirements
There is no fee for this event; however, participants will be responsible for their own meal and hotel expenses. Please pre-register so that we have an accurate headcount for meals.
Don't forget to make your hotel reservations.
Northern Arizona
Prescott, AZ
More events from this organizer