Progressive Georgia BBQ Rally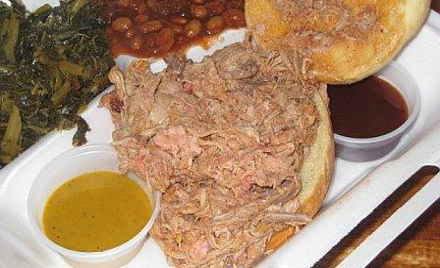 MBCA - Peachtree
Saturday, March 28, 2020
JD's Barbecue
,
Acworth

,

GA
Due to health concerns in regards to COVID-19 this event will be rescheduled for a later date.  Thank you to all those registered, refunds will be issued.
Cold weather is rural North Georgia is hog killing time. This is when the best butts and sides of the hog are selected for going on the smoker. Late March is Mercedes convertible weather on most days. You'll want the top down so you can smell good BBQ and so you will know where to stop for good "eatin". After you have planted your garden, change from your coveralls to sporty driving rally attire and join an adventure into southern culture and cuisine.   
In the modern era there are realities such as $7.00 cups of coffee, designer clothing for dogs, and spending an inordinate amount of money on services that rarely justify the cost.  If you are adventurous and want to get back to the basics of life, then sample "real" Georgia BBQ while driving in parts of Cherokee County Georgia that you may have never seen before.
We will meet initially at J.D's BBQ in Acworth, GA located at 4424 South Main Street, Acworth, GA at 11:30 a.m. Owner and pit master Chip Allen has converted the Eli Whitney Schoolhouse in Acworth to a BBQ destination of note.  In addition to the massive grill in the rear of the building, Chip recently unveiled his biggest BBQ smoker that will be on display at the Georgia state fair this fall. "Big Bertha", J.D's new trailer mounted grill can cook one hundred pork butts and one hundred whole chickens simultaneously. Your appetizer is a helping of J.D.'s spicy collards, mighty good on a spring morning. Those who do not know what collards are, can have Cole Slaw. The rest of us will pretend we don't know you and that you are driving a BMW.
Next stop after a drive into the middle of Cherokee County is Amos' Biscuits and BBQ, located at 697 Hightower Road, Ball Ground, GA between Canton and Gainesville and has a Ball Ground, GA address.  Amos sells firewood in addition to BBQ plus ten types of breakfast biscuits.  Proud pit master of "fall off the ribs BBQ", Amos is known for "nothing fancy, just tasty slow cooked fresh food." Amos' location will look like home where you were raised. Difference is that "your momma" did not make Brunswick Stew like that of Amos. Sample a heaping cup of stew before cranking your motor and letting your horses run. If you are low on firewood, buy a rick that you can place in your trunk with the lid tied down to hold the load. Patricia is from the Bronx in New York. She could not believe that places like Amos 'exist!
Third stop is nearby Butts and Barley Smokehouse. Their BBQ is so good that you can smell their butts a mile away.  Butts and Barley is only three miles from Amos' location, so start smelling as soon as your Mercedes begins its journey to Butts and Barley.  Here you will have a large Pork BBQ sandwich, your entrée. The barley in the name is for the cold beer sold on site. Other than water, you will pay a la carte for a beverage. 
The final leg of your journey will take you to the Hickory Flat area of Cherokee County to Frosty Frog Creamery and Café. You will be served a bowl of delicious ice cream. Your tummy should be full by then as you depart of the metropolitan area where you reside with found memories of a day in the country. Time will not permit us to include a taste of moonshine and a gospel singing.  Please, no banjo playing! Cost is $22 per person.