Pan Am SCCA FAST FIVE Events 3 & 4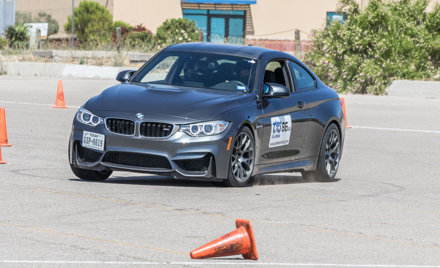 SCCA - Pan American Region
Saturday, Jun 10 — Sunday, Jun 11, 2017
Cohen Stadium
,
El Paso

,

TX
Registration closed June 9, 2017 6:00 PM on June 9, 2017 6:00 PM MDT Registration ends June 9, 2017 6:00 PM on June 9, 2017 6:00 PM MDT Registration opens May 22, 2017 8:00 AM on May 22, 2017 8:00 AM MDT Registration runs from May 22, 2017 8:00 AM to June 9, 2017 6:00 PM
The 25th annual FAST FIVE RUNOFFS are brought to you by Hoosier Racing Tire!
REGISTRATION CLOSES FRIDAY, JUNE 9 AT 6:00 pm - PLEASE PRE-REGISTER FOR THIS EVENT!
PRE-REGISTERED Entry fees are $40 for SCCA Members and $50 for non-members - one entry fee covers either 1 day or both days!!!
Walk up registrations are $5 more
Registration will close at 9 am sharp both days - no registrations will be taken after 9 am.
Save $5 and pre-register!!
Saturday June 9 and Sunday June 10
The 25th Annual Fast Five Runoffs will be held on June 10th & 11th. There will be special awards for this event for the Top Five Fastest Drivers based on their PAXED Index times on that Sunday. You must compete on both days of the Fast Five Runoffs to have a chance to run in the Fast Five Challenge portion of the event. 
We will take the "Top Ten" competitors (based upon their quickest PAX Index Time from Saturday & Sunday --- these times will added together to establish a total aggregate PAX Index Time) and these ten competitors will advance to the preliminary challenge of the event. These gen drivers will then be allowed to make only one (1) more run to try to make it to the final challenge portion of the event --- "The Fast Five Runoffs"
Then these top Five drivers will be allowed to make one (1) more run in the Fast Five Runoffs to establish their placement in the final challenge.
All competitors at this event must pickup (at registration table) either a pair of "black" or "white" Hoosier Racing Tires vinyl graphics (depending on the contrasting color of their car) and ARE required to place them on the lefthand  and righthand side of the front fenders of their vehicle. ***This is not an option, but a requirement for all competitors for this event only. These Hoosier vinyl stickers must be displayed on all competitors vehicles until the Fast Five Runoffs portion of the event has ended on Sunday afternoon.
Hoosier Racing Tire has been the main sponsor of the Fast Five Runoffs since 1995.
The Top Three Competitors (based upon their total PAXED Index Total Aggregate Time from Saturday & Sunday) from the "Rookie," Intermediate," and the "Open" classes will each receive a Hoosier Racing Tire racing cap. These very cool racing caps will be handed out at the awards ceremony on Sunday afternoon.
There will a ticket raffle held during the Saturday luncheon to be held at CiCi's Pizza on Transmountain Road right after all the runs have been made for both Run Group 1 & Run Group 2 on Saturday afternoon.
Each paid entry will receive one (1) lunch ticket. Additional lunch tickets may be purchased for $5.00 each. 
These lunch tickets will not only get you a meal at CiCi's Pizza, but will serve as a raffle ticket towards a possible chance to win some Hoosier Racing Tire "goodies" during the Hoosier Racing Tire raffle at the restaurant.
If it sounds like a great and fun event --- "It Is!"
Plan on attending the 25th Annual Fast Five Runoffs!
Saturday & Sunday General Schedule
6 AM - 9 am Course open for walking
7 AM - 9 am - Tech Inspection & Registration - PLEASE PRE-REGISTER FOR THIS EVENT - NO REGISTRATIONS TAKEN AFTER 9 AM
9:10 - 9:30 - Mandatory Drivers Meeting
9:30 - 9:40 - Workers Assignment
9:40 - 9:50 - Workers Out on Course
10 AM - First Car Out
We will run heats back to back on both days.  Following Saturday's event, we will have lunch at
CiCi's Pizza
.  Sunday - We will take 45 minutes between heats for lunch - there are things in the area but they tend to be busy - you may wish to bring something for lunch.
2:15 approximately - LUNCH AT CiCi's - SATURDAY ONLY
2:15 approximately - FAST FIVE RUNOFFS - SUNDAY ONLY
Run times are approximate.  All entrants must work the heat they are not running, so plan to be there all day.
Entry Fees:
 Pre-registered Non-Members $50 for either 1 day or  both days - Walk-up entries are $55
Pre-registered Members - $40 for either 1 day or both days - Walk-up entries are $45
You can pay online or at the event site - we take cash, checks or credit cards.

Details......Details......Details...............Championship Series Events 

Each competitor will be given a minimum of six ( 6 ) timed runs & possibly 2-extra "fun runs" if time permits.

The first six ( 6 )  timed runs will count towards your individual overall score for the event. Only ONE ( 1 ) of the "quickest" of the six timed runs will be your scored time for the event.

There will be two individual run groups for this event and all entries will be equally divided as much as possible. No competitor may ride in another vehicle ( in order to gain a competitive edge ) to receive another "look" so to speak, at the course.

Each run will be made on a technically designed, but challenging, course defined by orange traffic pylons. Top Speeds are usually kept at 60-70 mph by the fastest or most powerful vehicles and the course can be anywhere between 60 to 80 seconds in duration. The length of each run is usually 8-tenths to 9-tenths of mile.

A 2-second time penalty will be added to a given competitor's individual timed-run for each and every pylon that is hit or taken down during a run.

Everyone will be expected to work & perform their worker duty or task when directed by the Chief of Workers. We are a total volunteer group of workers and racers. No one is allowed to get out of their worker duties unless advance prior arrangements have been made with the Event Chairman via email. Exemptions for worker duty are a family emergency, having to go to work. Otherwise, all other excuses for not performing your worker duty when requested will not be recognized or acknowledged.

Only one rider per vehicle will be allowed to ride as a passenger in a given run provided that they are at least 12-years of age ( and have a signed parental or guardian form filled-out ) and have signed the event wavier form, plus the temporary weekend membership form also.

Loaner helmets will be available at the event or you may use your own helmet provided that it confirms to the 2017 SCCA Solo Rules requirements.  

Every competitor must have a current and valid drivers license or current and valid drivers permit ( with a signed parental or guardian form filled-out at the time of registration ) and must be prepared to present it at the registration table.

All vehicles must conform to the 2017 SCCA Solo Rules safety inspection. It will consist of making sure that all batteries are properly fastened in place, wheel bearings at all four positions are in good shape, seat belts are in good shape and properly fastened, brake pedal test involving no mushy brake feel or leaks, all lug nuts at each position are in place and properly torqued,  all tires may not have any cords or belts showing & are not cracked or split anywhere on the carcass, etc. All coolant, brakes, engine or transmission leaks will be allowed if found to be excessive. All cars must have mufflers and be reasonably quiet during operation.

*We will need everyone's help & cooperation is picking up the course and loading the pylons and all the equipment back into the trailer.

After the course and equipment have been picked up and loaded onto the trailer, we will have a trophy and awards presentation.

We will have three different class categories for this year and trophies will be awarded for each of these three individual categories.

They are as follows:

Rookies Class
You are eligible for this class if you are new or a first time competitor to solo racing and/or if you have not competed for 1-full year of solo competition

Intermediate Class
Anyone is eligible to run in this class provided that they are no longer eligible to compete in the rookies class any longer and if they have demonstrated that they are not exactly ready ( due to car preparation, car classification and/or driving experience or skill )   to compete in the Open class. No limit of years of competition here. If someone competing in this class clearly shows or demonstrates a strong or absolute dominance in this class, the Pan American Region board reserves the right to move a competitor into the Open Class at their discretion.

Open Class
This a category that is reserved for drivers that have demonstrated very strong driver skills & experience ( not to be judged in years ), excellent car preparation and/or possess a vehicle that has a distinct and clear advantage over the competition due to its power, weight, tire & wheel size, car classification and/or PAX Index.

We hope that each and everyone of you will come out to experience and enjoy the exciting world of solo racing & competition.
You can pay online with a Credit/Debit card or Check via Motorsportreg.com or you can elect to pay with cash or check at the event itself.  
Disclaimer: The above event is subject to cancelation due to other event scheduling conflicts that may occur from time to time during the year at the Cohen Stadium facility.