OnGrid - Streets of Willow CW - Sat/Sun 3/21-22/20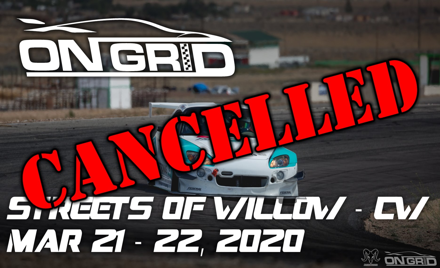 OnGrid
Saturday, Mar 21 — Sunday, Mar 22, 2020
Willow Springs Int'l Raceway
,
Rosamond

,

CA
Dear Drivers,
Track days are an important part of the car community. As a host of these events, OnGrid has always, and will always, prioritize the safety of our drivers and this community above all. 
You are our track family.
Unfortunately, due to the current outbreak of COVID-19, Government and Businesses alike are being forced to take uncomfortable steps to help protect the population. After much discussion, our team has agreed that at this time we cannot ensure the safety of our track family if we are to move forward with this event.
It is with regret that we have found it necessary to postpone our March 21-22 event at Streets of Willow.
We love being at the track and hosting events as much as you enjoy attending them. We hope you understand this was a decision that was made in the best interest of everyone.
Your registration will be refunded via your form of payment and we apologize for any inconvenience. You should see your refund in 5-7 business days.
We look forward to seeing you all at our next event, and will implement any additional precautions we can to protect our drivers at future events.
Sincerely,
OnGrid
___________________________________________________________________________________________________________________________________________


OnGrid comes from a background of track enthusiasts and racers with a goal that allows their participants an enjoyable, well organized, and affordable driving events.  OnGrid consists of a team of friendly and knowledgeable owners, staff, instructors, and friends. We welcome everyone from seasoned pros to beginners with no prior track experience.  Our events are fun, low key and relaxed.  We also have instructors available at every event we host, for anybody that may need help.  OnGrid Is your Premier Organization Hosted By Racers For Enthusiasts. 
For more information and updates please follow our Social Media links.
PRICING:
(Please click on the most relevant TIER when checking out to receive the greatest discount on pricing. Those that do not click on the TIER when checking out, will not get discounted pricing!!)
| | | | |
| --- | --- | --- | --- |
| 1 DAY: Tier 1 (Early bird) | $90 USD | 2 DAYS: Tier 1 (Early bird) | $160 USD |
| 1 DAY: Tier 2 (Not so early bird) | $100 USD | 2 DAYS: Tier 2 (Not so early bird) | $180 USD |
| 1 DAY: Tier 3 (Normal price) | $110 USD | 2 DAYS: Tier 3 (Normal price) | $200 USD |
| 1 DAY: Tier 4 (Late bird) | $120 USD | 2 DAYS: Tier 4 (Late bird) | $220 USD |
| 1 DAY: Tier 5 (Super late bird) | $140 USD | 2 DAYS: Tier 5 (Super late bird) | $240 USD |
| 1 DAY: Tier 6 (Day of event) | TBA | 2 DAYS: Tier 6 (Day of event) | TBA |
Contact info:
 

| | |
| --- | --- |
| Email | info@ongridtrack.com |
| Phone (Call/Text) | 925-255-5277 |
Frequently Asked Questions:
| | |
| --- | --- |
| Event Date? | Saturday/Sunday, March 21st - 22nd, 2020 |
| Race Track? | Streets of Willow |
| Configuration? | Saturday = CW / Sunday = CW. |
| Is official timing available? | Yes. You can secure a timer during checkout. |
| Is this even beginner friendly | Yes. We have special groups for participants who have are new to the sport. |
| Age restriction? | 16+: email info@ongridtrack.com. 18+ for drivers/passengers may sign up if they are in good standing with us. |
| Am I welcome? | Anyone who would like to drive or hangout with OnGrid is welcome! |
| Can I ride with my friends on track? | Passengers are allowed in every run group. |
| Do you offer private coaching? | Yes. OnGrid offers private, full day professional coaching. You may register for this upon checking out for the event. |