NeOkla 2020 Autocross Event #3 @ Fair Meadows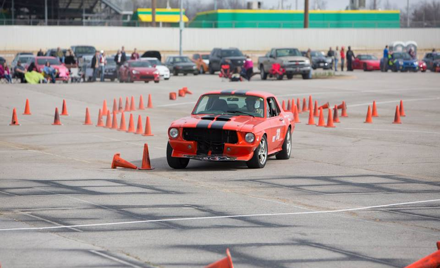 SCCA - Northeast Oklahoma
Sunday, August 23, 2020
Tulsa Fairgrounds (Fair Meadow)
,
Tulsa

,

OK
Registration closed August 22, 2020 7:00 PM on August 22, 2020 7:00 PM CDT Registration ends August 22, 2020 7:00 PM on August 22, 2020 7:00 PM CDT Registration opens December 17, 2019 12:00 AM on December 17, 2019 12:00 AM CST Registration runs from December 17, 2019 12:00 AM to August 22, 2020 7:00 PM
Join Neokla for the 5th event of our 2020 Autocross Season!  We are out at the Fairmeadow Infield for this event.
Entry fee is $35 for SCCA Members or $50 for non-SCCA members which includes Weekend Membership. 
Every driver will get 8 runs!  (4 base class, 4 paxed)
Onsite Registration and Tech will take place from 8:00am to 9:00am.  After registration and tech close, we will have a Novice walk of the course, followed by a drivers meeting, and first car off around 10am.  
We usually have a 30 minute lunch break.  Please bring plenty of water and sunscreen. 
NOTE:  We cannot allow any driver to participate without a valid Driver's License and SCCA Membership.  Please make sure to bring your Driver's License and SCCA Member Card or fill out a Weekend Membership at the event.
 
IMPORTANT PLEASE READ BEFORE PROCEEDING.
Things to consider before pre-regestering for our Solo events!!!
Neokla Event Guidelines and Procedures during Covid-19 Pandemic.
Introduction:
Masks are required to be worn when you cannot social distance on this site!
The following was put together with our members and event participant's health and safety as a primary concern. All state and local recommendations and restrictions are at the heart of these guidelines. As always, it is highly important to evaluate your situation and comfortableness to follow these procedures if you plan to make a Neokla autocross event. If you are not feeling well, showing any symptoms of Covid-19, or have come in contact with someone diagnosed with Covid-19, please out of respect for everyone's safety, do not come to the event.
Things to know/consider before registering for an event:
-Currently State and Locally, gatherings are limited to less than 500 people. 
-Pre-registration will be a must. We need to know how many will be attending so not to go over occupancy and risk being shut down or asked not to return.
-We are allowing a plus 1 in attendance with participating driver's. SCCA is still reccommending no loose spectators.
-In the event that we have over 500 participants wanting to register, First priority will be given to Current Neokla Members (including dual members with Neokla), followed by current SCCA members from other regions.
-Pre-paying for the event during registration is preferred to help streamline the event day check in process. If this is not possible, exact cash (no change will be given) or a check will be accepted only at a designated time at close of check in but before drivers meeting. This is to minimize exposure to money handling and any cross contamination. (Paid Pre-registrations will still be entered into the "Next Event on Us" drawing to be held at the end of the event)
-We will be going back to the 2 heat run format (AM Heat 1, PM Heat 2) to minimize cross contamination of radios, computer and other equipment. Sanitizing will be done during lunch break.
-Please make every attempt to have/bring a properly certified helmet. While we do have loaner helmets, they will only be able to be used by one person per heat and sanitized at lunch. They should be considered as emergency only and should not be expected to be available. Sharing helmets with another driver will not be allowed during the same heat. Proper sanitizing is necessary at lunch break.
-We will allow co-drivers to participate. If drivers are from different households, you may consider a cleaning/sanitizing routine if one or both of you feel it is necessary.
-Masks are required to be used when unable to social distance (registration, driver's meeting, novice walkthrough,...). Vehicles in grid will be spaced to allow for proper social distancing as well as plenty of room to spread out when working on course.
-Please plan to bring your own non-alcoholic beverages. We will have bottled water available but will have to be handed out during work assignment check-in only, they will not be in coolers or in ice to avoid excess handling or exposure.
-If you have any question's please feel free to ask.
Thank you very much for helping keep Neokla safe.