Mountain Country Summer Tour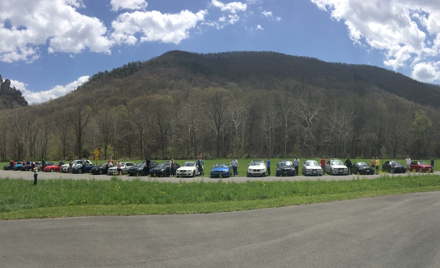 BMW CCA - National Capital Chapter - Tours
Saturday, Jul 13 — Sunday, Jul 14, 2019
West Virginia
,
Seneca Rocks

,

WV
Registration closed July 11, 2019 12:59 PM on July 11, 2019 12:59 PM EDT Registration ends July 11, 2019 12:59 PM on July 11, 2019 12:59 PM EDT Registration opens May 31, 2019 12:00 AM on May 31, 2019 12:00 AM EDT Registration runs from May 31, 2019 12:00 AM to July 11, 2019 12:59 PM
2019 Mountain Country Summer Tour
July 13-14
9:00 am
Ever driven up into the Shenandoahs for some fun driving and been bummed about the 3 hour drive back to DC? Now you don't have to be! Join us for an extended weekend of touring up into the Shenandoah Mountains! The tour will start from the Southwest side of Frederick and end around Manassas at the end of Day 2. We will stop for lunch at Baby Blues BBQ before heading to Seneca Rocks on Day 1. From there, we weave east to Harrisonburg via super twisty Rt 250 for the night with a Dinner stop at Stauton's Edelweiss Restaurant's German Cuisine. On Day 2, we'll head northeast over the last ranges of the Shenandoahs and stop at Lurray Caverns and their Auto Museum around lunch time before heading toward Manassas. All in all you get about 10 hours and 450 miles of touring in a single weekend!

We'll start meeting for the Tour around 8:30 and then depart just after 9am.  We'll hit the first stop around 10:15 and then lunch around 12:30.  We'll finish up lunch around 2 and get to Seneca rocks around 3:15.  With a stop or two along 250 we'll get to our Dinner stop a bit late around 7.  The drive back to the hotel will be over freeways.  We'll reconvene around 9:30 on Sunday morning at a location TBD on the edge of town and leave for Lurray around 10.
Because of the capacity of Baby Blue's I'm limiting the tour to 30 people and however many cars that works out to be. Since it's a 2 day tour the cost will be $15 per car. I will initially open up the tour as a 2 day tour, but if there are any leftover spots 2 weeks before the tour, I'll open it up to folks who are interested in running just Day 1 of the tour for the standard $10 per car.

For the Fairfield Inn Saturday night, a room block has been setup with 20 rooms at a price of $109 for the night.  A Mix of Single King and Dual Queen rooms are available. A link to get a room in the block is provided via Email Blaster once you register. The $109 rate will be available through June 22nd after which the rooms will go back into the general pool and still be available at a slightly higher rate. On Day 2 we'll regroup around 9am and head out around 9:30am, this may change depending on the tour time I can get for Lurray if we sign up as a group.
Let me know if you have any feedback on this as this is my first time planning a 2 day tour. More details to follow. If you cancel before the close of registration you will be refunded.