About this event
Mt. Equinox Hill Climb
Saturday and Sunday, August 13-14, Arlington, Vermont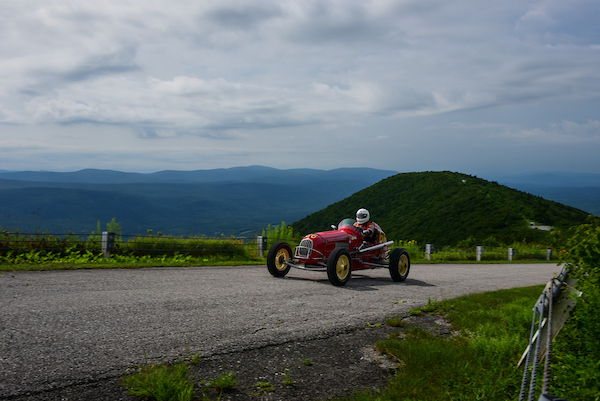 The success of the Mt. Equinox Hill Climb can be judged not only by the number of returning racers each year but also by the fact that it is marked as the event with the greatest attendance by significant others. No wonder subscription fills fast early on.
Drive in the tracks of the greats - John Fitch, Bill Milliken, Cunningham, Shelby and Dreyfus to name just a few.
A five-mile, adult roller coaster that climbs 3200 feet. Experience cresting "the saddle" full throttle as your car hurtles seemingly into a cloud while testing the true meaning of the "pucker effect".
There will be a worthy entourage of eager course marshals choosing the winner of the Dreyfus Cup.
All this and a great dinner at the Arlington Inn on Saturday night (Note: dinner not included in entry fee)
For more information, please contact the Event Chair, Scott Fenley, at fenleyts@yahoo.com or cell: 215 901-4324.
Event rates
Entry:
Regular two-day entry: $425 (non-members $450)
Sunday only entry: $250 (non-members $275)
Saturday Night Dinner (Not included with the above entry fee): $75 per person.
Please note that non-members can apply non-member increments ($25 Mt.Equinox, $50 at track events) up to $100 on your dues for the next calendar year should you join the club.
For payment by check, please make your check out to VSCCA, Inc. The remittance address will be found by clicking on the "Event Chair Contact Info" above and to the left.
If you have not used motorsportreg.com before please click here for video instructions on how to set up an account: New Account Set Up
If you have a motorsportreg.com account but have not used it for a vscca event please click here for a video: Existing accounts new to VSCCA
If you need to cancel your registration please watch this instructional video: Cancel Registration
Event requirements
Input event requirements here.
Entrants should be a member of a VMC member organization (e.g. VSCCA, VRG, VARAC, etc.)

Competition License not required but if you do not have any hill climb or track experience please contact the Event Chair Scott Fenley

Current medical is not required.

Cars do not have to be have a VSCCA log book but the Event Chair will approve non-logbook cars on a case by case basis and may accept appropriate cars through 1973. (

1973 is used as a cutoff as the SCCA ran the event until then.)

All cars must pass tech inspection prior to the event.

If you have any questions regarding your or your car's eligibility please contact Scott Fenley at

fenleyts@yahoo.com
Mount Equinox
Sunderland, VT
More events from this organizer