About this event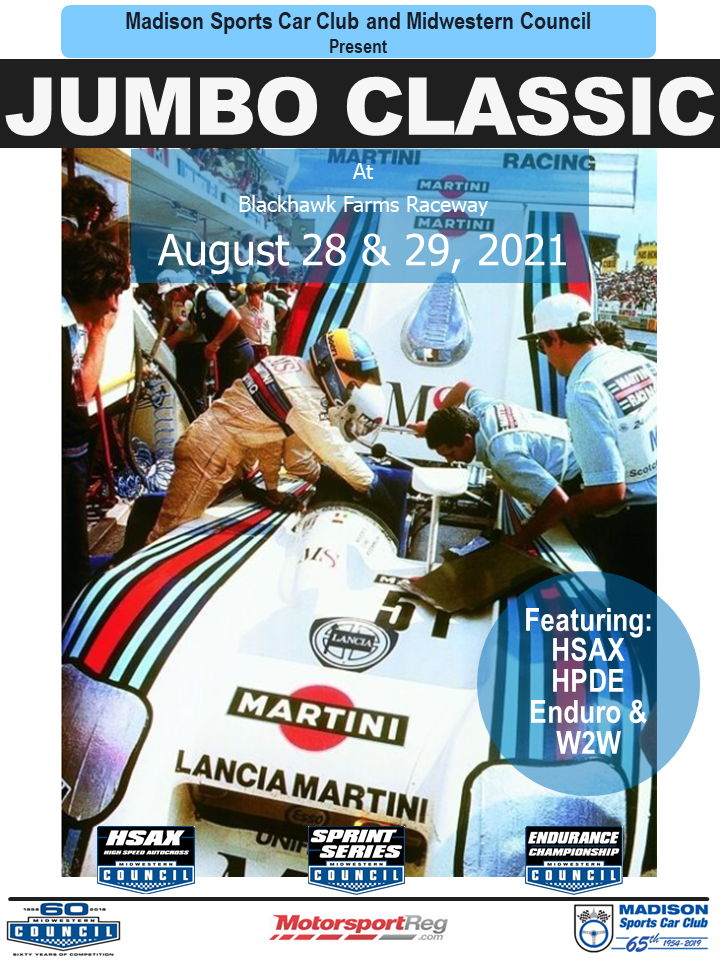 Madison Sports Car Club (MSCC) and Midwestern Council of Sports Car Clubs (MC, MCSCC) are proud to present a full weekend of motorsports at Blackhawk Farms August 28-29, 2021, in honor of our fallen comrade John "Jumbo" Boldt.
The HSAX event features two rounds of HPDE sessions in the morning and two timed run sessions in the late morning and afternoon - all with time in between to discuss your runs and make adjustments if necessary. This event is sanctioned by Midwestern Council.
There are two options for the Saturday HPDE/Autocross. If you are only interested in the morning HPDE, there is a $150 AM-only entry fee for two 20-minute on-track sessions. The second option is the full day of morning practice sessions, plus the affternoon timed runs for Autocross Championship Points at $200.
At the end of the day's events, please stick around for an extravaganza barbeque dinner of ribs and brisket, free to all attendees.
Other events occurring during the weekend:
MC ENDURO!
Don't miss the second MC Enduro of the season! Your car can easily handle the 2 hour race on one set of tires and brakes without breaking your bank account. The 2 hour length means you can drive it alone if you're a glutton for punishment, or you and a buddy can handle the drive and still have enough energy left to drink a victory beer.
The Saturday morning HPDE sessions are INCLUDED in the enduro price, so all your drivers can get some track time before the race!
The MC Enduro Championship is divided into five classes, E1-E5, based on your declared Blackhawk lap times. "Breaking out" of your chosen time will result in time penalties. Please see entry packet for more details and full supplementals.
CLUB RACE SUNDAY!
After the Enduro, stick around for the Wheel to Wheel Races on Sunday. You can get over four hours of track time this weekend, or six hours if you run two race groups!
RACE STAFF DESPERATELY NEEDED!
We have all the usual worker goodies, free camping, free meals and gas card giveaways.
PLUS THE USUAL PARTY!
Illinois regulations permitting, we are planning on another bodacious bar-b-que dinner Saturday evening after the enduro as well as a Celebration of Life for "Jumbo" John Boldt!
REGISTRATION PACKET / INFORMATION
See the following 2021-08 Jumbo Classic Race Entry Form v002.pdf
Event requirements
This event is sanctioned by the Midwestern Council of Sports Car Clubs and is governed by the MC GCR, available at this link: http://mcscc.org/gcr.php
A Snell 2010 or newer helmet is required for High-Speed Autocross. Beginning next year in 2022, Midwestern Council will require Snell 2015 or newer helmets.
More information is available on our website.
Blackhawk Farms Raceway
South Beloit, IL
Download track map
Watch a video tour/lap
Madison Sports Car Club - Autocross