About this event
It's quite possibe that this is the event that sets Jzilla apart as an automotive adventure company. We are going back to Spa, September 8 - 14.
The Jzilla Spa Trip
Presented by Stuart Dangar Real Estate
Tentative Schedule and Cost
September 8-14, 2023
September 8 Leave ATL
September 9 - We'll relax at Spa and pretty much do what we want. Dealer's choice. Dinner in Spa. Lo De Source (Michelin Rated) Included with fee
September 10- This is a Ring Racing Day. Witness a 12H at the Ring and watch some racing. You will also tour the Grand Prix Mall and get some shnitzel.
September 11 - Back at the Ring to do a tour. Visit the famous gas station with all the model cars. Check out more turns at the Ring. Drive the ring on a Tourist day. (Driving the Ring this day is an a la cart item.). Eat at another Michelin rated restaurant, Pistenklaus, included wtih fee.
September 12 - Spa Track Day - Instructors included. Open pit lane format and 200km included with your package with a basic car. Honda Type R or Hyundai I30N or Renault Megane. You can always upgrade up to a GT3RS or somethng in between. Eat at another Michelin Rated restaurant, L'auberg
September 13 - Spend the day in Brussells. We'll turn the car in and hotel will be right at the airport. We can take the train to city center and shop and eat.
Tentative Cost if you have a co-driver is $8500 - A refundable deposit of $500 is require to hold your spot. We will be doing the complete booking asap.
This includes entry and an entry level car at RSRSPA event, 3 Dinners, Flight, Hotel and ground transportation. Hotels have a great breakfast included in your fee and you get your own room. Lunch is included in the track day. Included is 200km per driver and you can purchase more km for more track time. If you are planning to drive the ring, this is an ala carte item that we can also book for you. You may also opt out of the flight, ground transportation and/or hotel and just join us for the track day and dinners.
Cars Available for Spa: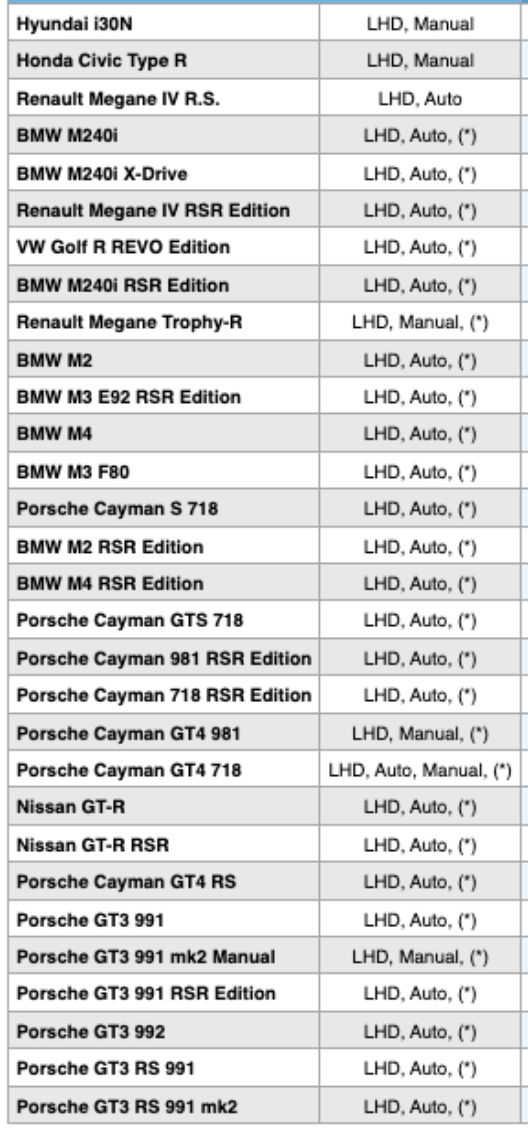 Thank you for saving your spot for our Spa/Nurburgring trip. Keep an eye on your email for upcoming information. We are just waiting for the Covid requirements to loosen in Belgium up and we'll be booking this trip by the end of March.
Any questions, please email james@jzillatrackdays.com
Event requirements
Helmets will be included but we understand if you want to bring your own.
You must have a minimum 3 track days under your belt to go.
Please let us know if you are bringing a significant other and if they are driving.
Thank you for saving your spot for our Spa/Nurburgring trip. Keep an eye on your email for upcoming information.
Any questions, please email james@jzillatrackdays.com
Circuit de Spa-Francorchamps (Spa)
Francorchamps, Stavelot
More events from this organizer