About this event



FRP's 2023 Season Features 7 great events
EVENT #4 @ PIRC Is an FRP Event
Hosting The Formula V 60th Birthday Bash
Culminating with the Brundage Cup Race on Sunday
THIS REGISTRATION SITE is for FV Drivers ONLY.
All othes use the FRP-2023-PIRC site:
msreg.com/FRP-2023-PIRC
Run groups:
Challenge Cup
FV - Vintage
FV SCCA Slicks
Each with 2.5 hrs of track time
The Brundage Cup
(Details TBD based on entries & qualifying times)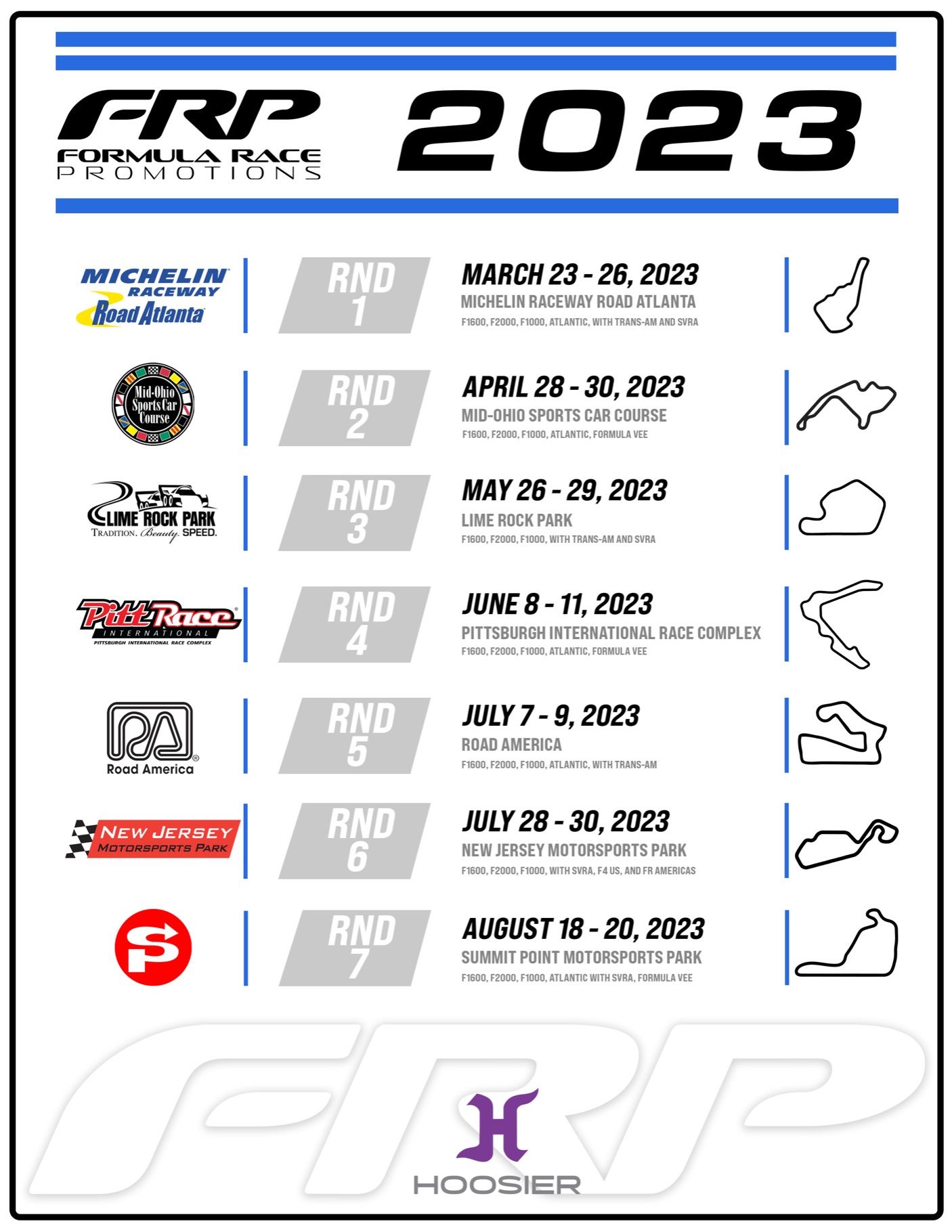 Event requirements
Formula Race Promotions events in 2023 are sanctioned and insured by PMH/SCCA PRO.
ALL FRP participants — drivers & crew & guests desiring hot pit access MUST BE a member of SCCA or SVRA.
There is a weekend Membership available through SCCA.com ($20).
CREW & GUESTS may participate in FRP events without being an SCCA/SVRA member, but will not be allowed in hot pit areas.
Anyone found in a hot pit area without proper credentials will be fined ($500), and this fine will accrue to the associated team.
For 2023 - Crew Chiefs; Crew Members & Guests have their own FRP registration site, that works for the whole season.
USE THIS LINK: FRP 2023 Crew & Guest Season Registration
If you want your Crew and Guests to receive event emails and track session results, it is Important to have them register directly using this form.
Link to the Crew Registration form can be copied and e-mailed to all, is also on the Hub Page of FRP's website, You can also sign up crew yourself.
A Hardcard CREW Credentials is available at no charge directly through PMH.
PMH Crew Hard Card Application Click HERE
Every Participant entering grounds of a track venue must sign the specific track's waiver, sometimes available online, sometimes only at the gate. Each track will have a specific wrist band for the weekend, which provides you continual weekend access.
EVERY Participant MUST ALSO check in at FRP's Registration BEFORE going on track or into the hot pits.
This is where we verify eligibility, waivers, payment, and issue the FRP weekend wristband.
Drivers who do not check in with FRP registration and find their way onto the track WILL BE black flagged and may be fined.
Licensing Requirements for FV DRIVERS
All Drivers must be an SCCA or SVRA Member.
A Current Full Competition license issued by SCCA; FIA; HSR; IMSA; NASA; VRG; VDCA; VSCCA; EMRA; Indy Car; & CACC. is accepted.
(Possibly other licenses as well, check with us)
There are NO additional license requirements for one's FIRST 2023 FRP event.
Thereafter for FV drivers: there will be a ($30) surchage for subsequent FRP events.
Any Questions, contact us:
robertW@RaceFRP.com or call 855-722-3377 ext. 701
clayH@RaceFRP.com or call 855-722-3377 ext. 708
Pitt International Race Complex
Wampum, PA
Download track map
Buy track decal