Empire Region Lime Rock Park HPDE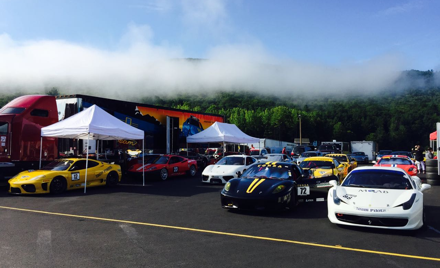 HPD Instructor
Friday, Aug 2 — Saturday, Aug 3, 2019
Lime Rock Park
,
Lakeville

,

CT
Registration closed July 28, 2019 11:59 PM on July 28, 2019 11:59 PM EDT Registration ends July 28, 2019 11:59 PM on July 28, 2019 11:59 PM EDT Registration opens May 14, 2019 12:00 AM on May 14, 2019 12:00 AM EDT Registration runs from May 14, 2019 12:00 AM to July 28, 2019 11:59 PM

The Empire State Region of the Ferrari club of America invites you to join us for a High Performance Driver's School at Lime Rock Park for a high performance driving event.
Rain or shine.  Join us for two UN-MUFFLED track days at scenic and historic Lime Rock Park!
When:  August 2nd – August 3rd, 2019
This event is open to EVERYONE. You don't have to be a member to join us.
NO PRIOR TRACK DRIVING EXPERIENCE REQUIRED TO PARTICIPATE.
INSTRUCTORS ARE PROVIDED WITHOUT EXTRA CHARGE.
Drive your own car on the track.  You don't have to have a Ferrari to join us.  
Note: Convertible cars without factory fitted rollover systems are excluded for this event unless a four-point structural roll bar that meets SCCA GCR guidelines for Solo 1, has been installed.  Trucks and SUVs are also excluded.
Factory fitted rollover systems including pop-up systems, such as those on the M3 convertible, Mini Cooper, Boxster, Carrera TT, S2000, Audi TT, 350Z, Z4, Z8, etc. are allowed.   Other examples of cars with acceptable factory installed rollover protection include: 308/328 GTS, 348 TS etc. with "targa" style roof and 360/430/458 convertibles with factory installed roll bars behind the seats.
All factory fitted systems must meet the "broom handle test" which measures whether the head, and helmet fit below a line formed from the top of the rollover bar to the top of the windshield.  All pop-up hoops must be in the up position before going on track (please contact your dealership to trigger the system).
You will be required to have your car examined by a reputable service station / dealer using our Tech Inspection form not more than 30 days prior to the track event.
If you have a Ferrari, your tech inspection form should be filled out by certified Ferrari dealership or independent Ferrari Service Center.
Click here to print the mandatory Tech Inspection Form:   FCA_2019_Tech-Inspection-Form_Jan-v2.pdf
Brake Fluid: The Tech Form requires that a car's brake fluid must be less than four months old at the time of the track event.
You will be assigned a coach if you are new to High Performance Driving Events. 
You will also be assigned a coach for a checkout ride(s) if you have not been with us before.
This is THE event to experience what cars are really about.. It's the most fun you can have in your car with an amazing group of people!
Registration fees:
FCA members: $860
Non-FCA Members: $945               
You can join the Empire State Region and the Ferrari Club of America by using this link:  We would love to have you join us!
After 7/19/2019 – please add $150
On-Site Day of the event registration – please add $200
PLEASE NOTE:  We only have 3 run groups.  This allows you to have more track time than other clubs that run 4 or 5 different run groups.
Run Group Dress Codes
Run Group

Requirements

Green (Novice) / White (Solo)
Long sleeved shirts, long pants, closed toe shoes are required
Blue (Intermediate)

Long sleeved shirts, long pants, closed toe shoes are required

If you are driving a Race Prepared car with race tires and/or a roll bar/roll cage
you are required to wear Full Nomex

Red (Experienced)

Full Nomex Required
This is a private event as are most High Performance Driving Events.   You will need to list your guests and family members during your registration process.
Continue for event registration.
.