About this event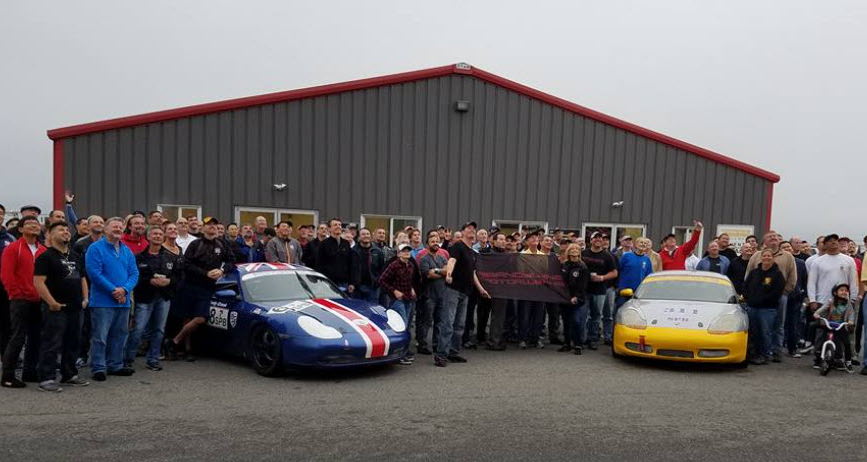 The Delaware Region PCA will be holding its annual 3 day event at the fantastic Thunderbolt Raceway at New Jersey Motorsports Park. 2023 is

our

15th

year

and we continue to host one of the premier events on the track calendar.

Friday is an instructor/solo day which allows for

*up to 4 hours of track time*

while Sat & Sun is open to all. Note this event is not restricted to Porsches or PCA members. All marques are welcome.
Brandywine Motorwerks will be sponsoring our event again with a Happy Hour party and T-shirts for all!
A relaxed, fun weekend with some of the best drivers and instructors at one of the best tracks in the country. What more could you want? Sign up now!
PS Looking for Garage Rentals? They are part of the main registration form.
Event requirements
Entrants must be 18 or older and possess a valid drivers license.
All marques are welcome, it's not just for Porsches. PCA club membership is not required.
We also accept qualified instructors from other groups such as BMWCCA, NASA, SCCA, etc.
SA 2010 Helmets
are not allowed
.
Must be newer than 2010
. Full face helmets are required. SA, M and K rated helmets are allowed.
This is a NJ State Law requirement.
Note: no Open faced helmets - must be a Full Face helmet with Shield - no glasses or goggles. This is a NJ State Law requirement.
Equal restraints must be provided for cars in the instructed groups. This means if you have 5 point harness for you, there must also be one for your instructor/passenger seat.
Please Note: if a car has a 5 or 6 point harness system the driver (and any passenger, i.e. instructor) is required to wear a Hans device.
All cars must have a technical inspection done by an approved tech facility before the event. This inspection must be done within 4 weeks of the event. We do a grid tech every morning of the event but this does not substitute for the pre-event inspection. Any cars that show up at the track without a pre-event inspection will be refused entry into the event and no refunds provided. An inspection form will be provided on our website. If you have a tech inspection done and then participate in another track event before our weekend, you must have a new tech inspection done.
Convertibles are allowed with factory rollbars extended - must pass the broomstick test
Convertibles must run with the top up, roll hoops must be extended and pass the broomstick test, as do convertibles with aftermarket roll bars.
Convertibles who want to run with the top down can do so as long as they use arm restraints.
No drones allowed to fly on site. Sorry, but it's NJMP's policy. Violators will be asked to leave the property.
Bookmark this link! Frequently Asked Questions
Important Note Regarding Current Model Vehicles
From: Alex Bell, PCA National DE Chair (997.alex@gmail.com)

Many of you may already be aware of the concerns regarding Automatic Emergency Braking Systems available in some new cars and the potential issues for those vehicles participating in a PCA DE events going forward. Some regions have taken action on their own to address the concern. I, along with my DE Committee, are in the beginning stages of determining a National Standard which can apply to this issue going forward.

Our current position on this issue is as follows:

At this time it is not known how "Automatic Emergency Braking Systems" will react at speed in the HPDE environment. For the safety of all participants PCA has decided not to allow affected vehicles to run with our group at HPDE events unless the system can be and is turned off. We have no doubt that this equipment is very helpful in street driving; however, we cannot risk endangering drivers, instructors and their vehicles at our on-track driving schools.
--What this means to the Delaware Region, is if your car has one of these systems and it can not be turned off, your registration will not be accepted. It is your responsibility to determine this. If we discover your car has one of these system at track tech and it can't be switched off, you will be excluded from the event. Find out way before you get to the track for everybody's sake.
Run groups will be assigned by the chief instructors based upon your request. However, if the chief instructors do not know your track experience, a confirmation from your club's chief instructor is required. Please make sure your experience is fully documented in your MSR profile. The Delaware region Chief Instructors have final discretion.
For those who are not familiar with our run group color code:
Green

Instructed group, novice and limited or no previous track experience

Blue

Instructed group, have some track experience but is not signed off to solo. We do have a very limited number of Blue Solo slots.
White
Not instructed (Solo) group,

must have been previously promoted to solo group, not just 'signed off to solo' at last event

Black

&

Red

Advanced and Instructor groups, the difference between Red and Black is primarily the speed potential of the cars, with the faster cars in Red
If you have a question on which run group to choose, please ask the registrar.
Fees
Instructor 2 days (Sat/Sun) $125
Instructor 3 days (Fri/Sat/Sun) $275
Instructors can sign up without payment now. Payment will be due 30 days before the event.

Non-Instructed Driver (solo) 2 days (Sat/Sun) $385
Non-Instructed Driver (solo) 3 days (Fri/Sat/Sun) $575
Instructed Student 2 days (Sat/Sun) $495
*Note: Friday (4 hours of track time) is only offered as part of a 3 day package. It is intended for our instructors benefit. Non-instructors and solo drivers get to tag along. If you want to run just on Friday, you must sign up for 3 days. Whining to the registrar won't change this policy.
Garages are $185 for the weekend
Electricity & Camping is included with your registration
Registration fee includes a membership to Delaware PCA for the event.
Important information regarding your registration
Cancellation policy: Cancellation deadline for refund is September 1st 2023. Refunds will be made for any reason less the MotorsportReg.com credit card processing fees (if any). After this date, there will be NO Refunds for any reason, nor any Credits for a future event. No exceptions. By registering for this event you are agreeing with this policy.
Late Fee
After Sept 20th, there will be late fee of $50 added for any registrations after that date.

Confirmations
Your spot in the event is not guaranteed until all payments are made. Preferences for number, instructor assignments and other requests are based upon the date that registration is fully completed and confirmed.
In other words, if you are not fully paid, you are NOT registered and will be put on the 'On-Hold" list. Just filling out this web form does NOT register your entry. If your group sells out, you will be put on the "Wait List" behind folks who have paid.
NJMP Thunderbolt
Millville, NJ