Covered Bridge 50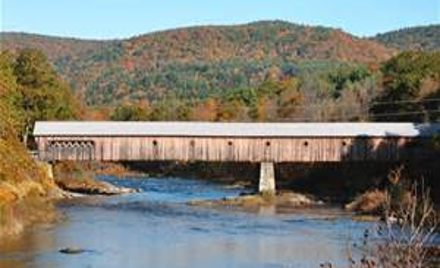 SCCA - New England Region - RoadRally
Friday, Nov 4 — Sunday, Nov 6, 2016
Mount Snow Grand Resort
,
West Dover

,

VT
Registration closed October 22, 2016 11:59 PM on October 22, 2016 11:59 PM EDT Registration ends October 22, 2016 11:59 PM on October 22, 2016 11:59 PM EDT Registration opens August 22, 2016 6:00 PM on August 22, 2016 6:00 PM EDT Registration runs from August 22, 2016 6:00 PM to October 22, 2016 11:59 PM
Update:  10-11-2016
The 50 Team limit has been reached for Saturday's Covered Bridge 50 Rally.  Anyone wishing to enter from this point forward will be put on a waiting list.  If a team or teams withdraw, new teams will be added based on their date of listing on the wait list.
The Sunday "A Bridge Too Far" Rally has a limit of 35 and there are currently a few openings for that.  Contact me if you want to enter Sunday's rally.  beliveau@aavid.com
Covered Bridge 50, USRRC Weekend
November 5-6 2016
Mount Snow, West Dover, Vermont
Come join New England Region of SCCA as it celebrates 50 years of Ted Goddard and Covered Bridges and the roads less traveled.  Covered Bridge 50 weekend will be headquartered at Mount Snow Resort, West Dover, VT on the weekend of November 4-6, 2016.  This is also the USRRC (United States Road Rally Challenge)/CB50, on Saturday 11/5, will be the 50th Annual running of the Covered Bridge Rally.  It is a straight forward TSD tour rally of approximately 140 miles.  The name for the rally came from Ted's love of covered bridges, probably fostered by the fact that Vermont has over 100 of them.  Ted has been the rallymaster for all 50 years!  The rally will be run in two sections, a morning and afternoon section.  Each will begin and end at Mount Snow Resort, in West Dover, VT.  Contestants should expect a majority of unpaved public roads and maybe even a trip on a Ted Goddard divided highway.  Passing through a number of covered bridges during the rally is a given.  Make sure to obey the signs posted on the bridges.  Afterwards, enjoy snacks and a beverage and revel in the adventures of the day while scoring is being done.  Entry will be limited to the first 50 registered teams.
You would be amiss if you didn't hang around for Sunday's "A Bridge Too Far" course rally by rallymaster John Buffum.  This will be a moderately trapped TSD rally suited for most ability levels; however no Novice Class will be included.  Traps may include those based on timing or speed, main road designations, and signage, as examples, but in no way limited to these.  Have no fear, if you fall for a trap, John's instructions will lead those who stray back to where you belong after a short detour.  This will be a half day rally so travelers can head on their journey home by the middle of the afternoon.  Entry will be limited to the first 35 registered teams. Enjoy an ice cream sundae to close out the Covered Bridge weekend celebration.
There will be displays and interesting CB memorabilia on display throughout the weekend.
Covered Bridge Rally, Saturday Nov 5 (includes lunch and awards appetizers)
SCCA members (per team) $70
Non-SCCA teams, and LATE $90
A Bridge Too Far Rally, Sunday Nov 6 ( includes Ice Cream Buffet at Awards)
SCCA members (per team) $35
Non-SCCA teams, and LATE $50
Both Rally's member $95 save $10
Both Rally's non member/late $140 
Checkpoint workers are always needed and welcome, get in touch if you want to have some excitement and work checkpoints. 
Details, Generals Instructions and mail-in entry: http://www.ner.org/roadrally-schedule/covered-bridge-50/   There's lots of useful info linked at the bottom of that webpage.   (The link has been finicky, if the link doesn't work by clicking on it, copy and paste and it should work.)
Registration closes on 10/22.  Once on-line reg closes, you may still enter the rally, provided the 50 entry limit hasn't been reach.  It is imperative that you contact the registrar and email an entry form in advance.  The entry form can be downloaded from the bottom of the page on the link above.  Please bring exact cash or check to registration at the event.
Non-member prices include Weekend Membership. To take advantage of member rates, join the SCCA now!
Questions? Contact the Registrar:  Scott Beliveau Beliveau@aavid.com 603-455-2791