Club Race at Hallett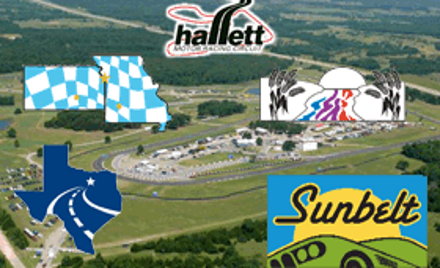 BMW CCA - Club Racing - Lone Star Chapter
Friday, Oct 12 — Sunday, Oct 14, 2018
Hallett Motor Racing Circuit
,
Jennings

,

OK
Registration closed September 2, 2018 6:00 PM on September 2, 2018 6:00 PM CDT Registration ends September 2, 2018 6:00 PM on September 2, 2018 6:00 PM CDT Registration opens June 4, 2018 10:00 PM on June 4, 2018 10:00 PM CDT Registration runs from June 4, 2018 10:00 PM to September 2, 2018 6:00 PM
BMW CCA is returning back to Hallett Motor Racing Circuit after a long absence. Hallett is the little hidden gem that most people don't know about. Come join us October 12-14, 2018 for 3 fun days at this great track.  You won't be disappointed.
We are attempting to run a club race and time trial group at this event.  To do this we need to get commitments by Sept 1 as we need to arrange with the track to buy additional track time to accommodate 2 groups (in addition to the driving school that will be occurring as well). So we opening registration now for both groups.  We need 20 people with an entry fee of $400 in each group to run.  You will enter your credit card info, but will not be charged until we get 20 people in the group. Once we get 20, we will notify everybody that we reached the magic number. You will have a few days to change your mind then your card will be charged and your entry will be non refundable unless we can get somebody to take your spot. Same method for both club race and time trial.  If we can work it out we will attempt to offer a discount if you want to run both the race and the TT, but as of now we can't offer a discount.
If you are currently a non BMW CCA licensed racer and have never had a BMW license, then you can run on a one weekend guest racer license.  The requirements are as follows: 1. you must have a current BMW CCA membership, 2. you must have a current competition license from another series (NASA, SCCA, IMSA but not LeMons, Chump, etc)- you license cannot be provisional, rookie or on suspension/probation, 3. you car must conform to all the BMW safety requirements. These are: any SFI punched equipment must have been punched no earlier than Ocotober 2016; any FIA punched equipment stated "not valid after 2018" or later; a center net is REQUIRED even if you have a halo seat (punch dates will be checked); fire suppression SYSTEM not just a bottle; al BMW CCA required sponsor decals including the TireRack.com windshield banner; an in date SFI 38.1 compliant head and neck restraint device. Your race does doesn't have to be a BMW, nor do you have to fit into a BMW class.  You can run your car in your foreign class.  You will need a current log book and current annual inspection form from the other organization.
This race has been designated the South Central Premier Race.  All regional Premier races have Hoosier Tire contingencies available (pending class size requirements by Hoosier).  We are attempting to see if we can get this applied to the time trial group as well.
Edit (7/13/2018)- there will NOT be a time trial group at this event.