About this event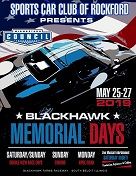 The Sports Car Club of Rockford (SCCR) presents the first Midwestern Council (MC, MCSCC) High-Speed Autocross competition of 2019 on Monday, May 27. There will HPDE sessions in the morning and Autocross timed runs in the afternoon. The morning HPDE sessions serve as practice for all High Speed Autocross (HSAX) entrants. An entry into the Autocross competition gets you approximately 60 minutes of practice track time plus timed runs in the afternoon.
Registration opens on Monday, April 15th.
For more information download the weekend registration packet here: Master - 2019 Blackhawk Memorial Days Race Information Packet v3.pdf
V3 change was a change to the Monday schedule. Please print off latest version of the schedule in link above.
Please note: Full electric vehicles will not be allowed to participate. Hybrids will be reviewed on a case by case basis and must be approved by Chief Steward
We look forward to having you come out and spending your Memorial Day at the track with us!
Event requirements
Snell 2010 or later helmets are required to participate in an MC High Speed Autocross.
Open-top cars require a roll bar and minimum four-point safety harness.
Find our autocross GCR (starting at page 178) here: http://mcscc.org/gcr.php
Blackhawk Farms Raceway
South Beloit, IL
Download track map
Watch a video tour/lap
Sports Car Club of Rockford - Autocross