About this event
AZPCA started Vegas Fun Runs in 2005; we missed a few years, but now it's back! And we're back on The Strip!
SUMMARY: Join your fellow Arizona PCAers for 3 fun filled days on a mid-week trip to Las Vegas. We leave Sunday morning, March 19th and head back on Wednesday morning, March 22nd. If 3 days is not enough, book an extra night (rates on Fri and Sat nights tend to be double the Sunday – Thursday mid-week rates).
We've planned a group dinner, a group late night meet-up for drinks, an optional Selfie Strip Scavenger Hunt for a prize (instructions at very bottom of this page), a special hosted late afternoon event with the Las Vegas Dealership, socializing with the Nevada and Intermountain PCA regions, a fun half-day drive an hour away from the Strip for awesome photo opportunities, and lots of free time to explore on your own.
We've stayed as a group at many Strip hotels over the years, but this is our first time selecting the famous Bellagio Resort and Casino as our base hotel at 3600 S Las Vegas Blvd, Las Vegas, NV 89109. We have 5-6 other suggestions of hotels should you choose another venue in the HOTEL section below. They are also wonderful properties and walkable from the Bellagio. Make your reservations as soon as possible by reading through the following information. On-line rates change daily on hotel web sites so check often! Sign up for free hotel loyalty cards for perks and cyber email sales. $45/day resort fees are usually never waived. Daily parking garage fees can be steep but we know the secret to not paying them...
Please see the Strip Map to see how close they all are at: www.vegasunzipped.com/wp-content/uploads/2020/06/vegas-map-strip.pdf
AGENDA: (detailed agenda with addresses and driving directions will be emailed to all registered attendees a week before)
Note that all times are subject to minor changes except the meeting time Sunday morning for the driver's meeting
Sunday, March 19

8:00-8:15 AM: Meet at a location to be sent via email in March to sign waivers (and for breakfast if you like (7:00am)). Drivers meeting PROMPTLY at 8:30. Review route, instructions, maps, scavenger list.

Pay

for your own food

.
9:00 AM: Leave for Las Vegas with full tanks
10:00 AM Bio-break a at the Mobil gas station just outside Wickenburg
12:00-1:00: Lunch at your choice on Kingman Stockton Hill Road exit (In-N-Out, Five Guys, McDs, Culvers), top off gas, meet to leave.

Pay for your own food

.
approx 3:00 PM (PST): Arrive at The Bellagio for check-in or your hotel of choice - the Scavenger Hunt officially begins (on-your-honor). Mark up your sheet when you snap your evidence photo!
6:00 PM - Bootlegger Bistro (15 min drive or uber)

Pay for your own drinks and food

. www.bootleggerlasvegas.com/ Please make your own OpenTable reservations for your group and add in your notes REQUEST MAIN DINING ROOM VIEWING THE ENTERTAINMENT
9:00 PM - Group night-cap at the Bellagio Mayfair Supper Club Bar

Pay for your own drinks

Meet up in the bar

https://bellagio.mgmresorts.com/en/restaurants/the-mayfair-supperclub.html

Monday, March 20

Monday morning/afternoon

– relax or feel free to explore the Strip using the Selfie Scavenger Hunt list and Strip map. See ideas below under "VEGAS KNOWLEDGE" below.

Monday late afternoon/evening

-

Gaudin Porsche Las Vegas

is pleased to host our group with festivities from 3-7pm. First, we will visit their Porsche Center, then enjoy a cocktail reception at a "memorable venue". Both the

PCA Las Vegas

and

PCA Intermountain

Regions will be invited to join us.

3:00 PM - 4:30PM - Gaudin Porsche Dealership Tour, Gaudin History Walk at Gaudin Ford and Group Photo
4:30 PM -4:45 PM - Travel Time to Pub D & G car collection - address forthcoming
4:45 PM - 7:00 PM - Cocktail reception and light hors d'oeuvres at Pub D & G

Tuesday, March 21

Tuesday morning

- 8:00 AM - The Las Vegas PCA Region will be our guide to the Valley of Fire just north-east of the Strip

http://parks.nv.gov/parks/valley-of-fire

- it's going to be a very scenic and fun 4 hours of Porsche roads.

REGISTER NOW: http://msreg.com/VALLEYOFFIRE2023 [Note links on the flyer provides maps and other information you should also print]. ANY OPEN SEATS REMAINING WILL GO TO THE LAS VEGAS AND INTERMOUNTAIN PCA CLUBS BEGINNING MARCH 1 TO A MAXIMUM OF 60 CARS.
Day Pass per Vehicle Fees: National NPS Park - $25. Nevada SP -$10 for Nevada plates, $15 for out of state plates. (If you possess an Annual or Lifetime pass for either park, you need not purchase a day pass for that particular park). DO NOT PURCHASE BOTH NEVADA STATE PARK PASSES. IF YOUR PLATES ARE FROM ARIZONA, UTAH OR ANY OTHER STATE THAN NEVADA, CHOOSE THE $15 OPTION!
8:00 a.m. Meetup at South Lake Mead Parkway Entrance: 4910-4952 EAST LAKE MEAD PARKWAY, HENDERSON NV 89005
After the drive and photo ops, there is no place for a large group to eat lunch, so we suggest the town of Overton has La Fonda Mexican Restaurant and Cablp (Criss Angel's Breakfast, Lunch & Pizza) or a McDonald's that could accommodate small groups after we officially finish the Valley of Fire tour -

Pay for your own

lunch

Tuesday

afternoon/night

– gambling, shopping, on your own for dinner and a show if you want. Recommend grabbing an OpenTable dinner reservation ASAP.

Wednesday, March 22

Wednesday morning, March 22nd

- head back with our group at 10:00AM or book an additional night and enjoy more of the Strip. Remember what happens in Vegas stays in Vegas!
The Vegas Fun Runs Are Back Baby! We Hope you will join us. Register early as only 26 cars can attend (many waitlisted names have already bumped up to the main list!)
Vegas Fun Run 2023 Co-Chairs Frank Grimmelmann and Jan Mackulak
Remember, hotel arrangements are up to you.
-----------------------------------------------------------------------------------------------------------------------
HOTEL INFO: Strip Map to see how close they all are at: www.vegasunzipped.com/wp-content/uploads/2020/06/vegas-map-strip.pdf
MLife BASE HOTEL: Bellagio – Strip View recommended, Fountain View if you want to splurge! Think Ocean's Eleven final scene! https://bellagio.mgmresorts.com/en.html
3 other very close MLife hotels:
Aria – a tram ride away from the Bellagio from the back spa entrance – tram connects Bellagio-Aria via the Crystals Shopping Center tram exit and also onward to the ParkMGM

https://aria.mgmresorts.com/en.html

Vdara – between the Aria and Bellagio, west of the Cosmopolitan, an inside walkway connects the Bellagio Spa vicinity to the Vdara hotel – a beautiful hotel that has no casino and extra large comfortable rooms, Valet parking only or park at the Aria -

https://vdara.mgmresorts.com/en.html

Park MGM (have not been to since it was remodeled) – south of the Aria and Crystals, this is the newly remodeled old Monte Carlo Resort – definitely one of the more affordable hotels on the Strip besides Paris. Book at NoMad room for a New York City vibe.

https://parkmgm.mgmresorts.com/en.html
2 other very close Caesars' Entertainment hotels:
Caesars – probably the largest hotel/casino/shopping footprint on the Strip and easily accessible via a over-the-road bridge walk away directly to the north thru the Bellagio Shops – thru the lobby thru the casino to the Caesars' Forum Shops

https://www.caesars.com/deals

Paris – directly across from the Bellagio (a bridge walk-over or a street crossing to get to the Eiffel Tower hotel (with great garage parking) -

https://www.caesars.com/paris-las-vegas
Others closeby: Cosmopolitan is a sidewalk walk directly to the south of the Bellagio – get their Identity Card - https://www.cosmopolitanlasvegas.com/
Further away but very nice:
Parking garage charges can be very expensive! Only at The Cosmopolitan, IF you are an Identity Card member, your resort fee includes free parking. At all others Mlife and Caesars hotels, to receive free parking, you must have a hotel loyalty card with their credit card. The MLife Mastercard and Caesars' Visa cards (both $0 annual fees) are the only way to avoid $30-$35/day parking fees. Apply ASAP so your benefits are active as soon as practicable but no later than late February.
Mlife Rewards at https://www.mgmresorts.com/en/mgm-rewards.html
MLife credit card at https://www.mgmresorts.com/en/mgm-rewards/mgm-rewards-mastercard.html
Caesars' hotels: Caesars or Paris
Caesars' Rewards at https://www.caesars.com/myrewards
Caesars' credit card at https://d.comenity.net/ac/caesarsrewardsvisa/public/home
The Identity Card for the Cosmopolitan at https://www.cosmopolitanlasvegas.com/identity/offers
------------------------------------------------------------------------------------------------------------
VEGAS KNOWLEDGE: MUST SEES, GREAT EATS AND AWESOME SHOWS with prices and links so you can book your meals and show tickets if you choose:
General Vegas websites for info: https://www.vegas.com/ Please see the Strip Map to see how close everything is: www.vegasunzipped.com/wp-content/uploads/2020/06/vegas-map-strip.pdf
If you plan on eating at a restaurant, book your table early (months ahead of time to ensure you get the times you want) on the OPEN TABLE app (some places use SevenTables).
Ideas for Breakfast on your own - the first two require OpenTable or SevenTables App reservations!
Ideas for Lunch on your own
Ideas for Dinners on your own - all below are on the Bellagio side and walkable
Best High End Shopping on the Strip - most walkable from Bellagio except Wynn/Venetian/Palazzo
Ideas for Bars on your own
Ideas for Shows on your own - The group didn't organize group tickets but would highly recommend a Cirque Show https://www.vegas.com/shows/march/
You can also get lucky and score some great deals on shows DAY OF at: https://tix4tonight-dev.com/vegas-shows/
(O, Love, Mystere, etc), Absinthe at Caesars, any big magician show, a fun burlesque show, or any singer or concert at a major hotel on the Strip.
"O" at the Bellagio – pricey but worth every penny. Book tickets ASAP for the best seats. Second choice is the Beatles LOVE at the Mirage. Mystere and Ka next best.

https://www.cirquedusoleil.com/las-vegas-shows

Monday and Tuesday the shows are not run.
ABSYNTHE - Prebuy Tickets for one of the best shows at the Strip called Absinthe at Caesars 8 or 10pm show for about $150 (includes fees) in the circus tent outside Caesars

https://www.caesars.com/caesars-palace/shows/absinthe

2 SHOWS EVERY NIGHT!
Awakening at Wynn's in the round - might not be available during our Fun Run except if you add an extra night -

https://www.wynnlasvegas.com/entertainmen

t

Don't forget to Google Vegas Shows to see if any headliners are performing at nearby resort venue's like the ParkMGM, Planet Hollywood, etc.
A Fun Drive on your own if you skip our 4 hour drive Tuesday morning or just want to drive more! https://www.redrockcanyonlv.org/ just west of the Strip. You can drive there and back within a few hours and see some spectacular sights.
Uber's are plentiful and recommended in Vegas. They drop you off close to where you want (eats, shows, sights), usually the resort's front lobby entrance. But be forewarned, most hotels have a designated Uber/Rideshare pick up location very different from their front lobby (Bellagio's is to the south out the front lobby downstairs in the parking garage, the Aria's is down the escalator below the hotel on the back side by the Buddha, etc). Plan on walking time and waiting time once you order an Uber or Lyft on your app on your phone or you'll be late to dinner or a show.
GAMBLING LESSONS - Check times with each venue as they change - Craps lessons Mon-Fri 11am The Venetian Craps Pit across from the main cage, Poker lessons M-F 10am and New York-New York Hotel offers free daily gaming lessons for Craps - 11:00am, Blackjack - 12:00noon ($5 tables run all day/every day) https://www.vegashowto.com/lasvegas-gaming-lessons
WINE/LIQUOR/WATER/SNACKS CVS, Walgreens, Target on Strip – stay hydrated with water even though it's March– it is a desert!
And if you haven't figured this out by now...BRING COMFORTABLE SHOES. This is one of the biggest rookie mistakes people make in Vegas. I have walked from the Wynn to the MGM top to bottom, and ended up with blisters and buying new shoes (maybe that's not a bad thing!)
Ideas for Fun Things to Do on your own - If you forgo the Scavenger Hunt List and just want to explore a little - a few must-sees...
A great little Vegas hack: On your smartphone, download the free myVEGAS Slots App - by PlayStudios. This app is in conjunction with MLife Rewards. You will find discounts at the Aria, Bellagio, Vdara, NYNY, ParkMGM, etc for rooms, food, drinks, shows and casino free play money. But you need to download and play on the app now (all free) to accumulate Gold Coins to exchange for these rewards. You can redeem 3 rewards per stay, and you must activate them when you arrive at each resort that you have a reward for (and tell them when you intend to use it). They change out rewards occasionally and they do have limits and sometimes sell out. They do expire so don't redeem a reward until you are within 90 days. We always use: Prime Bellagio Champagne, Aria Cocktail at Lobby Bar, and Bellagio 2-for-1 Gellato.
But the biggest tip of all - Parking garage charges and how to avoid paying them: Only at The Cosmopolitan, IF you are an Identity Card member, your resort fee includes free parking. At all others Mlife and Caesars hotels, to receive free parking, you must have a hotel loyalty card with their credit card. The MLife Mastercard and Caesars' Visa cards (both $0 annual fees) are the only way to avoid $30-$35/day parking fees. Apply ASAP so your benefits are active as soon as practicable but no later than late February. Links in text above.
And remember...What Happens in Vegas...Stays in Vegas!
OPTIONAL: The Scavenger Photo Hunt is in a separate Excel File which we will distribute at the Drivers Meeting. It contains 35 Photo ops with a total of 100 possible points. There is NO WAY someone can do all these selfies even if they walked the entire strip over the course of 2 days, but you would hit a lot of highlights trying. I made this a walkable photo hunt in the order of selfies needed. This is an on-your-honor hunt with a prize for the winners! Please mark off which ones you do and write the points next to each line and total your scores. On Wednesday morning, please text me (cell phone will be given out at Drivers Meeting) if you want to submit your score. You are on your honor for selfies and scores but I will spot check you! I will be impressed if someone gets near 100! So you can go alone or work as a pair but there is only 1 prize! Do some one day, do the rest the next. You can start the moment you arrive in Vegas. Use the map of the Strip. Start exploring the Strip by doing any or all of the Photo Scavenger Hunt stops. Green highlighted stops (13 of them) are highly recommended things to see! If you start at #1 at the Paris, all 35 photo ops are in walking order clockwise.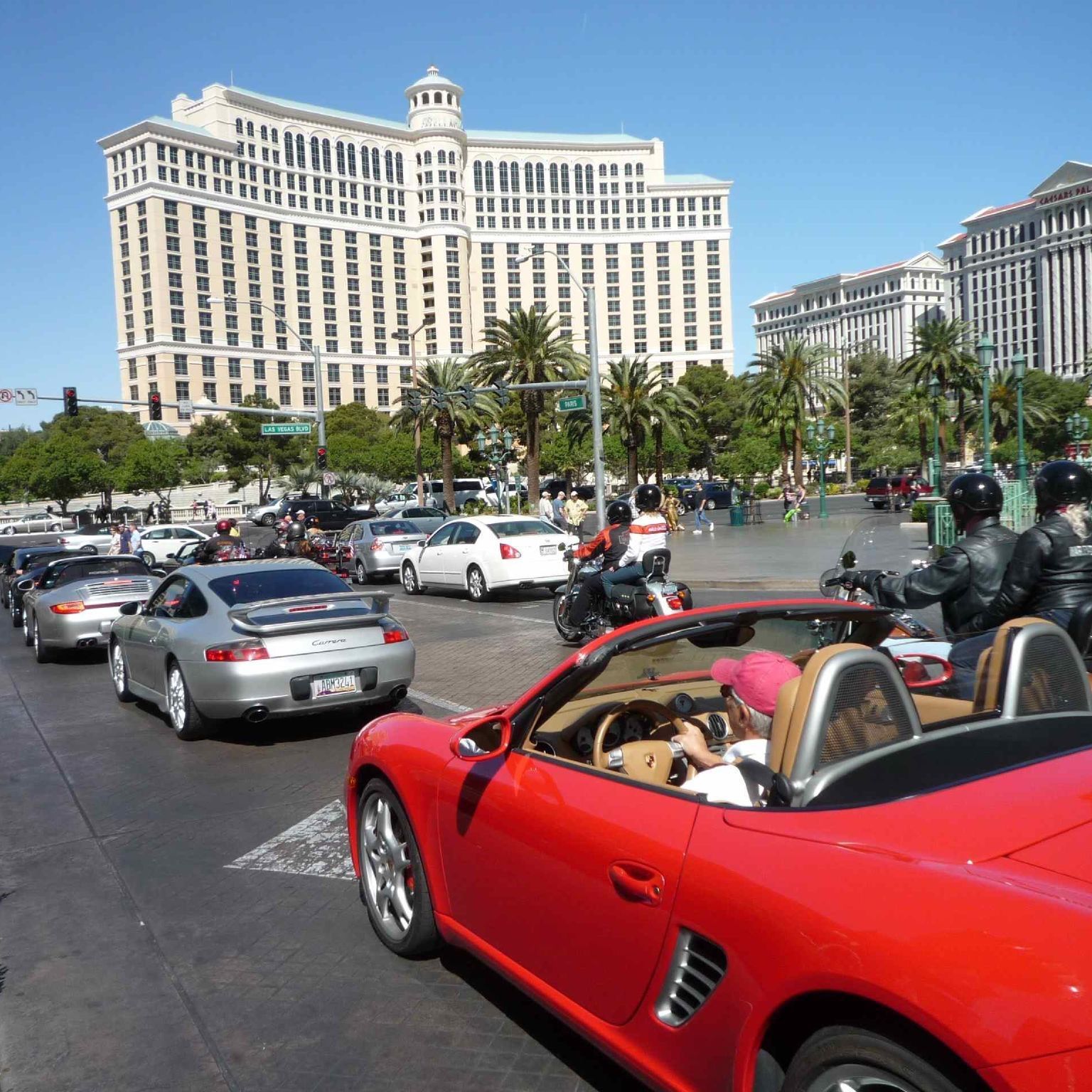 Bellagio Resort & Casino
Las Vegas, NV