The 7th Thompson Vintage Motorsports Festival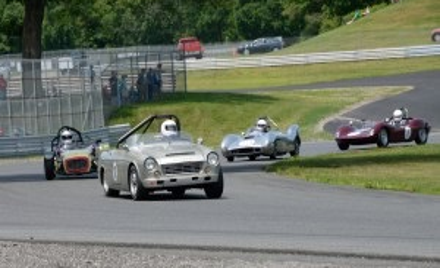 VSCCA
Thursday, Jun 11 — Saturday, Jun 13, 2020
Thompson Speedway Motorsports Park
,
Thompson

,

CT
Thompson Vintage Motorsport Festival for VSCCA entrants
Optional Test day Thursday, June 11
Friday - Saturday, June 12-13, Thompson, CT
Save $50 by entering by May 1!  
Use your credit card and the charge will not go through until the weekend of the event and you will not be charged credit card fees!
The Thompson Vintage Motorsport Festival will take place on June 11th to the 13th at Thompson Speedway in the beautiful "quiet corner" of Connecticut. As with last year the VSCCA and the VRG will be sanctioning the event this year.  There will be one VSCCA all-comers grid for all  VSCCA eligible cars. Garage rentals are available for all 3 days.  We will be back to the clubhouse this year for a Friday night banquet.
For more information on the Thompson event please contact Event Chair Steve Morici at moricimotorsportswest@yahoo.com or call Steve in California (PST time!) at 760-249-1112.
Event Entry:
Test Day (Thursday, June 11): $150

Early Bird two-day (Good through May 11, 2020!): $475

Includes one Friday night banquet ticket, additional tickets can be purchased for $25

Regular two-day entry: $525

Includes one Friday night banquet ticket, additional tickets can be purchased for $25

Early Bird one-day entry (Good through May 11, 2020!):  $250

Regular one-day entry: $275

Garage Rental, all three days: $155

Note:  The Test Day, Garage Rental and additional banquet dinners can be purchased under the section  "Event Add Ons" once you select an entry package.
EARLY BIRD POLICY:
The Early Bird Entry is up to one calendar month before the start of a track event: specifically the VSCCA Springs Sprints, Empire Cup, Thompson Vintage Festival, White Mountain Vintage Grand Prix and Fall Finale. If you DO NOT pay by Credit Card, your payment MUST BE MAILED to the Event Chair no later than two (2) weeks prior to the event. If you do not send your payment promptly and show up at the event with a check in hand, you will have to pay the Regular Entry fee which is $50 more than the Early Bird rate.
 
NOTE: There is no Early Bird discount for Tech sessions, Hill Climbs, the Annual General Meeting and Holiday socials.  The Pittsburgh Vintage Grand Prix and Lime Rock Historic Festival have their own Early Bird and cancellation policies.
NOTE: Non VSCCA member entry rates are $50 higher however you can get a credit of up to $100 towards your first year of membership by entering two VSCCA track events in the same year.
If you have not used motorsportreg.com before please click here for video instructions on how to set up an account: New MSR account set up
If you have a motorsportreg.com account but have not used it for a vscca event please click here for a video:  Existing MSR accounts for VSCCA
For payment by check, please make your check out to VSCCA, Inc. The remittance address will be found by clicking on the "Event Chair Contact Info" for this event on vscca.org