Challenge Canadien de l'est 2019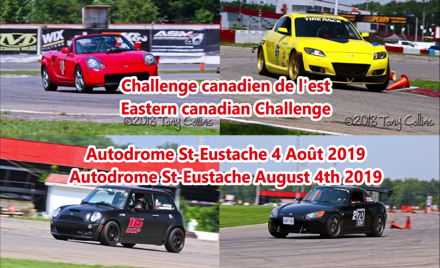 Club Autosport Des Laurentides
Sunday, August 4, 2019
Autodrome Saint-Eustache
,
Saint-Eustache

,

Quebec
Registration closed August 2, 2019 11:59 PM on August 2, 2019 11:59 PM EDT Registration ends August 2, 2019 11:59 PM on August 2, 2019 11:59 PM EDT Registration opens May 12, 2019 6:00 PM on May 12, 2019 6:00 PM EDT Registration runs from May 12, 2019 6:00 PM to August 2, 2019 11:59 PM
CHALLENGE DE L'EST CANADIEN 2019 - SAINT-EUSTACHE – DIMANCHE 4 AOÛT 2019 / EASTERN CANADIAN CHALLENGE 2019 – SAINT-EUSTACHE – SUNDAY AUGUST 4 2019

Vous ne voulez pas manquer cet événement! Voici votre dernière chance À VIE de faire de l'autoslalom sur le circuit de St-Eustache.
You don't want to miss this event! This is your last chance EVER to run an autocross at St-Eustache.
Places limitées à 150 personnes, inscrivez-vous rapidement! À cause des nombreux participants, l'évènement comportera un minimum de quatre(4) runs chronométré.
Places limited to 150 people, register quickly! Due to high number of participants, the event will only a minimum of four(4) timed runs.
Qu'est-ce que c'est?
Le CADL, en collaboration avec le ASE lapping club, est fier de vous présenter à nouveau le Challenge de l'Est Canadien. Cet événement réunira tous les meilleurs pilotes de l'est du pays afin de vous offrir un niveau de compétition des plus élevé. Cette journée comptera au Championnat Talon Tire 2019 présenté par Auto Synchro.
What is it?
The CADL, in collaboration with the ASE lapping club, is proud to present again this year the Eastern Canadian Challenge. This event will bring together all the best drivers in the east of the country to offer you the highest level of competition. This day will count at the 2019 CADL Talon Tire Championship presented by Auto Synchro.
Tarifs :
*Vous avez jusqu'au vendredi 2 août à 23h59 pour vous inscrire.
75$ pour les membres et non-membres
* Les tarifs sont valides jusqu'au dimanche soir 21 juillet 2019. Un 15$ additionnel s'appliquera ensuite jusqu'à la fermeture des inscriptions en ligne le vendredi 2 août 2019 à 23h59.
*Les pilotes qui se sont procurés le forfait de saison n'ont pas à s'inscrire.
* NOTE : AUCUN REMBOURSEMENT À PARTIR DE SEPT JOURS AVANT L'ÉVÉNEMENT.
Fares :
* You have until Friday, August 2nd at 11:59pm to register.
$ 75 for members and non-members
* Rates are valid until Sunday evening July 21, 2019. An additional $ 15 will apply until closing of the online registration on Friday, August 2nd, 2019 at 11:59 pm.
* Drivers who have purchased the season pass do not have to register.
* NOTE: NO REFUNDS SEVEN DAYS BEFORE THE EVENT.TARIFS: 
07h00 (max.) : Arrivée des organisateurs et montage du circuit
07h00 à 8h00 : Inscriptions tardives ouvertes
8h00 à 9h30 : « Check-in » à la tente des chronos et marche du parcours possible
9h30 à 10h00 : Réunion des pilotes, confirmation des instructeurs assignés pour les nouveaux, marche du parcours officielle
10h00 à 16h30 : Essais libres/pylone duty/break et pause lunch
16h30 à 17h30 : Ramassage du parcours et de l'équipement
17h30 + : Souper au resto à l'extérieur pour ceux qui veulent étirer le tout!
07h00 (max.) : Arrival of the organizers and course setup
07h00 to 8h00 : Check in and registration
8h00 to 9h30 : Track walk open
9h30 to 10h00 : Mandatory drivers meeting
10h00 to 16h30 : Run groups/pylone groups/ break and lunch groups
16h30 to 17h30 : Course clean up
17h30 + : Podiums and awards