About this event
June 2-3-4, 2023
Qlise' Raceway Park (QRP) http://qrpracing.com
(formerly known as Spokane County Raceway)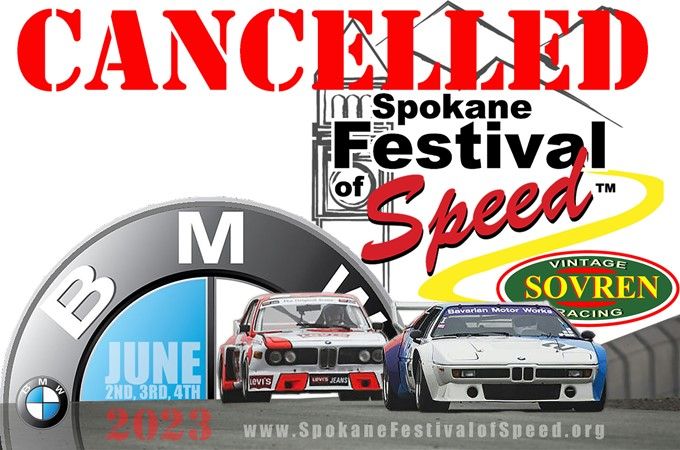 Hello Race Fans and Drivers,
It is with great sadness and frustration that we need to advise everyone that the Spokane Festival of Speed has been cancelled for this year. The Sovren Racing board of directors made the unprecedented decision last night May 23rd, to cancel the races a week and a half from the event, do directly to a lack of driver commitment.
This decision greatly saddens not only the Spokane Festival of Speed group directly, but all of the people that come together to build a great, unique racing event, trying to expand the sport of vintage racing. Over the past 11 years, Spokane Festival of Speed (SFoS) has gone to great lengths to try to reinvigorate and reimagine the vintage racing community by building an event that welcomes spectators back to what has become a largely spectator less sport. We offer drivers, crews and volunteers a weekend long event filled with entertainment, quality food and beverage, and sub events such as the downtown event, enabling race cars to drive the streets of our city to a meet and greet in the heart of downtown Spokane. We believe that it is events like ours that are needed to insure the future of Vintage Motorsport. Drivers need a strong shot of enthusiasm, and a renewed sense of community and growth. Spectators need to experience the passion and power behind these events, drawing together both other enthusiasts and their families. There is no future in being a lone wolf.
Spokane Festival of Speed would like to personally thank Northern Quest Casino, BMW of Spokane and Perfection Traffic Control for all of their support and help in trying to take this years event to the next level, which was designed to be leaps and bounds beyond previous years. Though your efforts may go largely unnoticed after all of the work involved, you are greatly appreciated and loved. Thank you also to the continued support from European Autohaus, Preedy's Tire, AdVintage, and all of our other sponsors.
Our event has also been dedicated to raising money for ACCOIN children's cancer fund. They have been there every step of the way, helping with the overall building and promotion of our event, and enlisting local volunteers to make it all happen. We are very sorry to let you down this year. Please, anyone that can help by making a small donation, you can do so at: https://www.acco.org/inlandnw/
And lastly, but certainly not least, thank you to all of the drivers that DID register to attend what would have been the best event of the year. You are valued drivers. We just wish there were more of you.
Thank you
Schedule: 2023_SFOS_Schedule_TENTATIVE Ver 5.pdf
Event requirements
Save $100 register by the Early Bird entry discount deadline. by May 20th. Early Bird Price $475
Reduced Entry price ends May 30th $575
Qlispe' Raceway Park
Airway Heights, WA
Download track map
Watch a video tour/lap
More events from this organizer