About this event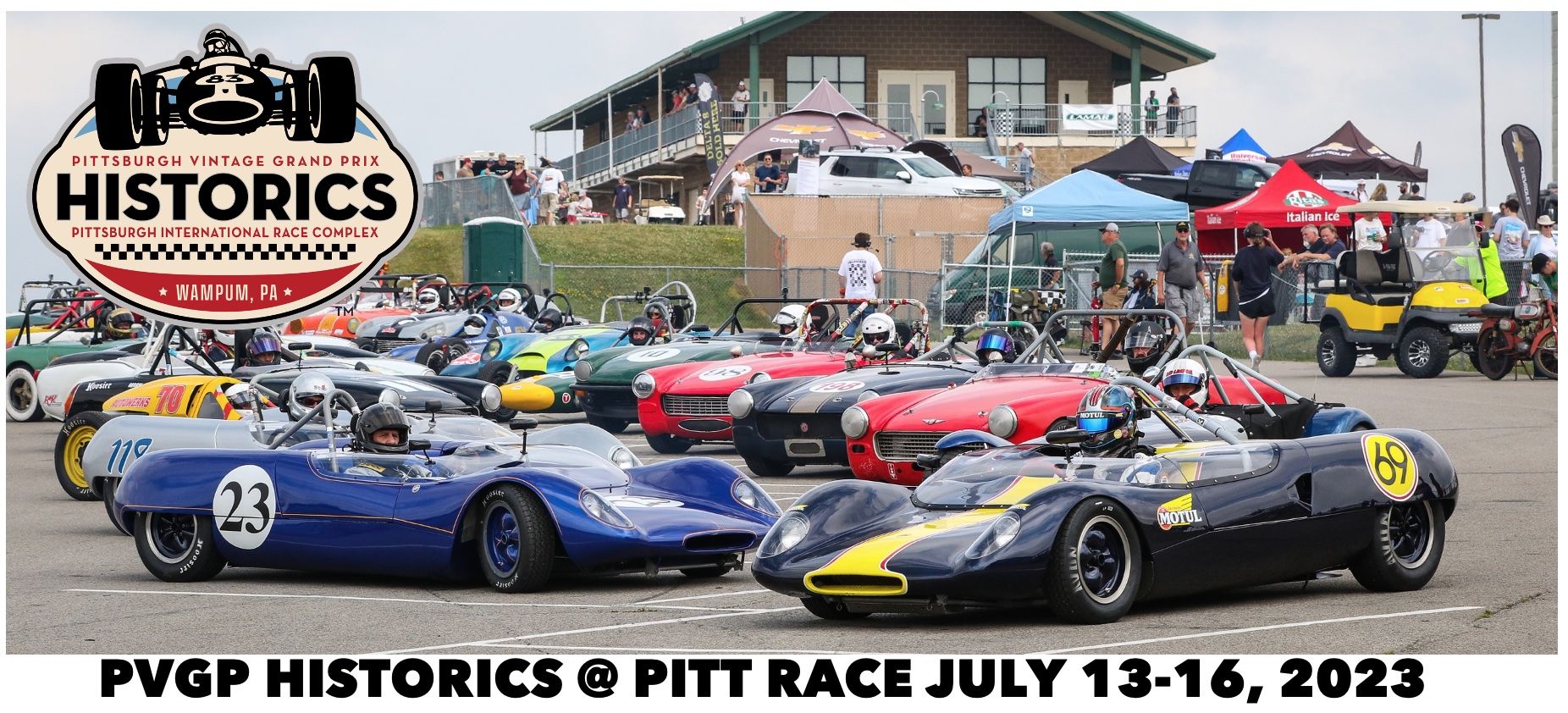 The Pittsburgh Vintage Grand Prix started racing at Pittsburgh International Race Complex when the track opened in 2004 and we were the first race there when it expanded to 2.8-miles in 2016. Combined with our vintage races in Schenley Park, the following weekend, the PVGP provides the ideal combination of vintage and historic racing bookending a 10-day motorsport festival. Visit the Historics Driver's Page on the PVGP website
VRG PARTNERSHIP The VRG and the PVGP have combined efforts for the Historics at Pitt Race starting this summer. We look forward to a great weekend of racing and hope that many members come back for the second weekend at Schenley Park
FERRARI MARQUE We are anticipating Ferraris of all types to join us at Pitt Race and throughout the PVGP Race Week.
SHELBY RACE & CONVENTION The SAAC-48 Convention joins us again this year. This is one of the biggest national events and they have chosen to come back to the PVGP at Pitt Race. They will have track sessions on Thursday and Friday and several of their racers will participate in our Special Shelby Race on Saturday afternoon.
41st YEAR The PVGP celebrates its 41st year this summer. Many thanks to the racers who make this all possible and to the race side volunteers who keep everyone safe. This started as a single-day race on the Labor Day weekend in 1983 and has grown into a full two weeks of motorsport activities.
CHARITY Since 1983 our racers have shared the wheel with the PVGP in helping to donate more than $6 million to help individuals affected by autism and intellectual disabilities. Entry fees are suggested donations and are tax-deductible. We stage charity rides to raise funds for charity. Your participation is appreciated. These rides provide a once-in-a-lifetime experience for race fans. Please consider participating in the rides on Saturday and Sunday.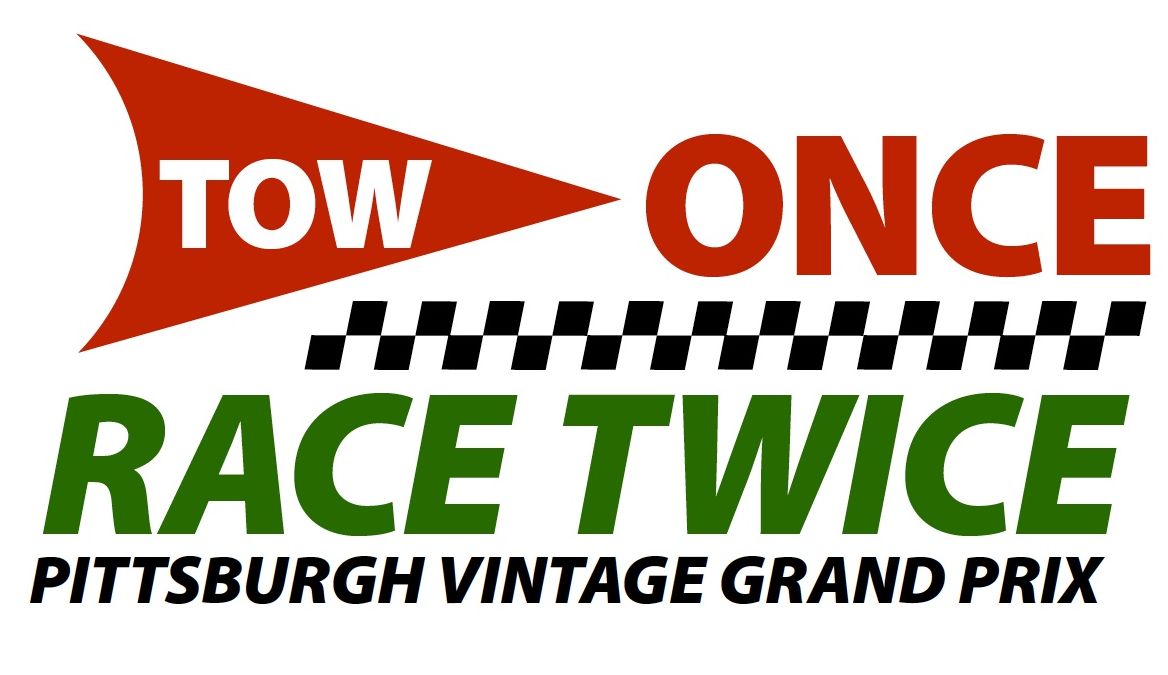 TOW ONCE, RACE TWICE Race with us at Pitt Race and the PVGP will securely store your rig at the track so you return the following weekend to run through the streets of Schenley Park. After you have completed your racer registration for the Historics and you begin to register for Schenley Park, you will be prompted to indicate if you already entered the Historics and when you affirm, a $120 discount will be automatically applied toward your Schenley Park entry.
HOTELS The PVGP has a hotel partnership with several nearby hotels - Visit the PVGP Hotel Partner page
MISSION driving goal of the PVGP is to honor our automotive history by encouraging the preservation and racing of vintage cars in a format that emphasizes driver safety and etiquette while presenting a friendly and welcoming atmosphere for our drivers – all to raise valuable funds for our autism and Intellectual and developmental disability charity partners.
DRIVER RECEPTION Each driver and two (2) crew are invited to join the free Saturday night Reception with dinner and beer at the Conference Center. (Registered overcrew may also join in the festivities)
CONTACT
Competition Director: Joe Teplitz (646) 258-4000
Race Operations Director: Ken Murin (412) 860-7263
Registration Questions: Mark Hanson (412) 901-0358
PVGP HISTORIC RACE GROUPS
Small Bore & Formula Vee
Vintage eligible small-bore production cars up to 1974. Includes Mini Cooper, Triumph, Turner, Austin-Healey Sprite, MG Midget and MG TD. Open wheel Formula 3 and Formula Vee, examples include Lynx, Caldwell, Autodynamics and Zink. This will be a split start group.

Medium Bore
Vintage eligible medium-bore production and special cars up to 1974. A wide variety of popular sports cars including BMW 2002, Datsun 510, Elva Courier, Triumph GT6, MGB, Alfa Romeo, Lotus Europa and Elan.

Large-Bore & Ground Pounders
Large-Bore: Eligible production and special cars typically from 2.0 to 3.0 liters. Eligible cars from 1976 and earlier (later cars must be approved). Big-time excitement with Austin Healey 100, Chevy Corvair, Porsche 911 and Datsun 240Z. Ground Pounders: Large displacement production and special cars over 3.0 liters. Eligible cars up to 1972 (later cars must be approved). Ground-pounding racing with Mustang, Shelby, GT40, Corvette, Camaro, Sunbeam Tiger, Jaguar and Ferrari.

Formula Ford Challenge Series
All cars must have a Ford Engine per SCCA or Monoposto rules and must run on vintage Formula Ford treaded tires. There will be a class within the overall race group for most Formula Fords manufactured between 1967 and 1981. Post-1981 Fords subject to approval.

Modern Historics
This is a group of cars that are newer than vintage, but more than 20 years old. These represent, in part, the next generation of vintage racers. It will be one run group with multiple classes. Displacement between 2.5 - 5.7 liters. Production and selected other cars 20 years or older (Pre 2003). Includes newer models which were continuations during the time frame. Includes many of the BMWs that ran with the PVGP over the past 15 years as part of the BMWCCA Group, including all model year E46 chassis.Slicks are permitted. Period correct aerodynamics are permitted.
PLEASE NOTE: Request for entry into this group will be approved based on car appearance and driver history. Entries requesting to participate in Modern Historics must include CURRENT photos of their cars in their MSR vehicle profile. Cars must be presented at the track in a clean and neat condition. Dents, rippled panels, unrepaired damage, tape, primer and visible rust will not be permitted.
Shelby Sprint Race - Saturday afternoon

Historics Driver Page - PVGP Website
Info & Frequently Asked Questions
ENTRY FEE SCHEDULE
Register before May 21, 2023: $575
Regular Entry Fee: $625
Late Entry Fee (after June 27): $675
Shelby Sprint Race: $50
Test & Tune at PIRC (full track): Thursday July 13th: $250 (half-day registration NOT available)
Garage: $400 Will fit 2 small cars
2nd or 3rd Car/Same Driver or Same Car/Same Driver -2 Groups: $225 additional per car
Additional Crew: $30 Each (Driver registration includes gate entry and admittance to Saturday reception for two (2) crew)
Combination Race Entry Discount - Enter BOTH the Pitt Race (PIRC) and Schenley Park events and receive a $120 Discount!
Register for BOTH races before May 21, 2023: $985
Register for BOTH races between May 21 and June 27th: $1,085
Register for BOTH races after June 27, 2023: $1,185
Details on how to obtain the Combination Race Entry Discount are provided in your race registration confirmation email.
How the Combination Race Entry Discount works: If you have completed your Schenley Park race registration, a Combination Race Entry Discount Code can be found in your Schenley Park registration confirmation email. You will be prompted to enter this discount code during the Pitt Race registration process. The code will apply the $120 discount to your Historics at Pitt Race registration fee. The discount code must be entered during the registration process, you will not be able to apply the discount code once you have completed the registration process for Schenley Park.
If you have yet to register for the Schenley Park race, a Combination Race Entry Discount Code will be provided when you complete your Pitt Race registration. During the Schenley Park race registration process, you will be prompted to enter the discount code. The discount code will apply the $120 discount to your Schenley Park race registration fee. Again, the discount code must be entered during the registration process, you will not be able to apply the discount code once you have completed the registration process for Schenley Park.
Event requirements
License: This event is open to any driver holding a current valid racing license and medical documentation from a vintage racing organization recognized as a member of the Vintage Motorsports Council. The PVGP Competition Committee retains the right to make the final decision as to individual driver eligibility. Competitors must be at least 18 years old.
If you do not have medical documentation on file with the organization that issued your license, please have your physician complete and sign the 2023 PVGP Medical Form below and upload it to your race registration entry.
Pitt International Race Complex
Wampum, PA
Download track map
Buy track decal
Pittsburgh Vintage Grand Prix