About this event

Looking for some track time to break up your week or perhaps some extra practice before the 2023 NASA Championships? Join us on September 6th for track time with Lambert Track Days at Pittsburgh International Race Complex! This event is the Wednesday immediately before the NASA Championships. We have the full track rented with fully staffed flag stations and emergency personnel. This is a very unique opportunity to run laps without a lot of traffic and have a great time socializing with other track enthusiasts.
We will be limiting the event to about 75 cars with advanced drivers only! We are currently planning to have 3 run groups. There will be at least one run group that allows open passing and at least one run group that requires a point-by for passing. The third run group will depend on the number of registrations and the most common passing rules preference. Rest assured, the preference you select at registration will determine your placement. As the event begins to fill up, one of the two passing rule options will disappear for future registrations.
Driver:
$399 through July 31st
$449 on or after August 1st
*Heads up! Motorsport Reg now charges a $2 booking fee so you may notice the actual charge to your card is $2 higher.
Co-driver, Same car, Same run group: +$149
Non-driving passenger: +$0; Waiver and wristband required. Visit us at the garage for details.
Schedule
(NOTE: This is a tentative schedule only! The final schedule will be posted closer to the event.)
(9/5)
6:00 PM - Gates open for overnight campers and vehicle drop-off.
Contact PittRace if you plan to use electrical connections (additional fee required).
(9/6)
6:30 AM - Gates open
7:00 AM - Registration at the north track garage
8:00 AM - MANDATORY drivers meeting
8:30 AM - Warmup session (standing yellow, no passing)
9:00 AM - Group 1
9:30 AM - Group 2
10:00 AM - Group 3
10:30 AM - Group 1
11:00 AM - Group 2
11:30 AM - Group 3
12:00 PM - Lunch
1:00 PM - Group 1
1:30 PM - Group 2
2:00 PM - Group 3
2:30 PM - Open Track (Open passing, except for cars marked otherwise*)
5:25 PM - Final checkered flag
* Drivers who are not comfortable with open passing can mark the rear of their car with an "X". This tells the driver behind you to wait for a point-by before passing.
Lunch
Unfortunately, you're on your own for lunch. We'll contact Smokin' Dave's BBQ and try to have a food truck available.
If you want to attend, register now. Don't wait and miss the opportunity.
Lambert Track Days is sponsored by AutostopEliminator.com



Learn the best way to keep your vehicle's auto start/stop setting right where you left it at AutostopEliminator.com.
Want to join us, but not sure if your car will be up to it?
No problem! Contact 89X Motorsports about renting a professionally prepared track car!
https://trackcarsolutions.com/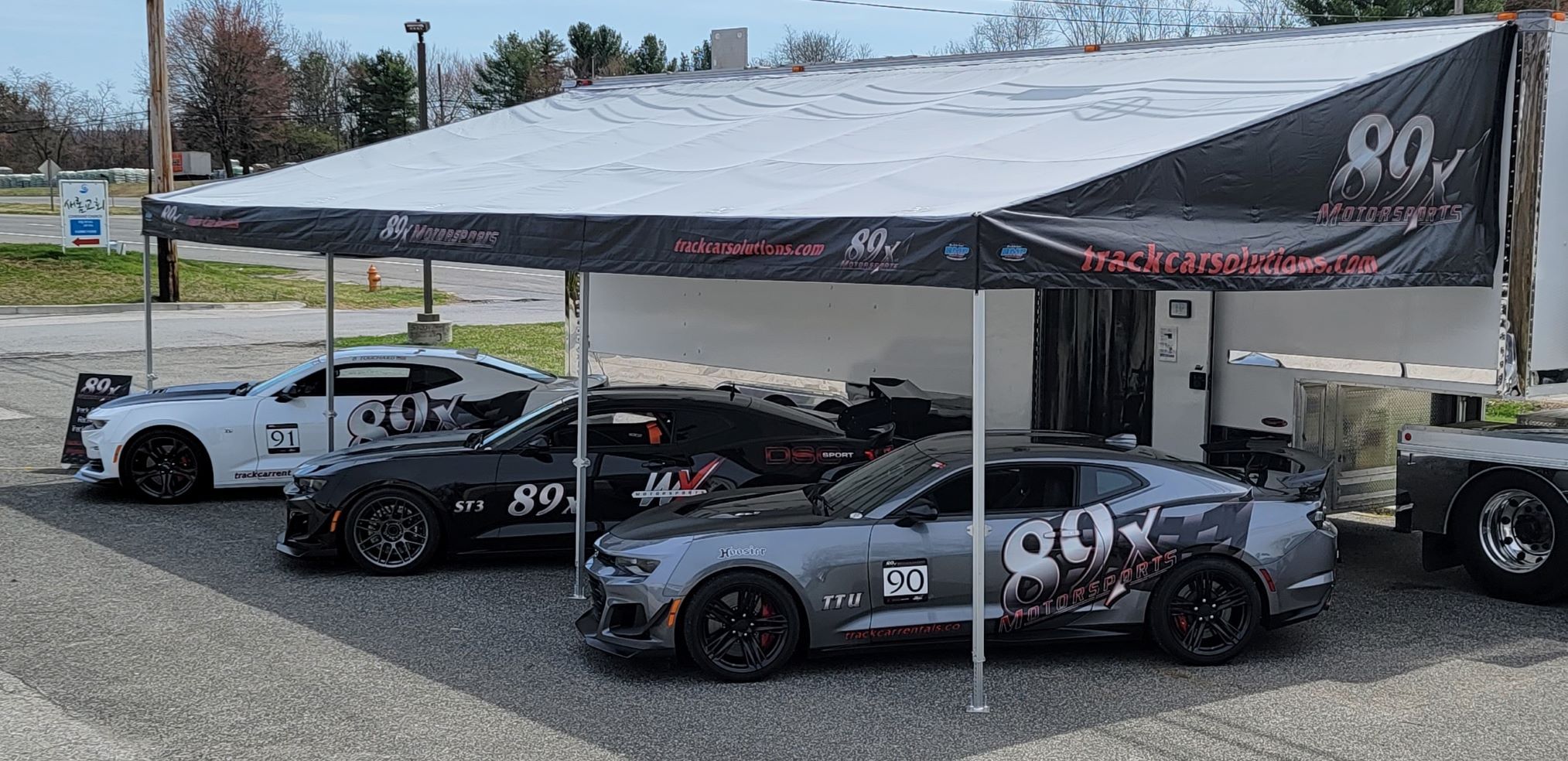 Event requirements
This will be a fast group of cars. Some cars will be running under 1:50 lap times. To be a good fit for our group, you must be an advanced solo driver who is 100% comfortable passing and being passed anywhere on the track.
Drivers must be 16 years of age or older with a valid driver's license and/or racing license to participate.
Advanced drivers only, preferably with experience at PittRace
A liability waiver is required by PittRace at the gate
A signed tech inspection form for each car is required (to be provided by email prior to the event)
An additional liability waiver for Lambert Track Days will be required for all participants.
Track Rules
If a driving suit is not being worn, the participant must wear long pants (short sleeve shirts are acceptable)
SA2015 or newer helmet required, HANS devices are highly recommended
Cars must have a visible number on both sides
No use of controlled substances or alcohol
Vehicles, especially car haulers, are permitted only in areas designated by PittRace. PittRace must approve connections to their electrical supply. A flat fee per hook-up will be charged for connection to RVs, motor homes or trailers. Vehicles using the hook-up shall display the sticker or placard provided by PittRace confirming the permission to use the hook-up.
Pittsburgh International Race Compl
Wampum, PA