Sat, Jul 9 - Sun, Jul 10, 2022
2022 WOSCA Summer Series Events #5 & 6
Centralia Airport
About this event
Please join us for WOSCA 2021 Summer Series Event #5 and/or #6 presented by Ted's Tire Discounter at the Centralia Airport on Saturday & Sunday!
This is entry is for the double-header weekend. You can register for just Saturday, just Sunday, or both days with a single entry.
Trailers may be left overnight at the airport at your own risk. No security will be provided by the airport or WOSCA. Overnight camping will be allowed in a specific area. Details on the next page. Please indicate in your entry if you plan on camping at the track. The airport has requested a list of names.
Gates Open: 8:00 a.m. Enter through the gate at New United Goderich Inc.
Registration: 8:30 a.m.
Drivers Meeting: 9:30 a.m.
Please note that spectators are not allowed. Drivers, crew and workers are welcome.
Online registration with payment ONLINE ONLY: $65 non-members/$50 WOSCA members for each day, registration closes at 8pm on Friday for the Saturday event, 8pm on Saturday for the Sunday event
CREDIT CARDS ARE CHARGED AFTER THE EVENT. NO PENALTY FOR CANCELLATIONS OR NO-SHOWS. If you don't feel well, stay home please.
On-site registration: NOT ALLOWED
Annual Membership: $40
NEW: All waivers must be done online. NO PAPER WAIVERS WILL BE ACCEPTED. This is mandated by our insurance company. Please complete the waiver before you come to the event. Anyone who will be on the property needs to complete the online waiver. Minor waivers are completed through the same process (check the box at the top of the first form). SpeedWaiver
Ted's Tire Discounter is providing $500 towards tires to the Overall Summer Series champion. As well, every competitor in a WOSCA Summer Series event gets an entry in the draw at the end of the season for an additional $500 towards tires.
Notice to Participants: In light of the current COVID-19 situation, every attempt will be made to minimize the risks of exposure to the COVID-19 virus.
Ultimately, it is your responsibility to assess the risk to you, both on-track and off, and to make the decision on whether or not to participate. If you are feeling unwell or are experiencing symptoms such as fever, cough, or shortness of breath please stay home. If you have been in contact with someone who has been experiencing these symptoms in the last two weeks, please stay home.
While on site please take the health and safety of your fellow participants, volunteers and staff into consideration and practice social distancing, wear a mask, and wash your hands and/or use hand sanitizer frequently. Consider downloading the Covid Alert mobile app to be notified of possible exposure. Make sure your MotorsportReg contact phone number is up to date for contact tracing.
Additional Restrictions:
-Co-drives are permitted at the car owner's discretion. Sanitizing between drivers is recommended. Ride-alongs are not permitted between co-drivers unless they meet the requirements below
-Ride alongs are permitted at the car owner's discretion. Sanitizing between drivers and passengers is recommended. Masks are recommended especially with open face helmets.
-No official course walk after the drivers meeting. Show up early enough to do your walk with appropriate social distancing.
-Marshalling assignments will be set at check-in
-Loaner helmets will NOT be available
-Obey all posted signs
*Also available* plastic WOSCA vanity plates will be for sale for $5 each
Please see www.wosca.ca for more details.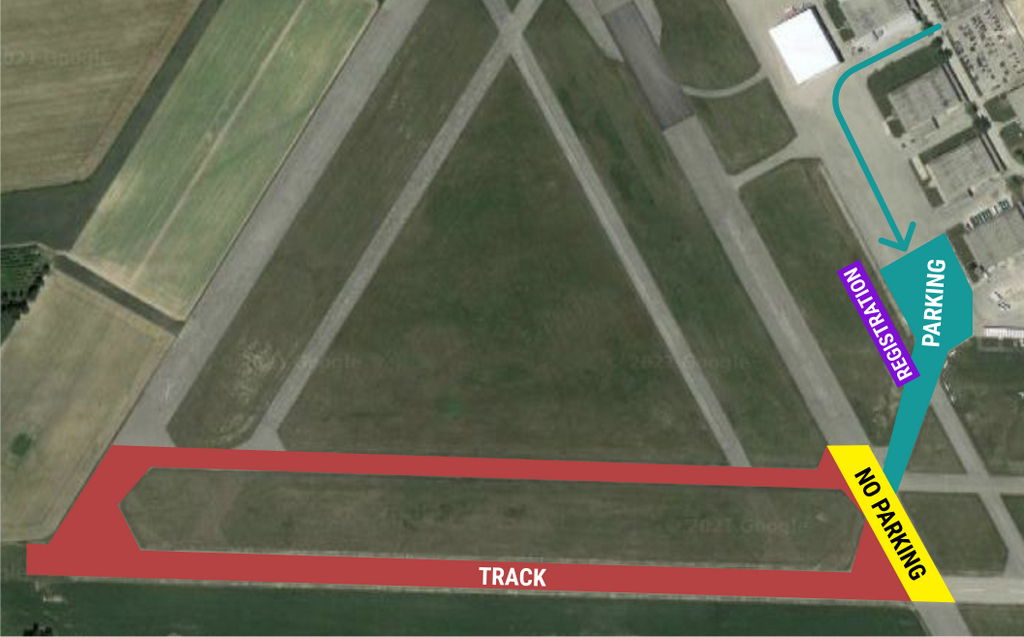 Event requirements
Event Schedule:
Gates Open: 8:00 a.m.
Registration: 8:30 a.m.
Drivers Meeting: 9:30 a.m.
Important information: The Event and/or Series Organizers have the right to refuse entry or disqualify a competitor from competition for any reason. Decisions of the organizers are final.
COVID-19 Safety Requirements:
Competitors to supply own PPE: mask, hand sanitizer, gloves, etc
Follow all local, provincial and federal guidelines
2 metre separation for social distancing
Anyone who continues to ignore social distancing procedures even after staff input may be asked to leave without a refund
Only essential, on-duty workers are allowed in specialty work areas such as timing and scoring; when someone is not working a session, they should remain at their cars or follow social distancing protocols.
Waiver:
On-line waiver for the insurance is via SpeedWaiver. There is a selection for the waiver on the registration form. You need a device that accepts texts like a smartphone or tablet with capability to take a photo. To use a laptop, enter the link received by text on your phone into your laptop browser. When the procedure is complete, you will get a second text message with a link to the completed form.
We will NOT accept paper waivers. This is mandated by our insurance company.
Registration at event:
Will be check-in only to confirm information
Marshalling Procedures:
Stations will be set to promote separation
Only one person should handle the radio during a session
Venue Requirements:
We are restricted to very specific areas of the airport. If you are caught outside of the permitted area, you will be asked to leave by WOSCA or Centralia.
Speed limit when not on course is 10 kph on the property
No parking on the grass


More than one driver may be registered per car provided they meet the requirements, however if you do not arrive early enough the organizers reserve the right to not allow both drivers to run. If sharing a car, each driver must register and pay separately. Please make sure the shared vehicle is shown on both drivers' MotorsportReg.com profile/garage.
All cars must have a number clearly displayed on both sides of the car.
Two driver cars should only have one number visible while on course. Shoe polish or tape is acceptable.
Drivers are not allowed to compete in more than one car.
Vehicle: Must be a 4-wheeled vehicle with an effective muffler, secure battery and must be free of loose items that might fall off of the car. Inside the car, the interior and trunk/hatch must be free of loose items such as iPods, CD's or ice scrapers that could interfere with the driver during competition. The driver is responsible for vehicle safety.
CASC-OR Autoslalom Rules: 2021-Canadian-National-Autoslalom-Regulations
Classes: WOSCA has adopted the CASC-OR Autoslalom rule set, which uses SCCA car classification.
Eligibility: Competitors must possess a valid driver's license. Everyone on site, including spectators, must sign the waiver form. Passengers are permitted as per the CASC-OR Autoslalom rules.
Acceptable helmets: •FIA 8860-2010 • FIA 8859-2015 • Snell 2015 SA, or 2015 M • Snell 2010 SA, 2010 SAH, or 2010 M (all 2010s expire on 2023-12-31) • SFI Foundation 31.1/2015 • SFI Foundation 31.1/2010 (expires on 2023-12-31) • ECE R22.05 (expiry: ten years after date of manufacture as noted on unaltered, helmet label)
Please note in ASN Canada FIA regulation 4.5.3 in regards to vehicles equipped with a rollcage, M2010, M2015, ECE E22.05 helmets are not acceptable.
We follow CASC-ON Helmet Regulations and the helmet regulation information listed on this site is for reference only. Helmets will be checked periodically.
For more information please visit www.casc.on.ca/autoslalom
More information is also available on our website.
Camping: Overnight camping will be allowed where we are parking during the Saturday event plus adjacent grass areas.
barbeques/drinking/music is all allowed, no campfires
port-o-potty will be near by
not allowed on runways after event has ended
event entrance gates will be locked but there is a key controlled by WOSCA for gate access
no water or electricity hook ups
just be respectful of the area
Centralia Airport
Huron Park, Ontario
Western Ontario Sports Car Assoc.