2020 IRDC Competition School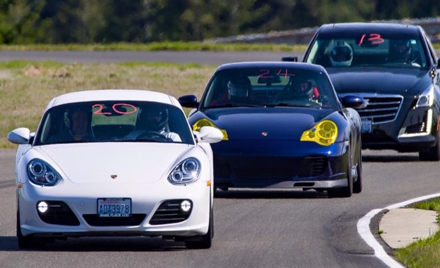 IRDC - Events
Friday, May 15, 2020
Pacific Raceways
,
Kent

,

WA
The INTERNATIONAL RACE DRIVERS CLUB
COVID-19 UPDATE: We are actively monitoring the situation and will be confirming if this event will take place by May 4, 2020.  If the event is canceled, anyone who has registered and paid will get a full refund.  Thank you!
May 15, 2020:
Competition Driving School
The drivers school is sanctioned by the International Conference of Sports Car Clubs – ICSCC as non-competitive driver education programs, which is organized by IRDC, and held at Pacific Raceways Kent, Washington.  For any specific questions about this event, the chief driving instructors Bill Ecker, may be reached at Chief Driving Instructor.
The driver school is open for drivers of all abilities to join, from first-time ever on track, to experienced HPDE drivers.  
Registration Close: WEDNESDAY May 13, 2020
Competition Driving School Requirements/Information
Schedule will be published a few weeks prior to the event and is subject to change based on registrations.
More information:  www.ICSCC.com or www.irdc-racing.com
Entry Fees:
Competition Driving School ... $325/driver
Spectators and crew members ... FREE + Our Thanks!
Preferred payment method is cash or check. Please help our club save on credit card fees. Motorsportreg will not charge your credit card until you have completed tech and have an official entry.
Driver Training Information:
This driver training course is your first step to competition racing with ICSCC. You will not only receive a high level of in-car instruction to learn the "racing line" at Pacific Raceway, but also classroom instruction that covers everything from race preparation, car control, passing protocol and advanced flag recognition. If you are not sure about getting involved in competitive racing, this course is great for taking your HP Lapping skills to the next level. All of our instructors are competition-licensed race car drivers with many race miles of experience. 
All drivers of any skill level are welcome to join.  

After successful completion of this driving course you may earn a certificate that qualifies you for a Novice racing license from the International Conference of Sports Car Clubs (ICSCC). You will be given all the details about the ICSCC Novice Program and how to take that next step at the end of the day.
For more information CLICK HERE
Requirements for Cars:
    Sound mechanical condition. No loose parts/pieces, nuts/bolts
    Fluids filled - oil, water, transmission.
    Good belts, hoses and BRAKES
    3/32" minimum tire tread depth or race tires in good condition
    Clean inside and out, including engine compartment
    All loose items removed, including spare tire, jack, etc; Battery secured
    Open top and convertible cars MUST have a properly installed 
     roll bar at a minimum
    The top of the main hoop must be at least 2" above the driver's
    helmet when in a normal seated position
    Factory rollover protection allowed only if "structural" and
    front windshield frame (A-pillars) are also structural
    Factory "pop-up" roll-over protection is NOT acceptable and there will be no exceptions
    Glass headlights taped to prevent possible breakage.
    Two seats with working seat belts. Prefer the passenger seat harness
    to be equal to driver harness
Licensed "Lucky Dog" or "Champcar" drivers please contact the Driving Instructions for special instructions.
Credit Card payments will not be processed until the day of the event.