2020 HSCC Day Series #5 Dual Event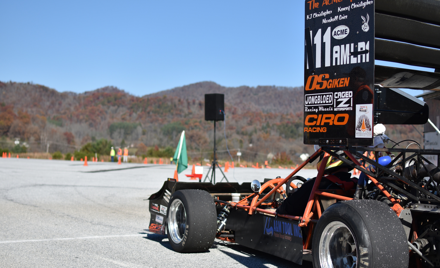 Highlands Sports Car Club
Saturday, August 8, 2020
Jerry Sutton Training Center
,
Franklin

,

NC
Registration closed August 7, 2020 11:59 PM on August 7, 2020 11:59 PM EDT Registration ends August 7, 2020 11:59 PM on August 7, 2020 11:59 PM EDT Registration opens January 1, 2020 12:00 AM on January 1, 2020 12:00 AM EST Registration runs from January 1, 2020 12:00 AM to August 7, 2020 11:59 PM
There will be morning and afternoon sessions available, each session will be limited to 25 entrants. Please ensure you're signing up for the correct session! 
No spectators will be allowed in propoerty for this event. You must be registered for the event to enter the gate.
Come join us at the best autocross venue in all of Western NC! With nearly 5 acres of complete flat, completely smooth, and completely unobstructed ashphalt, the Jerry Sutton Public Safety Training Center is easily the best local venue HSCC has ever had access to. 
ADDITIONAL RESTRICTIONS DUE TO COVID-19:
These rules and protocols are set as the minimum guidelines for all participants to meet. Participants who refuse to comply with these policies will be asked to leave the event upon first offense.
Social Distancing Protocols:
A cloth mouth and nose face covering or other non-venting PPE mask is strongly encouraged at all times during the event and while on the Jerry Sutton Public Safety Training Center property. This may become a requirement and we will clarify that closer to the event date.
All participants shall practice good hygiene by washing hands or using hand sanitizer often, especially after touching frequently used items or surfaces, such as ink pens, doorknobs, fixtures, cones, flags, etc.
All participants shall continue to maintain 6 feet social distancing. Face coverings are not a substitute for physical/social distancing.
Individuals vulnerable to COVID-19 (those greater than 74 years old, and those with serious underlying medical problems such as hypertension, diabetes, obesity, chronic lung disease and asthma, or immunocompromised state) are encouraged to stay at home. Non-vulnerable participants should understand that there is a risk of bringing the virus home and should take extra caution to isolate from vulnerable individuals once back home.
Participants who are sick or not feeling well should not attend the event and will not be allowed to enter. If you become sick at the event, you will be required to leave.
Event Changes:
This event is limited to 25 participants excluding event staff and will not count towards season points eligibility for a championship trophy.
Participants will be charged at the time of registration and there will be NO REFUNDS for any reason after registration.
All participants must pre-register online at MotorsportsReg. There will be no on-site registrations for this event.
NO SPECTATORS ARE ALLOWED at this event except for those that have prior approval from event officials. Anyone not registered must remain outside the facility gate.
No loaner helmets will be available. If you do not bring your own helmet, you will not be permitted to participate.
Our Annual Tech sticker will not be available for purchase at this event. We will continue to honor Annual Tech stickers from surrounding SCCA Regions and other well established independent clubs.
Tech & Registration:
Tech Inspection will be done with the participants staying in their vehicles and pulling up in line to avoid any gatherings at the tech area.
Tech inspectors will wear latex or nitrile gloves in addition to a cloth face covering.
Check In Staff will wear latex or nitrile gloves in addition to a cloth face covering.
As with everything recently, this guidance can and may change based on the best available information at the time. All reasonable attempts will be made to make accommodations to newer guidelines. We will do our best to provide all participants with the latest updates. For questions, comments, or concerns please contact us at info@HSCC.club.
Morning Session Event Schedule:
Registration / Check-In: 8:00 - 9:15 am *
Tech Inspection: 8:00 - 9:15 am
Novice Walkthrough: 9:15 am
Driver's Meeting: 9:30 am
First Vehicle Off: 10:00 am
Event Over: 12:30-1:00 pm
Afternoon Session Event Schedule:
Registration / Check-In: 1:00-1:30 pm*
Tech Inspection: 1:00-1:30 pm
Novice Walkthrough: 1:30 pm
Driver's Meeting: 1:45 pm
First Vehicle Off: 2:00 pm
Event Over: 4:30-5:00 pm
* Everyone must check-in at the entrance, even if you registered online.
Entry Fees:
HSCC members: $30
Non-members: $35
(On-site registration costs an additional $10, regardless of member status. Avoid the fee by registering and paying online right now.)
PLEASE NOTE: All Junior Kart entries must pre-register on MotorsportsReg. No on-site registration is permitted.
Becoming a member of HSCC:
Click here to join Highlands Sports Car Club online through Motorsport Reg. Once you've registered and paid for this Membership Event, please allow up to 24 hours for your membership to be validated. Once validated you will be able to register for our events at the discounted member price. 
Additional info:
If you have any additional questions about our club or our events, please visit our website. For anyone new to the sport of autocross, we ask that you take a good look at our Novice Guide. And finally, if you still have questions after viewing the above online documentation, please don't hesitate to ask for help by using the Contact Registrar link on this site, or the contact form on our website.