Pop-Up Drift Day - 1/6 @ Six Flags
Event Requirements
Registration closed January 4, 2018 11:59 PM on January 4, 2018 11:59 PM EST Registration ends January 4, 2018 11:59 PM on January 4, 2018 11:59 PM EST Registration opens December 19, 2017 12:00 AM on December 19, 2017 12:00 AM EST Registration runs from December 19, 2017 12:00 AM to January 4, 2018 11:59 PM
Welcome to the first event of the 2018 season!
What: Drift Day (advanced/intermediate day)
Where: Six Flags Over Georgia (275 Riverside Parkway SW, Austell, GA 30168)
When: January 6th, 2018 Saturday
Who: iTrack Motorsports - BridgeMoto - OTP Automotive - Best Damn Shop Around
Time: 9AM - 5PM Hot Track
Price: $85.00 online / $110.00 at the gate (60 driver cap)
Description:
This event will be the first drift event at Six Flags for iTrack Motorsports! We are excited to use the massive parking lot for a two course event. On Saturday January 6th, we will setup two tracks, one with a high speed entry, but technical layout and the other with fast sweeping corners. While most iTrack events are open to all skill levels, this event will only be open to Advanced and Intermediate drivers only. We will be having our first drift clinic on January 27th. (Registration coming soon).
We will be separating the lot into two sections. We will have entrances and exits for both. The format will be similar to Drift&Grip, giving drivers 3-5 laps to run the track with "X" number of cars on track. This will be determined in the morning based on the size of the tracks/speed. Like other events, we will have two different lines, one for advanced and one for intermediate. YOU MAY NOT CHANGE GROUPS WITHOUT PERMISSION!! We will be checking run group stickers!
What you need:
-SA2015+ rated helmet
-Vehicle that passes tech inspection
-Long pants, closed toed shoes and shirt with sleeves at minimum
-Tire pressure gauge
-Something to stay hydrated

Run Groups:
As stated above, we will not have sessions and will be running both groups on both track for the day. We will alternate lanes to keep things flowing and even.
Advanced: Drivers who are capable of running consistent tandems without making errors. Ability to drift a full track without driving off course, spinning, etc. Full understanding of the rules, track etiquette, and line.
Intermediate: Drivers who are capable of drifting a full course with little to no errors. Working on tandem in a safe manner, proximity and consistency. Full understanding of the rules and track etiquette and basic understanding of a racing line.
Layout: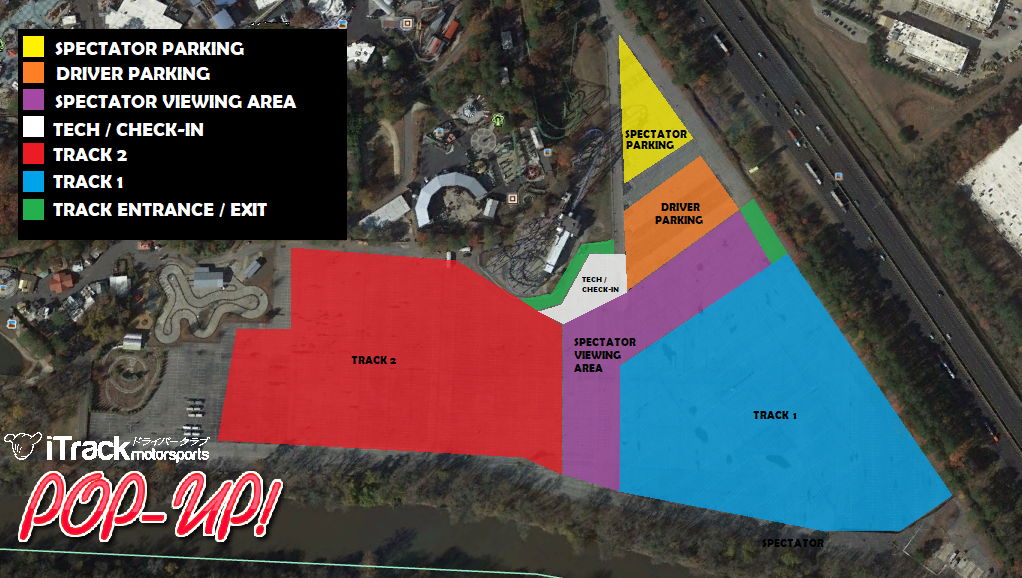 Schedule:
7:00AM Gates Open / Setup / Check-in / Tech
8:30AM Drivers Meeting
9:00AM Track 1 and 2 Open
12:00PM LUNCH
1:00PM Track 1 and 2 Open
4:00PM Track 1 and 2 combined
5:00PM End Event
7:00PM GATES CLOSED

Rules:
-SA2015 rated helmet ONLY! BridgeMoto will have rentals available
-All drivers must be on time to the drivers meeting
-Your vehicle must pass tech or it will not be allowed on track
-All convertible cars must have a SCCA approved roll bar or factory roll over protection
-No burnouts or donuts are allowed
-Do not drive anything into the asphalt. All tents must be secured with straps/wheels/barrels/etc
-Respect the facility. Please take all tires with you. Put all trash in the trash cans.
-PAY ATTENTION! There will be others on track. Do not do something stupid.
Registration closed January 4, 2018 11:59 PM at January 4, 2018 11:59 PM EST
Registration closed
Registration opens December 19, 2017 12:00 AM at December 19, 2017 12:00 AM EST
Registration closed