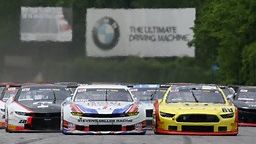 Fri, Jul 16 - Sat, Jul 17, 2021
Workers - Northeast Grand Prix-IMSA WeatherTech
Lime Rock Park
About this event
Northeast Grand Prix: IMSA WeatherTech SportsCar Championship and the IMSA Michelin Pilot Challenge
Friday, July 16 - Saturday, July 17, 2021
The IMSA WeatherTech SportsCar Championship is one of the premier sports car racing series in the United States and Canada organized by the International Motor Sports Association or IMSA for short. The series competes at some of North America's most recognized sports car venues, including Lime Rock Park for the Northeast Grand Prix held on July 16-17, 2021. The WeatherTech SportsCar Championship features multiple classes of awe-inspiring sports cars racing on the track at the same time, making for seemingly endless passing throughout the race. The majority of the races are timed races of 2 hours and 40 minutes.
In the premier WeatherTech SportsCar Championship GT Le Mans class, race-bred cars from factory and privateer teams battle for the overall win. This exciting class includes factory teams from Ford, Chevrolet, Porsche, Ferrari and BMW
In the WeatherTech SportsCar Championship GT Daytona class, GT3-spec race cars join the party this year, including Lamborghini, McLaren, Audi, Porsche, Ferrari, Mercedes-AMG, Lexus and Acura NSX. Another exotic, hard-racing field
The Michelin Pilot Challenge Grand Sport class welcomes GT4-spec cars, which means in addition to the Porsche Caymans GT4, Ford Mustangs and Chevy Camaros, you also now have fantastic factory-prepped machines from makers such as McLaren and Aston Martin
The Michelin Pilot Challenge TCR class is made up of front-wheel drive cars with four or five doors produced by mainstream automotive manufacturers
2021 Event Schedule At-A-Glance:
Thursday, July. 15: General Camping & Reserved RV Opens at 12:00 P.M.
​Friday, July. 16: Practice and Qualifying
Saturday, July. 17: Racing
Sunday, July. 18: Camping/RV Closes at 12:00 P.M.
Remember, workers are paid hourly and must register on Motorsports Reg prior to the event registration deadline. All workers will be given an event specific wristband for the days they will be working. Workers who register for the entire event (Friday and Saturday) will only need to register once. Day workers will need to register on the day they are working. See below for more information.
REGISTRATION AT THE MORNING FLAG MEETING
Friday and Saturday from 7:30 until Flag Meeting
Event requirements
Due to the continued limit on the number of workers per station (2 unless there is an outpost) and the desire to have teams kept together for the weekend, we will be reviewing and approving worker registrations based on experience, and number of days working the event. If family members will also be working, they should register at the same time. If only able to work one day, please register and we will get back to you as soon as possible.
On-Site Registration: will be at the Flag Meeting location. All flaggers (except campers) must enter the track at the Track office (497 Lime Rock Road) and park in Z lot, then come to the flag meeting location. The morning of your first day working you will complete payroll paperwork (if you have not already done so) and get your "hot track" pass, and every morning everyone must sign the insurance waiver (even those with LRP credentials) and the sign-in sheet.
PLEASE CONTINUE TO WEAR A FACE MASK AND SOCIAL DISTANCE WHENEVER IN PUBLIC AREAS
CHECK IN WITH THE FLAG CHIEF AT LEAST 15 MINUTES PRIOR TO THE FLAG MEETING!
FLAG MEETING TO BE HELD UNDER THE CONTROL TOWER.
All track workers are required to attend the flag meeting; Flagging & Communications and Grid
We will be implementing the following Worker Guidelines:
Assigning household members together, when possible.
Keeping corner teams together during the entire event as much as possible.
And the following LIME ROCK Guidelines:
No admittance into EMS unless you have a medical emergency.
If you have a fever, you are not to come to the track.
You will not respond to any accident on track, call immediately and EMS will respond with proper PPE.
No one is allowed onto the flag station with corner workers and only 2 workers per station with the exception of stations with outposts.
If more than 1 worker per station, face masks will be worn at all times unless they are family members or both workers are fully vaccinated.
All workers must be at least 18 years old.

SCCA membership number and license grade preferred but not necessary.

Workers must wear whites and come prepared for any weather and station conditions; rain gear, bug spray, sunscreen, gloves and whistle, as well as face masks and hand sanitizer.

If not camping, parking for workers is in Z lot on event days.
ALL CAMPING MUST BE RESERVED PRIOR TO EVENT.
FOR WORKER CAMPING FORM OR QUESTIONS ABOUT WORKER CAMPING, PLEASE CONTACT DESIREE AT: flagchief4lrp@gmail.com
PLEASE CALL LIME ROCK DIRECTLY WITH QUESTIONS REGARDING CAMPING SITES OTHER THAN IN WORKER CAMPING (THERE ARE FEES ASSOCIATED WITH THESE SITES).
Lime Rock Park
Lakeville, CT
Buy track decal
Buy virtual track walk