Sat, Jan 22, 2022
Winter Waters Tour 2022
PNWR Tour
About this event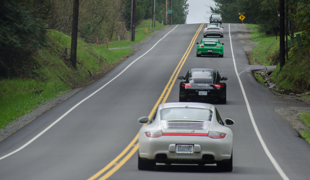 Status update, Dec 16th: We had to suspend registrations for this tour due to the large number of car registrations over the 60 car limit. If we get more group leads, we may expand the car count, but right now, that is not the situation. Sorry, these tours are popular, but we can only handle the numbr of cars that are supported by the number of group lead volunteers. Greg Halverson, PNWR Tour Chair
Join us for the "Winter Waters" tour - the third "winter" tour. Designed for Members who drive your Porsches year 'round! This tour will feature great food, interesting activities, and scenic small-road driving. We'll start in Snohomish a block away from the downtown riverfront. Come early and have breakfast at Jake's and a short Riverwalk! We'll head northwest along the lowland banks of the Snohomish River and then east through Lake Stevens and north to Alger. Our route has an abundance of skinny roads, farmlands, and quiet rural neighborhoods – all wonderful NW winter scenery. We'll drive the east side of Lake Samish and finish with a jaunt on Chuckanut Drive on the way to a late lunch in Edison. Edison features several local eateries, three pubs, several artisan galleries, and a most curious antiques shop. Special treat: the Breadfarm Bakery! A great winter tour with fun roads and great views as the first 2022 PNWR tour event! Prefer not to drive your Porsche? That's OK for these winter tours!
Just a cautionary note, these winter tours fill up very quickly so registration may be suspended early if the tour fills up and there is a long waiting list developing!
There are four options for lunch in Edison. There is no need to select a restaurant in advance, but you can review each at the links below. Note that they all offer takeout service if you prefer not to eat indoors due to Covid concerns. Restaurant activities are not part of the PNWR tour.
Event requirements
Tour Requirements:
Cancelations and refunds: Cancelations must be made before January 19th.
Car club membership: To participate you should be a member of the PCA and PNWR. Porsche owners who are not members may register and receive a special invitation on a case-by-case basis.
Non-Porsches on the Tour: Non-Porsches ARE allowed on this tour due to the fact it's winter and you may not like to drive your Porsche in cold or inclement weather. As we get into the spring months, we will return to "Porsches Only".

For Adult participants and attendees: The waiver of liability release form must be signed at the tour start point prior to departing on the tour. Minors have a separate waiver form (Minors as Observers Only) that must be signed by a parent or guardian at the tour start point and be witnessed by the person collecting signatures. Waiver(s) may be viewed in advance on www.pca.org-->Forms and Documents-->Event Management-->Waivers. You must be signed in to the website to access the forms.

Age and driver's license restrictions: All drivers must be at least 18 years old and in possession of a valid US driver's license at the time of the Tour. A driving permit is not acceptable.
Registering for Passengers: Please make sure to include the names of any passengers riding with you in the space provided during registration. If you have two cars on the tour each car and driver should register with a separate Motorsportreg account.
PCA - Pacific Northwest Region - Tours & Social Events