Sat, Dec 11, 2021
Winter Tour #2_Snoqualmie Wanderland
PNWR Tour
About this event
WINTER TOUR #2_ SNOQUALMIE WANDERLAND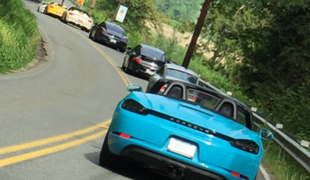 Join us for the "Snoqualmie Wanderland" tour - the second "winter" tour of 2021-22. Designed for Members who drive your Porsches year 'round! This tour will feature great food, interesting activities, and scenic small-road driving. Snoqualmie Wanderland is a collection of usual and unusual roads all within a few miles of the Snoqualmie River valley. A fine early winter tour with fun unexpected roads and seldom seen vistas as the final 2021 PNWR tour event! Prefer not to drive your Porsche? That's OK for these winter tours, but of course we'd like to see as many Porsches as possible!
MAKE SURE TO BRING ALONG YOUR PROOF OF VACCINATION, EITHER THE CARD OR A PICTURE OF IT. AS OF THIS POSTING, KING COUNTY NOW REQUIRES PROOF OF VACCINATION FOR INDOOR DINING AND SKAGIT COUNTY MAY BE DOING THE SAME IF THEY HAVEN'T ALREADY. If you are not fully vaccinated, you may be limited as to where you can eat.
Mid-afternoon lunch will be in Duvall and includes time to wander around the town. There is no need to select a restaurant in advance, but you can review each at the links below. All have takeout service.
Event requirements
Tour Requirements:
Cancellations and refunds: Cancelations accepted until December 8th. There are no advanced payments required for this tour.
Car club membership: To participate you must be a current member of the PCA as of the date of the tour. Porsche owners who are not members may register with the tour chair and receive a special invitation on a case-by-case basis.
Non-Porsches on the Tour: Non-Porsches on the winter tours are allowed if your prefer not to drive your Porsche.

Waiver signing for Adult participants and attendees: All drivers and passengers must sign the Liability waiver at the start point so find your group leader for the waiver sheet

Age and driver's license restrictions: All drivers must be at least 18 years old and in possession of a valid US driver's license at the time of the Tour. A driving permit is not acceptable. For participants under 18 years old, at least one parent or legal guardian must also sign a separate waiver form (Minors as Observers Only). The parent or legal guardian must be present at the start point to sign the waiver in person.

Registering for Passengers: Please make sure to include the names of any passengers riding with you in the space provided during registration. If you have two cars on the tour, each car and driver should register with a separate MotorsportReg account.

Please read the Tour Rules and Etiquette Guidance on the club website prior to the tour date: www.pnwr.org > LOGIN AS A MEMBER > Club (does not display if you are not logged in) > Documents > Tours > download the document.

Additional information: See our club website http://www.pnwr.org/
PCA - Pacific Northwest Region - Tours & Social Events